Active Directory (AD)
Overview
Overview
Microsoft Active Directory provides central authentication and authorisation services for DCU Windows based computers. It also allows Network Administrators to assign policies, deploy software, and apply critical updates to networked computers. Active Directory was designed to support thousands of computers simultaneously.
When a users attempts to log on to a windows computer that is in Active Directory, it automatically attempts to verify the users password with the Active Directory server.
ISS have successfully migrated DCU Windows computers to Microsoft Active Directory, encompassing changes to file, print and authentication services. Benefits of Active Directory include:
Automated software delivery
Patch Management
Remote Inventory & Administration
Improved desktop and laptop security
Better infrastructure management
Logging On
Logging into Active Directory
When the computer starts up, press the
Ctrl+Alt+Del
keys together.
You will be presented with the Code of Conduct for the Use of Computer Resources at Dublin City University screen. Please ensure that you are familiar with this policy.
To proceed, click OK. You'll then be asked to enter your DCU Username and Password. Enter your DCU account details and press enter to continue logging in to the computer
If you have a problem logging in, make sure the server is set to AD and not the local workstation name e.g ISS-D-053.
Once you've succesfully logged onto the network with your DCU credentials, your account details will be remembered on the PC or laptop, so that you can log in even when you're not connected to the DCU network.
Adding a Printer
Adding a Printer in Active Directory
Network printer setup is now a self service process, allowing users to quickly provision the printers they need rather than having to request ISS set them up on the print queues. In order to set up your network printers, please go to the following video or follow the instructions below.

How do I add a network printer in Windows 7?
Click on Start -> Device and Printers
Near the top of the window that appears, click 'Add a printer'
Click on 'A network, wireless or Bluetooth'
A list of available printer should appear - if the printer you require is listed, then double click the printer name to install the printer. Proceed to step 8
If the printer you require isn't listed, click on 'The printer that I want isn't listed'
Select 'Find a printer in the directory, based on location or feature'
Select the printer you wish to install, and double click on it.
The printer will now install - you will receive a message to say that it has been successfully added. Click 'Next'
If you wish to set the printer as the default printer, tick the 'Set as the default printer'.
Click 'Finish' to complete the process.
Zenworks (Software Delivery)
Zenworks Software Delivery
Click here for printable Zenworks Application information sheet
What is Zenworks?
Zenworks Configuration Management allows us to package applications (e.g. Microsoft Office, SPSS etc) into easily installable one-click installers. This allows users to install software as required, as well as allowing for more structured rollouts of applications and updates (e.g. a department wide rollout of Java). As part of the Active Directory migration, the Zenworks agent will be installed/updated on your PC.
How can I get to Zenworks?
The Zenworks Application Windows is your portal to the packaged application catalogue created by ISS, and can be accessed in two ways:
By clicking on the Start Menu -> Programs -> Novell Zenworks -> Zenworks Application Window
By click on My Computer, and then clicking on the Zenworks Adaptive Agent.
Once the Zenworks Application Window has opened, you'll be presented with a screen similar to the following: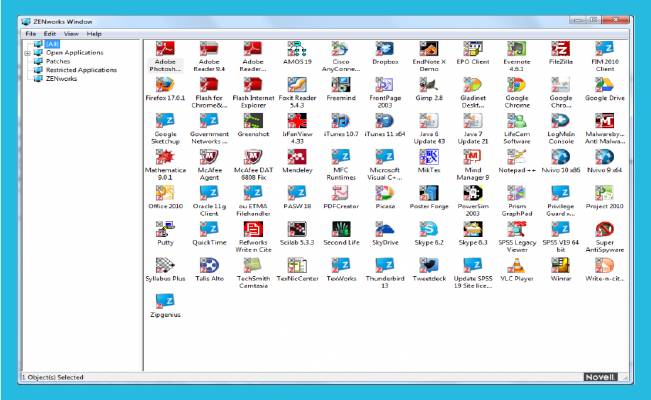 The folder view on the left hand side contains a number of folders - applications will be available in Open Applications and Restricted Applications. Open Applications are applications that are available to everyone (free software, site license software etc). Restricted Applications are applications that are licensed to a particular department or individual user, due to licensing restrictions (e.g. Adobe Acrobat Professional). To install an application simply double click on it, and the install process will start.
What software is available on Zenworks?
A list of software available through Zenworks bundles is available on the ISS Service Catalogue.
If an application you require is not listed, please contact ISS at https://iss.servicedesk.dcu.ie, so that we can either make an existing application package available to you, or create a new application package for you to install.