Dublin City University - IT Transformation
Dublin City University - IT Transformation
IT Transformation

Network Transformation

Provision of safe secure access to services, across multiple campuses, at any time and from anywhere. Providing flexibility to meet the needs of the 21st century digital campus as they evolve. Scalable to cater for increased enrollments and growing demands from data intensive technologies such as multimedia and big data.

BYOD & Location Independent working

Staff and students will have the environment they need to study/work in a safe and secure manner, wherever they are, using whatever device they choose.

Digital Campus

Provide digital technologies and tools to deliver an innovative learning space for staff and students. Enabling Academic & Operational Excellence in both the physical and on-line. environment.

IT Business Continuity / Disaster Recovery

Deliver resilience and capacity to support the services, processes and connectivity required by DCU and its partners. Supporting Emergency Planning to ensure the environment is available as needed. Reducing the risk to the university's business and reputation due to outages.

Infrastructure management

Enable the anticipation of problems and the resolution of these before there is any impact on the business of the University. Providing enhanced capacity planning, ensuring that strategic resources are available when needed, easy to manage, reducing total cost of ownership and delivering value for money.

Academic & Operational Excellence

Support the enhancement of learning and research underpinned by streamlined enhanced processes with Student and Staff as the focus. Optimising the efficiency and effectiveness of facilities and processes.
Network Transformation
Network Transformation
All buildings on all university campuses have been migrated to physically connect through a new network core.
This entailed:
In DCU approximately 400 switches connecting approximately 8000 devices
In SPD approximately 60 switches, each of which needed reconfiguring manually, connecting approximately 1100 devices.
In All Hallows there are currently 3 switches (in DCU areas - initial phase) connecting 40 devices. Further development of the All Hallows campus will continue to meet the evolving requirements of the New DCU.
In DCUAlpha approximately 16 switches connecting 200 devices
This means that students and staff have a more secure network and a safer network environment on all DCU Campuses. The reliability of the network has been greatly enhanced with the upgrade of equipment and the redesign of firewalls. The capacity of the network, that is the amount of data that can pass through the new fiber optic cables has been greatly increased, which in turn means that using and sharing video is quicker than ever before and the experience of the end user is significantly enhanced. Live streaming of lectures, events and conferences is now possible and will enable students to attend lectures from anywhere in the world with an internet connection transforming DCU into a Global campus fit for purpose in the 21st century. ISS have replaced and are replacing old equipment which had reached end of life with new state of the art equipment, upgrading and the underlying infrastructure which in turn will allow for further expansion of the DCU campus in the future.
All ISS hosted servers (equipment in our 2 DCU Data Centres) are being converted to the new higher performance switching infrastructure.
The migration of Internet connectivity to the new equipment, providing significantly improved resilience, performance and protection for the campus network was completed on Sunday, 31st Jan 2016.
Digital Campus
21st Century Learning Environment

As part of the DCU IT Transformation a programme of work was commenced in 2015 to modernise the teaching spaces of all centrally bookable classrooms on the Glasnevin campus. A survey of the class rooms found that the AV equipment had reached end of life. ISS worked closely with NIDL, TEU and Estates to review, design upgrade the classrooms.
This programme has now been extended to St. Patricks and All Hallows campuses.
As part of the upgrade all class rooms will be installed with a new lecterns which have digital touch screen control panels specifically designed for DCU.
The full list of equipment available in each classroom can be found here.
Touchscreen Control Panel

Touchscreen Control Panel
LED HD Projectors
Each room will also have new Panasonic LED lazer combined light source projectors, fixed projector screens - independent of boards, new audio systems and digital overhead projectors. Wireless projection (AirMedia) facilitating smartphone/tablet use and student engagement/collaboration has been installed in a small number of exemplar rooms - C167 & XG14.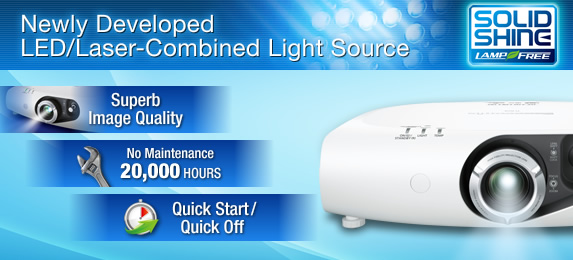 New LED HD Projectors
The advantages of using this projector are:
No lamps: LED light source means there are no bulbs to replace in these projectors thereby making savings on bulb replacements which can be up to €500 every year.
Continual Optimum Resolution: Lamp projectors can often experience rapid deterioration in colour/brightness from day 1, whereas LED projectors ensure much slower, linear deterioration over a longer lifetime.
No maintenance: There are no maintenance costs on LED projectors and no dust filters to replace.
Greener product; There is no mercury inside LED projectors which means these products are easier to dispose of and are much more environmentally friendly.
Instant on/off: There is no longer a need to hang around waiting for the bulb to warm up or cool down, and no risk of damaging the "bulb" when turning off too quickly.
This ensures the best teaching and learning experiences in our teaching spaces for staff and students.
DCU Exemplar Av Room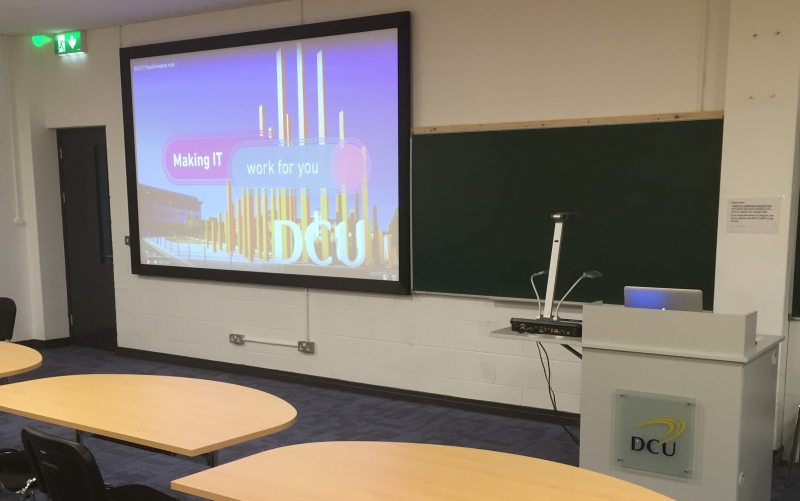 Exemplar room in the Lonsdale Building
The following is a summary of the work undertaken in relation to learning spaces on the DCU Glasnevin Campus prior to the start of Semester 1 2015/16:
CG86: Upgraded to support lecture capture and streaming (Coordinated by TEU).
X201: Development of upgraded flexible teaching space facilitated with the installation of new AV and furniture, and decoration of the room.
C167 & XG14: The teaching spaces within these rooms entirely remodelled and redecorated. The furniture and AV were upgraded to support collaboration using oval tables, multiple whiteboards, and new AV including shared access to projector for staff and students over wireless supporting all modern devices (AirMedia®).
T101: Installation of a new LED projector delivering very high quality images and reducing the risk of projector failure to virtually zero.

Digital Touchscreen & Digital Overhead Projector

The technology design in the exemplar rooms C167 and XG14 has been used as the template for the later phases of work.
18 other classrooms across the Glasnevin Campus were upgraded to the new LED projectors: DCUBS - 3, Sciences (X Block) - 3, School of Nursing - 3, The Henry Grattan - 9.
8 Meter HD Screen in T101
New 8 Meter HD Screen in T101
During this inter-semester break another phase of work brought the total to 41 rooms that had received a full technology upgrade to new standards based, fit-for-purpose classroom technology supporting an enhanced teaching and learning experience for students and academics.
This included:
| | |
| --- | --- |
| Galsnevin Campus | Building.Room Number |
| Henry Grattan Building, C Block | GLA.CG11, GLA.CG20, GLA.CG86, GLA.C104, GLA.C124, GLA.C166, GLA.C167, |
| CA | GLA.CAG24 |
| Nursing Building, H Block | GLA.HG05, GLA.HG06, GLA.HG07, GLA.HG08, GLA.HG09, GLA.HG10, GLA.HG13, GLA.HG17, GLA.HG18, GLA.HG19, GLA.HG20, GLA.HG22, GLA.HG23 |
| DCUBS, Q Block | GLA.Q220, GLA.QG01,GLA.QG02, GLA.QG03, GLA.QG04, GLA.QG13, GLA.QG15, GLA.QG21, GLA.QG22, GLA.QG27, GLA.QG28, GLA.Q220 |
| Larkin Theatre, T101 Block | GLA.T101 |
| Albert College, VB Block | GLA.VBG02, GLA.VBG03, GLA.VBG05, GLA.VBG06 |
| Science Building, X & N Block | GLA.XG01, GLA.XG14, GLA.XG15, GLA.XG16, GLA.XG17, GLA.XG19, GLA.XG20, GLA.XG21, GLA.XG22, GLA.X101, GLA.X201, GLA.X130, GLA.X131, GLA.X146, GLA.N115 |
| Nursing Building, H Block | GLA.HG01, GLA.HG02, GLA.HG03, GLA.HG04, GLA.HG05, GLA.HG06, GLA.HG07, GLA.HG08, GLA.HG09, GLA.HG10, GLA.HG11, GLA.HG12, GLA.HG13, GLA.HG17, GLA.HG18, GLA.HG19, GLA.HG20, GLA.HG22, GLA.HG23 |
| | |
| --- | --- |
| St Patrick's Campus | Building.Room Number |
| SPC, F Block | SPC.FG02, SPC.FG03, SPC.FG08, SPC.FG09, SPC.FG10, SPC.FG17, SPC.FG22, SPC.FG24, SPC.F113, SPC.F114, SPC.F133, SPC.F202, SPC.F203, SPC.F205, SPC.F207, SPC.F213, SPC.F215, SPC.F216, SPC.F218, SPC.F219, SPC.F220, SPC.F228, SPC.F304, SPC.F328 |
| SPC B Block | SPC.B118 |
| | |
| --- | --- |
| All Hallows Campus | Building.Room Number |
| SPC.ACH Senior House | SPC.ACH.SG03, SPC.ACH.SG05, SPC.ACH.SG09, SPC.ACH.SG010, SPC.ACH.SG11, SPC.ACH.SG12, SPC.ACH.SG13, SPC.ACH.SG14 |
| SPC.AHC Purcell House | SPC.ACH.PG01, SPC.ACH.PG02, SPC.ACH.PG09, SPC.ACH.PG10, SPC.ACH.PG11 |
IT Business Continuity / Disaster Recovery
Resilient Connectivity & DR/BC
A resilient fibre ring connection was installed in conjunction with our sectoral network partner - HEAnet. This enables ISS to support the envisaged future increases in traffic and provide enhanced resilience between three of DCU's main campuses - DCU Glasnevin Campus, DCU St. Patrick's Campus and DCU Alpha.
DCU 10 Gig Resilient Network
Upgrade of the connectivity between the St. Patrick's campus and DCU Alpha to 10 Gbps. This is delivering a ten fold increase in the connectivity between the two campuses which is significantly enhancing the user experience. This was completed during the week ending 14th Feb.
Upgrade of the connectivity to All Hallows which involved the installation of a 1G link to HEAnet and the installation of fibre on the All Hallows campus. This was completed during the week ending 14th Feb.
Complete the migration of key business applications, supporting databases and staff files shares from the legacy storage solution to the new Storage Area Network (SAN). This new SAN is one of the key infrastructure building blocks underpinning operational activity and DR arrangements for the new DCU.
In Q1 2016 work will also be completed on the design and provision of a network connectivity model to allow for DCU's Disaster Recovery location (HEAnet Data Centre in Blanchardstown) to function fully in the event of a major incident on the Glasnevin campus.
The new SAN is scaleable to meet the increasing needs of The New DCU and in Q2 additional storage will be added to support the migration of key systems and data stores from the vulnerable Data Centre on the St. Patrick's Campus to the more resilient Data Centres located on the Glasnevin campus.
DCU Glasnevin Campus - 3D Interactive Campus map
DCU St Patricks Campus - 3D Interactive Campus map
DCU All Hallows Campus - 3D Interactive Campus map
Scheduled Works for 2017
Network Transformation
Through the IT Transformation, ISS aim to achieve reliability and operational efficiencies via automation and standardisation.
Below are the planned works that ISS will be carrying out as part of the IT transformation:
Implementation of new wireless network across all campuses.
Ongoing DRBC activity.
Upgrade of Audio Visual equipment on the first and second floor in the DCUBS
A Managed Print Tender
Unified Communications
In 2017, ISS will begin work on developing requirements for our Unified Communications (UC) implementation. This will replace our existing telephone systems, allowing for people to be contactable on a DCU number regardless of where they are and provide the same user experience across all our campuses. It will also provide for audio and video conferencing facilities, better instant messaging and facilities that will allow for easier contact with our prospective students, students, stakeholders and staff.
In 2016 ISS successfully carried out the following works
The successful redesign and implementation of all security rules on the new equipment (approximately 8500 rules) was completed at the end of Q2 2016. This has enhanced the security of the University network.
The successful migration of all wired devices to the new IP addressing model (e.g. Student lab. PCs, Staff PCs, Servers, Printers, Data Projectors, Scientific equipment, Security cameras, Building sensors, etc. (approximately 10,000 devices). A significant proportion of these devices required individual reconfiguration.
The successful migration of all wireless devices to new IP addressing (approximately 20,000 devices).