Welcome to the TORA Homepage
TORA is DCU's new research application and award management system. The system facilitates seamless integration from institutional approval of funding applications, through to the recording of successful awards and their associated budgets, and finally to the management of post-award financials. Using TORA, you can:
- submit funding applications for institutional approval
- receive feedback on your application
- track the status of your application through the institutional approval process
- store your application and award documentation in a single document store
- view all of your applications and awards.
ALL intended applications for external funding must be submitted for prior Institutional Approval. Please allow a minimum of five (5) working days for RIS/GSO and Finance Office review and endorsement.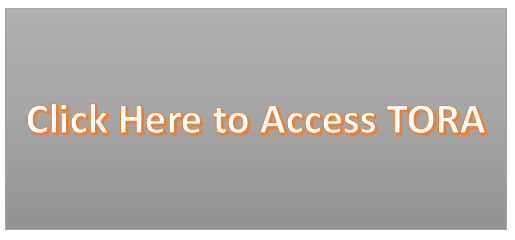 By submitting an application on TORA you are agreeing to the Terms and Conditions below.
TORA can be accessed on campus. If you are accessing TORA off-site you will require VPN access. Please contact ISS to arrange this.
TORA Terms and Conditions
By submitting an application on TORA as Principal Investigator you are confirming that:
no other costs, other than those included in the application, will be required
the proposed research programme does not constitute a breach of existing regulations or compromise your ability to complete existing research
has not already been funded through other means
your Head of Unit has approved all aspects of the proposal, including cost implications for staff support and space requirements
you will abide by the terms and conditions regarding research policies (e.g. Intellectual Property, Out of Hours Access, Code of Good Research Practice, Conflict of Interest, Allegations of Research Misconduct, etc.)
you meet the eligibility requirements, and terms and conditions set by the funder.
Once submitted, applications are sent to the Principal Investigator for approval (if submitted by the PI themselves then this step is skipped). Applications are then reviewed by RIS or the Graduate Studies Office, followed by the DCU Finance Office. The PI I will receive confirmation by email once their application is approved.
Note that Research and Innovation Support reserves the right not to authorise applications if an approval request has not been completed or was submitted after a call has closed.
Help and Training
User Guides
Training Video
Additional Resources
Contact Points
Research and Innovation Support (research@dcu.ie, 7008000)
Isabel Hidalgo (isabel.hidalgo@dcu.ie, 7007894)
Audrey Barter (audrey.barter@dcu.ie. 7005612)
Helen Burke (helen.burke@dcu.ie, 7008003)