Transforming Dialogues
Towards a renaissance in open communication

Overcoming Oppressive Communication that Maintain Marginalisation in Local and Broader Communities Through Open Dialogue and the Experience of Trialogue.

A one day interactive conference where speakers, performers and conference participants will explore the prevailing impact of dysfunctional oppressive communication patterns on marginalised communities.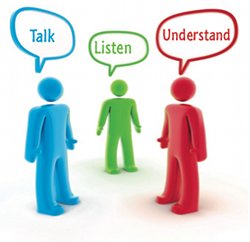 The practice of 'open dialogue' through the experience of 'Trialogue' will be discussed and played out as an innovative, creative and effective process for marginalisation in communities to be uncovered and redressed.
'How can we speak out, be heard, understood and as citizens have an equal say in how we can live our lives'

The conference will be of particular interest to people experiencing marginalisation, their families and those who provide services to them - from the areas of:
Mental health
Intellectual disability
Older people
Youth
Other culturally diverse groups in society

For further information:
Email: audrey.leonard@dcu.ie
Download: Transforming Dialogues Flyer
Web: www.trialogue.co
Print: Conference programme

To register your interest in attending this free event please fill in the form below:

Programme Content
9am
Welcome and Introduction to the day's schedule
9.30am
Theatre of the Oppressed with D'Illussionary Players & Aidan Conron
(a series of short performances to illustrate the impact of oppressive communication)
11am
Interactive workshops

Mask workshop: Exploring internal dialogue relating to marginalisation and dysfunctional communication
Uncovering the process: impact of oppressive communication on trauma and the emergence of psychosis

2pm
Marianne Schulze, Human Rights Consultant


'Dysfunctional communications courtesy of the legal system'

2.45pm
Michaela Amering, Paddy McGowan & Liam MacGabhann
Overcoming oppression – the place of Open Dialogue through 'Trialogue'
3.30pm
Trialogue Participants
'Giving testimony to the effect of Open Dialogue '
4pm
The experience of Open Dialogue in Action - 'you and you and you….'