Secondary Schools | Access
U and University is offered to junior cycle students (1st – 3rd years) attending our linked schools. It aims to raise awareness of higher education opportunities through interactive activities and workshops such as campus tours, sports blitzes, maths quizzes and introductory workshops on life in college.
Activities usually include interactive and fun activities such as sports blizzes, quizzes, campus tours and workshops which take place on campus.
However, due to Covid 19, our activities have taken place online since March'20 and were tailored to the specific needs of each school:
Motivational talks 

Virtual campus tour & Q&A

Online maths quizzes (due in May'21)
Achievement Awards
Our Achievement Awards Ceremony is a key event in the DCU Access service calendar. It is designed to recognise, reward and encourage excellence in both the academic and extracurricular aspects of a student's school life. Students in 3rd year who are attending our linked schools are recognised for their various accomplishments and achievements in the areas of:
Academia

Sport

Arts & Culture

Community Spirit

Exceptional Nomination
We look forward to running this event again in November 2021.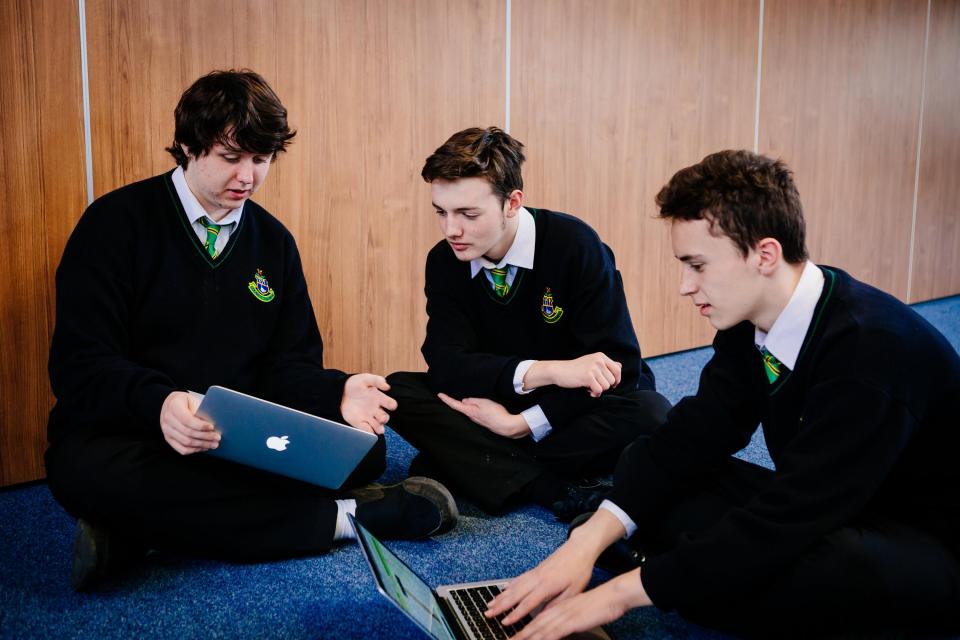 DCU TY is a skills based programme specifically aimed at Transition Year students, aged 15 to 16 years old. The programme has been designed to increase student engagement in education and raise motivation and career aspirations and broaden students' world view.
Curriculum
The programme centers on curriculum which is largely technology based. It consists of 4 Modules which are delivered in schools by teachers who receive training and support by DCU.
20 hours of curriculum on Multimedia & Social Innovation
The Multimedia module enables the students to become digital creators. It empowers them by giving them a voice to create awareness and drive change in their communities through the development of a video. This module develops important 21st Century Skills, such as collaboration, problem solving and becoming a self directed learner.
20 hours of curriculum on Smart Skills
Smart Skills focuses on Coding and App design. Students learn how to design, code and test Android apps and develop necessary skills for successful software development. Critical skills developed through this module include project management, problem solving, teamwork and communication skills.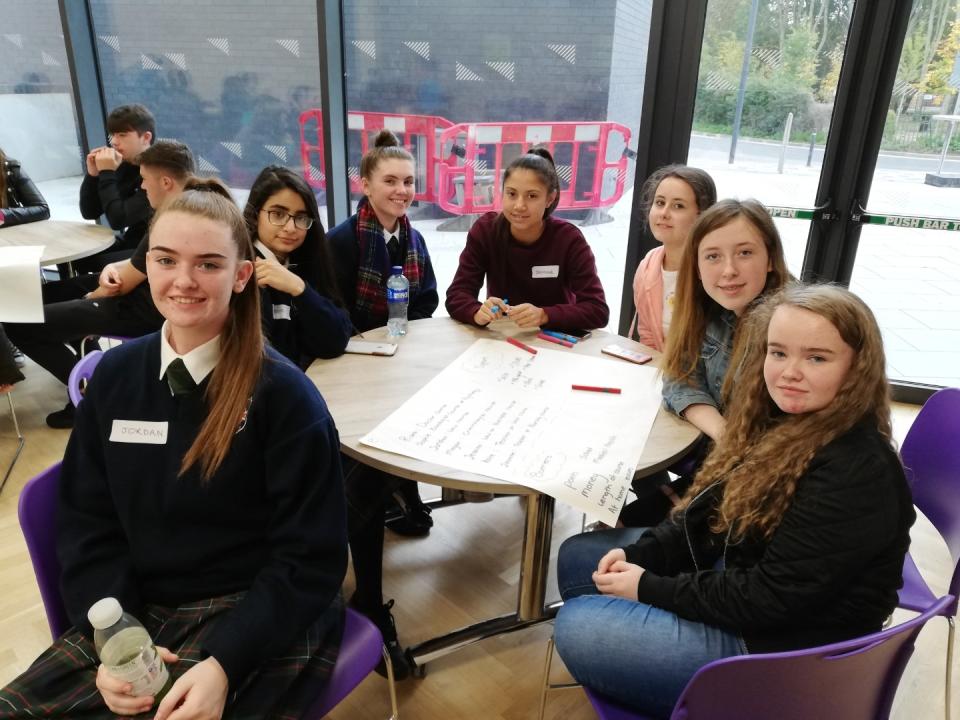 U First is a two-year outreach programme which aims to enable senior cycle students from our link schools (65 of them each year) to envisage college as a real possibility, to be college-ready and not just college aware.
Since 2016, the programme has involved 485 students from 21 DCU linked schools. From the 50 students on U First in 2016, 52% applied to DCU and 26% were offered a college place. DIAGRAM COULD BE USED THERE
Each year, our U First programme supports about 120 students through monthly workshops, e-mentoring and online tuition, aimed at building their capacity and confidence to access third level education.
Below are some of the key elements of the UFirst programme
Each year, students participate in monthly workshops covering three key areas:
Personal development:
Workshops and supports e.g. applying for college, time management, study skills, career preparation
E-mentoring sessions with trained DCU Access students and Alumni.
Academic support:
Thematic workshops to prepare students for college.
Online tuition and revision courses.
Career development/tailored coaching 
Workshops on CV and letter of motivation
Due to Covid 19, we have had to adapt U First to an online programme in order to continue to support 
students preparing for the Leaving certificate.
In a recent survey, 75% of participating students indicated that the programme greatly contributed to raising their aspiration to go to college (May'20).
Since 2020, mentoring has become an integral part of the U First programme. A pilot e-mentoring initiative was rolled out in April'20 to replace the annual shadowing day as a result of COVID 19. 
Given the ongoing uncertainty created by the pandemic, e-mentoring has become an important feature of the programme for 6th year students from our link schools. 
How does it work?
Each student is matched with an ambassador according to the subject they are interested in studying in College. In 2020-21, 19 6th year students participated in mentoring sessions with 16 DCU ambassadors.
Support from the Archdiocese of Dublin enabled a new initiative to provide a cohort of UFirst participants online tuition in Maths, Irish or English over 2 years. We have commissioned Jumpagrade to deliver the programme to 33 students who, since January 2020, have taken part in online tuition.
A survey carried out in May'20, showed that student grades increased by 17%, and 83% of students reported increased confidence in their chosen subject. The students have continued to receive this support in 2020/21 as they prepare for their Leaving Certificate in a Covid-19 world.
QUOTE FROM STUDENT
"Thanks to the DCU Access jumpAgrade programme, I now understand the structure of questions and what I need to do to answer them. Now I know this, it feels much more relaxing and less frustrating when studying Maths, and I feel more motivated than ever to try my best. If this programme has taught me anything, it's that nothing feels better than to understand. The questions seem way easier than before now that I understand what I'm doing."
Mark, 5th year U First student
The application process
Each year, we invite 60 5th year students from our linked schools to apply for a place in U First. We liaise with guidance counsellors from our linked schools to identify students who, not only will meet the requirements for the course but who have a strong desire to go to College and will commit to attending our workshops and events.
Interested students complete an online application and provide contact details for a teacher/ guidance counsellor in their school or college so we can get in touch with them to verify their application.
For more information on the application process, please check our U First leaflets:
U First information for students & U First information for teachers
UFirst is for 5th Year students who are studying at least two higher level subjects and at least ordinary level maths and who have an interest in progressing to 3rd level.
However, as long as you are studying in a DEIS School (Delivering Equality of Opportunity in Schools), we will consider all applications from students who:
Live or have lived in the care of the HSE

Are a young carer

Are a member of the Traveller community
Applicants should also meet as many as possible of the criteria for the HEAR/Access DCU Entry routes.
For more information on HEAR eligibility criteria please see HEAR.
The UFirst programme is

free of charge.
U First participants will attend a minimum of seven workshops in year 1 and will receive tailored support in year 2
Participation on UFirst does not guarantee a place at DCU but we hope that the skills you gain and experiences you acquire while on UFirst will enable you to progress to 3rd level
The DCU Access service seeks the expertise of other units within the Student Support & Development Service to offer the best experience to students
If you have any questions about applying to UFirst or would like to chat about the process further, get in touch with your DCU Access Outreach Officer, Laurence Van der Haegen at laurence.vanderhaegen@dcu.ie or call on 01 7006040.
In spite of the challenges posed by the pandemic, we have further developed collaboration and partnership within DCU and with other education stakeholders and community organisations to jointly address equity of access to third level education in North Dublin.
​​​​​​
Internally, we work closely with the Educational Trust, DCU research centres, SS&D and 
various faculties to extend existing supports in DCU to students from our link schools. 
Externally, our collaboration with local area partnerships enable us to offer information sessions outside of schools settings to parents and students on CAO, HEAR & DARE and Teaching as a Career.
In 2020-21, thanks to the support from the Educational Trust, we were able to secure funding to expand on our projects and develop new ones.
JumpAGrade Collaboration
In 2020-21, we have continued to support students who enrolled in our online tuition programme delivered by Jumpagrade and supported by the Dublin Diocese for the 2nd consecutive year. A few students explain what they found most beneficial about the programme:
"I applied to Jumpagrade to improve my grades in maths as it has never been my strongest subject. From the tips I learned from the wellbeing videos and the on demand maths classes I have noticed a rise in my grades in maths and an improvement on my overall wellbeing." (Lara, 6th year U First student, April'21)
AI in my Life Collaboration with ADAPT Research Center
The 'AI in My Life' project will engage 500 Dublin teenagers from disadvantaged backgrounds in an interactive workshop series encouraging them to reflect on their experiences in a world shaped by artificial intelligence, personal data processing and digital transformation.
Through the workshops, students will be empowered to evaluate the ethical and privacy implications of AI in their lives, to protect their digital privacy and to activate STEM career and university awareness. AI in My Life  extends the 'DCU TY' programme for innovative educational opportunities for Transition Year students from underrepresented communities in higher education.
School Forms
Below you will find a list of application forms for initiatives that schools linked with the DCU Access programmes can access and fill in. We will update it periodically.