Alumni
Christmas Message 2014
DCU President Professor Brian MacCraith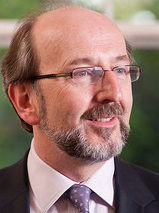 I want to take this opportunity to wish all DCU Alumni peace, joy and happiness this Christmas, in the company of family and friends.

As 2014 draws to a close, we can reflect back on a very busy and successful year for the University. We have much to be proud of. This year marked the 25th anniversary of the awarding of DCU's university status. For the third consecutive year, we were ranked among the top young (less than 50 years old) universities worldwide, featuring in both the QS "Top 50 under 50" and the Times Higher Education '100 under 50' rankings. 2014 also marked a very significant milestone, as DCU's alumni numbers crossed 50,000.

During the course of the year we made some significant changes to the organisation of our alumni relations service. It is now reporting to me directly and we are well advanced in shaping a new programme of activities that will be the basis of a greater ongoing committment to support our graduates. We look forward to sharing more about that with you in the next number of months.
We are fortunate to have an engaged and involved alumni community and I wish to warmly thank you for your support throughout the year. Your participation and input into so many DCU events and initiatives is very important to us and is greatly appreciated.

DCU's mission is to Transform lives and societies through education, research and innovation and we intend to continue, and look forward to, making a difference in 2015 and beyond.From all of us at DCU may we wish you and your families a Merry Christmas and a Happy New Year! Nollaig shona agus athbhliain faoi mhaise daoibh go léir!