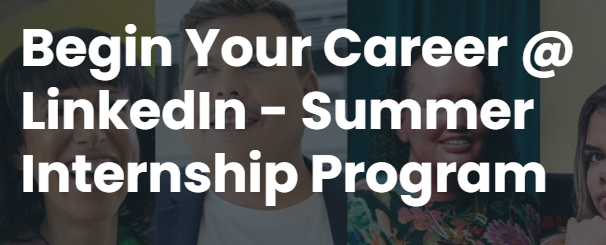 Begin Your Career @ LinkedIn - Summer Internship Program
to
Target Audience
All Welcome
Is registration required?
Yes
Free of charge or ticket price
Free of Charge
Are you looking to start your career at one of the world's best organisations? Would you like to spend a summer in Dublin, the tech capital of Europe? If you are successful in obtaining a role on the internship, LinkedIn will pay for your flights, accommodation for 12 weeks and give you all the help you will need in relocating.
Join us virtually for a panel discussion, to learn more about the summer Internship Program and how you can be successful in the recruitment process at LinkedIn. https://careers.linkedin.com/students/business-leadership-program/sales-internships
At this event you will hear all about the roles, benefits, and perks of working for LinkedIn and you will hear from our current graduates who will share their experiences of the program.
We will also provide you with an opportunity to ask questions and interact with our panel, as we would love for you to leave this session feeling informed and excited about what a career at LinkedIn could look like!