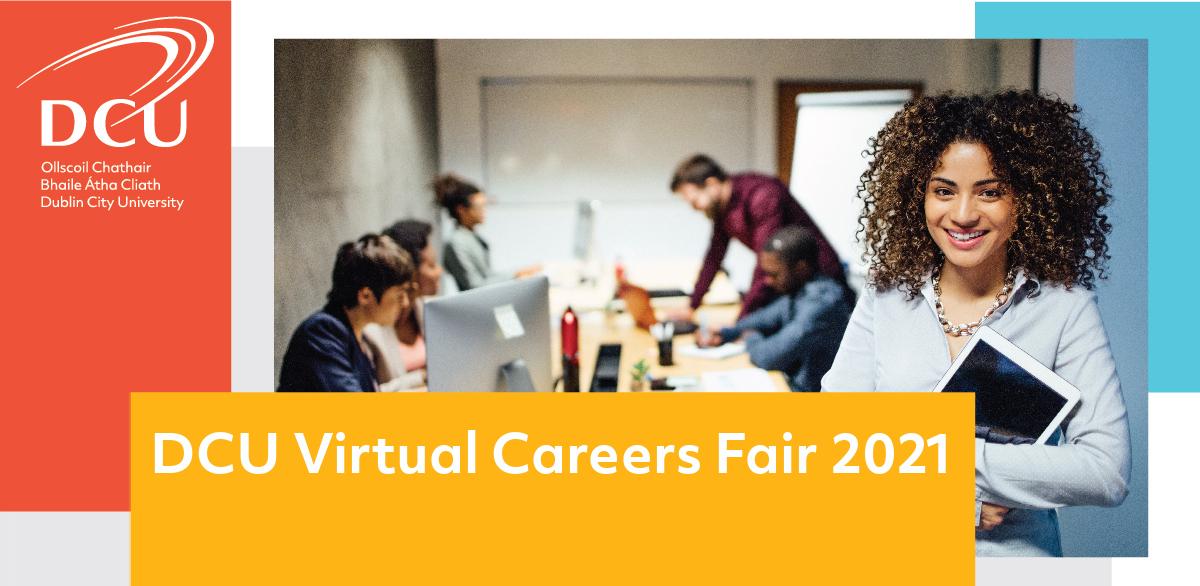 Get Ready For This Year's Virtual Recruitment Fair!
Tuesday 28th September from 12 pm to 4 pm
DCU Final Year undergraduate, postgraduate students, and recent graduates -  bookmark this webpage!
The DCU Virtual Recruitment Fair will take place early in semester one and it is your opportunity to meet with recruiters from some of the top Irish and Multinational companies who are keen to recruit DCU students and graduates for their graduate programmes and entry-level roles for 2022!
As a DCU student, you will be able to register for the Fair platform early in September and we will send you all the instructions and information you need to do so.
The Recruitment Fair is held early in semester one because organisations who have the capacity to recruit 12 months in advance open up their applications early in Semester One. These companies are seeking candidates to join their organisations post completion of your studies.
The Recruitment Fair will be held virtually via an external platform called Graduateland.  All of the Irish Universities are hosting Virtual Careers Fair again this year. A Virtual Recruitment Fair is an online platform where you log on from wherever you are and connect with recruiters from companies you are interested in working with or finding out more about their opportunities.
This could be your first time attending a Recruitment Fair and we want to ensure you have a great experience.
Here is a taster from our FAQ section:
What is a Graduate Programme?
Graduate Programmes are typically run by large and Multinational companies who hire a multiple number of graduates each year. The word programme can make you believe that it is a college course but that is NOT the case!  Graduate Programmes are structured roles designed typically for graduates to facilitate graduates becoming productive as quickly as possible.  See our FAQ section below for more details.
What companies will be attending?
The Professional Services (Audit, Tax & Consultancy), IT, Law, Engineering, and Pharma companies are most likely to attend the Careers Fair because of their capacity to recruit so far in advance.  See our FAQ below which includes the list of companies that attended last year.
Check out the rest of our FAQs below, so you can ready to make the most of the 2021 Recruitment Fair!
If you have suggestions for our FAQ section, we would love to hear from you.  Email careers@dcu.ie with FAQ Recruitment Fair in the subject line.