Over 200 people nationwide attended the DCU Centre for Family Business Roadshow hosted by renowned academic, Professor Ken Moores. Family businesses in Dublin, Cork, Limerick and Galway turned out for the "Professionalising Your Family Business" workshops run over the final two weeks of May.
Attendees heard from local family business leaders relaying their personal tales of the successes and challenges that occur with professionalising their business. In Dublin, deputy Chairman and shareholder of Tedcastles (Top Oil), Raymond Reihill spoke candidly about his fourth generation company.
In October 2012, his company introduced a shareholder's agreement in an effort to further formalise family involvement in the firm. "There should be a parallel process for dealing with family without disrupting the business," said Mr Reihill.
Those in attendance included DCU President, Professor Brian MacCraith, NTR Chairman, Tom Roche and Lennon's of Abbeyfield Foods. Founder of the Australian Centre for Family Business and Veteran Family Business Chairman, Prof.Ken Moores imparted his knowledge on what professionalisation is and why it matters in a family firm.
"Evidence shows that there are benefits from going down this path. Generally speaking we've found family firms with professional practices outperform non-family firms", he said.
"Next generation opportunities are typically associated with greater professionalisation in family businesses." He added: "Family members often cope better with the complexities of business life, they move towards undertaking business alliances, they've got greater diversity because they've brought outside opinions onto their boards, etc."
Another advantage of adopting professional practices is greater growth prospects according to Prof. Moores.
"Typically in the financial area when you up the ante on professionalisation there, your relationship with your bank tends to improve because the integrity of your financial systems is more reliable and indeed it gives rise to greater capital raising opportunities," he stated.
In Cork, Colman Keohane from Keohane Seafoods spoke about their family business based in Bantry. Founder of Supermac's, Pat McDonagh discussed the professionalisation of his popular fast food franchise with attendees in Galway.
Managing Director of JJ O'Toole's, Vicki O'Toole spoke to the Limerick contingent about the 101 year old business that is Ireland's leading packaging distributor. "I think of being a custodian to the next generation and when I think of the company in its longevity I often ask myself do I want to hand the company to someone with different values", she said.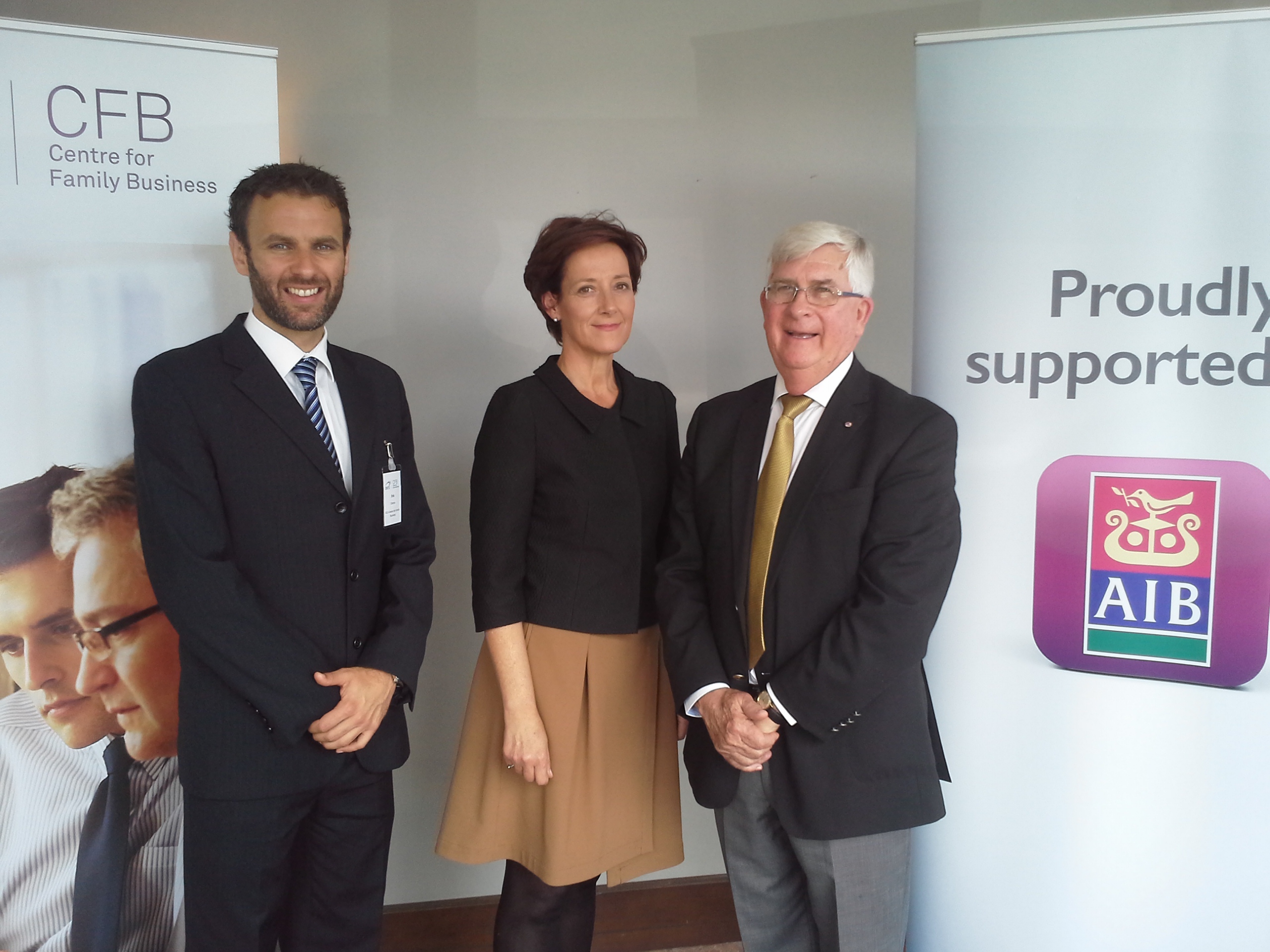 Dr. Eric Clinton, Ms. Vicki O'Toole and Professor Ken Moores.
Ms O'Toole also discussed the possibility of future family involvement. "If they do come into the business I believe they need to show individuality, good business acumen, strong family values and a vision for the future of the company." She added: "they also need to have at least two previous employers, irrespective of whether the employer was good or bad they're learning."
The two week roadshow started in William Fry Headquarters, Dublin, before moving to the River Lee Hotel, Cork and the Castletroy Hotel, Limerick and finishing in the g Hotel, Galway on Thursday 28th of May. The CFB All Ireland Family Business Roadshow was proudly supported by sponsors, AIB, PwC and William Fry.
View images of the Dublin workshop here.
View images of the Galway workshop here.