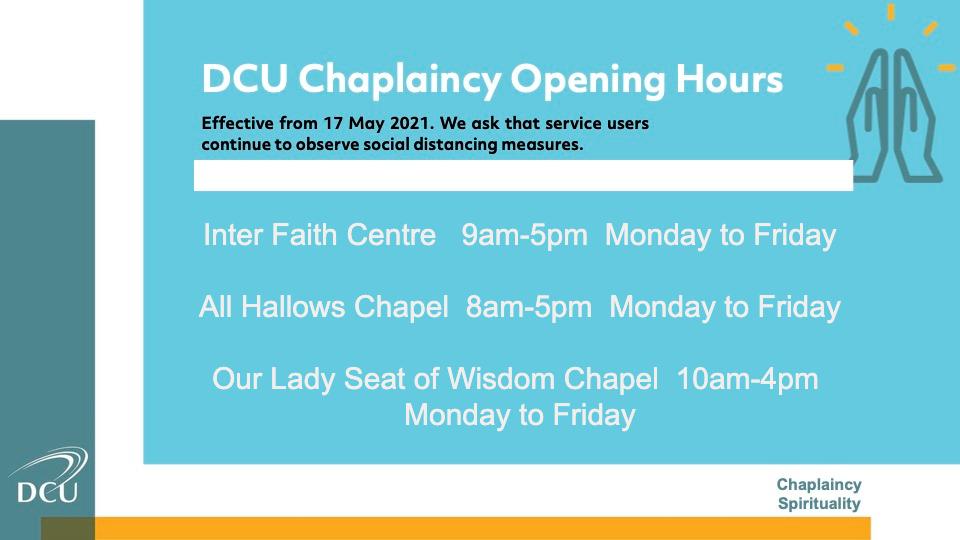 Summer Reopening
In line with the partial lifting of COVID-19 restrictions, DCU Chaplaincy is delighted to announce the reopening of all our locations, effective from Monday 17 May.
The prayer room, meditation room and communal space at the Inter Faith Centre will now be open from 9am to 5pm Monday to Friday. Tuesday afternoon Mass continues online at 1.05pm every week, but a congregation of no more than twenty people will now be allowed to attend in person.
Jummah prayers return to the Inter Faith Centre on Friday 21 May. Again, there is a limit of twenty people at any one time.
All Hallows Chapel reopens for private prayer between 8am and 5pm. Our Lady Seat of Wisdom Chapel on the St Patrick's campus reopens for prayer between 10am and 4pm. DCU Chaplaincy asks that people continue to observe social distancing measures while in the chapels.
St Pat's Family Mass continues online every Sunday from 11.15am, with a maximum of 50 people now allowed to attend in person. Physical attendance will be ticketed, with tickets available each week via the St Pat's Family Mass Facebook page.
While the continuation of these services is dependent on medical advice from the Irish government and the Health Service Executive, DCU Chaplaincy hopes to announce a full return to services for September.