Our Vision
The Inter Faith Centre - "A home away from home"
(This article was written by three international students to give some information to students who may be considering coming to DCU.)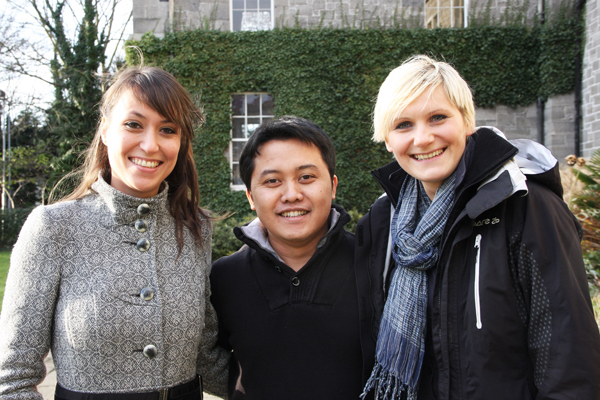 DCU does its best to help and support new international students. DCU wants you to feel welcome, safe and happy therefore it offers many facilities across campus to reduce your stress and make you feel more at home. One of those places is located at the heart of the campus, the Inter Faith Centre. It's cosy, it's quiet and everybody is welcome.
Joe Jones and Susan Jones, the Chaplains in the Inter Faith Centre are there for students. They are looking after their spiritual and religious needs. We asked Joe why he thinks students come to the Centre and this is what he told us: "Often it is to meet their friends over a cup of tea/coffee and some small groups use the meeting room for project work or even use the piano. We like to think that the Centre is a place of welcome for people of all faiths and none. Our logo for the Chaplaincy leaves one empty space for this particular reason to highlight to all that you don't have to have a faith to come in and use the space." We also asked Susan if she thinks that the Centre is favoured by international students and she said: "Most of the students who come in for tea and to use the Muslim prayer rooms are international students'.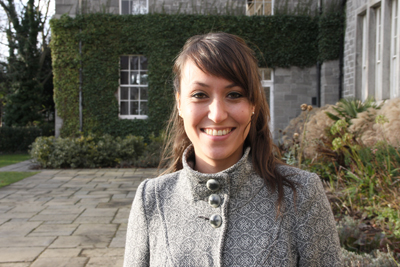 We go to the Centre quite often; on a bad rainy day, when we're down, when we're a bit lonely, when we want to pray or gather our thoughts, sometimes just to read a book or newspaper, often to chat with our friends. Joe and Susan "endeavour to create a homely atmosphere in the Inter Faith Centre" and that homely atmosphere gives us comfort, a sense of familiarity and belonging. We noticed how often in the Centre, over a cup of tea, students start talking to each other despite the fact that they come from different religious backgrounds, are studying different things and have never met before. This communication is what the Centre is all about.
We asked Joe about it and he told us: "Everything we do is helping us to make DCU one community/family, enabling us to move forward in mutual respect and harmony with dignity afforded to everyone who enters." We also asked Susan about it and she told us: "If you take the number of people who visit the Centre and see how people of different faith or no faith traditions chat and have a laugh with each other, and yet respect that people will slip into the prayer rooms to pray, and see how people offer each other support in relation to many issues, yes one gets a sense of the family of DCU."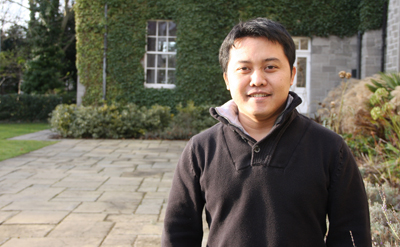 The Centre is a welcoming place for students who have problems of any kind. The Chaplains are approachable for everybody who feels the need to talk to someone. Joe explained to us: "They come with many different needs and many questions at different levels; these can be personal or related to their studies or their own spiritual development." Students, who are far away from home, might turn to the Centre when experiencing difficult times. For instance, when we have to cope with the loss of a family member, we can seek support in the Centre where the Chaplains would guide and accompany us during our time of grief. Apart from offering a helping hand in hard times, the members of the Centre are also there just to listen to us. Susan told us: "Many students are not aware that pastoral care is a very important aspect of Chaplaincy, that non-judgemental listening and support is part of our role." Students are always welcome to just drop in and talk about whatever is on their mind. The Centre aims to be a place of open doors and open ears.
Apart from offering support in difficult times, the Inter Faith Centre is also very much involved in various events that take place on and off campus. When we asked Joe about the relationship between the Centre and the International Office he replied: "Until recently the International Office was under the Student Support & Development so we all worked together very well. We have organised events like the Host Family Project when local families hosted students from foreign lands to give them a taste of Irish family life and culture." The Centre also started the DCU Failte Programme. This programme offers trips to different places of interest in Ireland in order for us to learn more about Irish culture and heritage.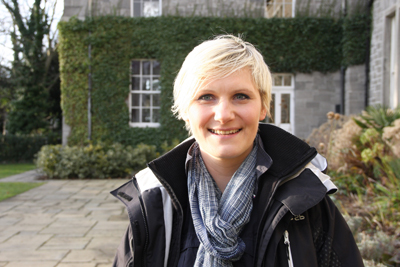 Besides the Christian or inter-faith services held by the Centre, there are also informative talks that explain spiritual topics. Susan told us: "At the moment we have the Talking Heads Programme which is done in conjunction with the Students Union and the School of Communication. This is where the leaders of the main religions in Dublin are interviewed by students." There is also the Alpha course which is for anyone who would like to learn more about Christianity in particular. The Inter Faith Centre is therefore not only a place where we can go to worship but also a starting point for everybody who is interested in learning more about various religions. It is, however, not only the spiritual journey that could have its roots in the Centre, but also the exploration of Ireland, its culture and especially its people.
Irish hospitality and friendliness are well known around the world. Joe and Susan exercise those traits everyday through their creative projects for students carried out inside and outside the Centre. It is good to know we have so much support from people so deeply dedicated to their work. Our respect and gratitude for this place and the fond memories of events and moments spent in the Inter Faith Centre are a huge part of our college experience.
Bozena Sieja
Felicia Bender
Anselmus Inharjanto
(Students from the BA Languages for International Communications – April 2012)