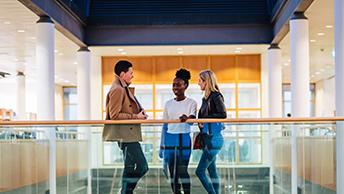 PhD Scholarships Call 2023
The School of Communications at DCU is home to almost 1,000 students at undergraduate, postgraduate and PhD levels. With a tradition stretching back more than 40 years, the School is defined by excellence in both teaching and research in communication, journalism and multimedia studies. In the QS global subject rankings in 2021 DCU was in the top 150 (of almost 1,500) universities worldwide in the area of communications. DCU is ranked number 1 nationally in Communications & Media Studies.
The School's academics undertake research that contributes to national and international debates and public policy formation. They also lead research projects supported by national and international funders. This cutting-edge research is across a range of (inter)disciplinary fields including (new) media studies, media history, journalism studies, science communication, political communication, social media studies, film and television studies, music industry studies, advertising, and cultural studies. In the past five years, the School has supported approximately 40 doctoral students to achieve PhD awards through this scheme.
The School now has an opening for two funded PhD scholarships (across a four-year duration). As well as a tax-free stipend of €19,000 plus fees, we also support our students with funding for conference travel and offer PhD candidates opportunities to gain teaching experience.
In this call, we invite applications in the following areas / themes:
Digital sexual literacy and wellbeing among LGBTQ+ youth in Ireland: Fellowship(s) in this area will ideally adopt an interdisciplinary approach, combining gender and sexuality studies, education studies and internet studies approaches. Particularly relevant are proposals which review existing educational resources and interventions, and which involve empirical research with LGBTQ+ youth to identify gaps in their knowledge, experiences of risk and most effective educational strategies. The proposed project should produce concrete recommendations and/or a pilot resource to address existing gaps in LGBTQ+ teens' sexual literacy. In addition to traditional (monograph) PhD formats, projects with practice-based elements will be considered. For further information, please contact Dr. Debbie Ging (debbie.ging@dcu.ie).
Climate change and environmental journalism: Fellowship(s) in this area should be focused on the general topic of representations of climate change in the media. This focus could include related topics such as biodiversity, sustainability, just transitions, or climate justice. Research could also potentially target climate/environment issues such as public health, global security, representations of carbon, energy, or agriculture. For further information, please contact Dr. Dave Robbins (david.robbins@dcu.ie)
NB. Applications should consist of a 2,000-word research proposal as well as a brief CV detailing academic qualifications and professional experience to date.
NB. Applicants must contact the relevant supervisor prior to submitting an application.
NB. All applications should be submitted to Ms. Eileen Myers, Secretary, School of Communications, DCU (eileen.myers@dcu.ie), clearly indicating the theme under which they are applying.
We intend to shortlist and interview selected candidates either in person or online in May. Successful candidates then will be required to apply formally to be admitted as PhD scholars, and may also need to show proficiency in the English language. Successful candidates will begin their studies in September 2023 and are required to be normally resident in Dublin for the duration of their studies.
Closing date for applications:  Friday 28th April 2023.