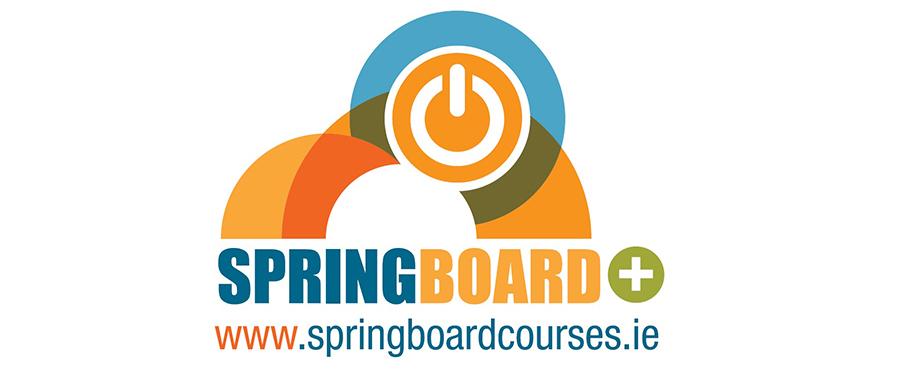 Springboard+ Courses
Please note below is the information on our 2020 Springboard+ offerings. Our 2021 Springboard+ course offerings will be featured here as soon as they are announced. If you have any further questions, please contact connected@dcu.ie.

Springboard+ is co-funded by the Government of Ireland and the European Social Fund as part of the ESF programme for Employability, Inclusion and Learning 2014-2020.
Available in 2020...
Online/Blended Undergraduate & Postgraduate Qualifications
No Fees or 90% Funded Courses!

Springboard+ courses which provide the opportunity to obtain a university qualification at relatively little cost are open to all eligible applicants regardless of their employment status - namely those in employment, jobseekers, those who were formerly self-employed and returners (formerly referred to as Homemakers).

DCU has a long history and successful track-record of supporting online and distance learning students and part-time learners and is pleased to offer the following online, distance and campus part-time places at undergraduate and postgraduate levels with Springboard+ for study in 2020/21:
To read more about the full listing of Springboard+ offerings from Dublin City University, please view springboardcourses.ie/
For further information on eligibility criteria for the above programmes, please view the Springboard website.
Ciaran Clancy completed a Higher Diploma in Software Development and asked "Could I go to University, or could University come to me?"
Ken talks about his experience of online learning through DCU Connected and his opportunity to return to study
David completed a Graduate Diploma in the Management of Information Systems Strategy, and said that for him, flexibility was key to complete his studies.
Alice talks about how online learning through DCU Connected helped her to juggle her study and other life and family commitments
Caroline studied for a Higher Diploma in Software Development and says the online study through DCU Connected really enhanced her employability.
Ronan completed a Higher Diploma in Softward Development and feels it will greatly enhance his future
Pat completed a Graduate Diploma in the Management of Clean Technologies and particularly enjoyed the mix of business and environmental subjects
Sarah completed a Graduate Diploma in Management of Operations, and said she gained an objectivity which she hadn't had before completing the course.