Graduate Certificate in Aviation Sustainability, Leadership, and Innovation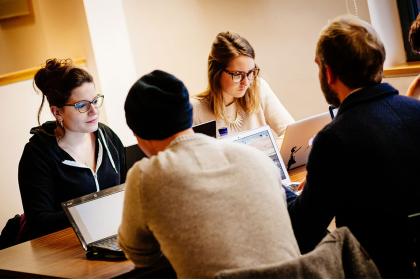 Course Type:
Postgraduate

+353 (0) 1
700 5265

business.dcu@dcu.ie
Commercial Aviation is a relatively young industry that has grown at an incredible rate in recent decades. It remains a critical component of any modern economy, especially for island nations with open economies like Ireland.  Thus, the professionals who make up the workforce must be well educated and have the necessary skills to deal with the specific challenges faced by the aviation industry today.
The Graduate Certificate in Aviation Sustainability, Leadership, and Innovation (ASLI) is aimed at developing practitioners in the aviation management space to enable them to lead sustainably, innovate and understand the regulatory environment in their organisations and beyond.  The progamme has been designed to be complementary to the MSc in Aviation Leadership, whereby students can continue their studies to achieve the MSc degree.
This programme is the only graduate programme of its kind in the world and is an innovative partnership between DCU and Aviation Skillnet – a business network for companies of all sizes in the aviation and aerospace in sector Ireland that addresses both technical and non-technical skills needs of its members.  Aviation Skillnet | ICBE | Irish Centre for Business Excellence Network
This accredited programme is specifically customised and designed to meet industry needs to develop the current and future aviation leaders in Ireland and internationally.  The content is designed to meet industry demand and benefits from extensive input from DCU's Aviation Industry Advisory Board which provides real time insights into emerging trends and demands in the profession, as well as considerable faculty expertise and cutting-edge research.
The Graduate Certificate in Aviation Sustainability, Leadership and Innovation is delivered via blended learning, with on-campus classes, synchronous and asynchronous online lectures, and optional elements of on-campus events to enhance networking opportunities and a good student experience.  Additional e-tutorials, individual online tasks and discussion boards will be used to develop and apply learning.
This flexible, blended learning approach aims to provide students with an opportunity to complete a programme of study focused on the theory and practice in aviation sustainability, leadership and innovation. Students will also have access to an induction to academic writing and student life session as well as all the support functions of DCU (e.g. academic writing centre, library).
The course modules are:
1. Leadership for Aviation Managers:  This module aims to develop the student understanding of leadership principles and enhance the students' capacity to think strategically and better understand the organisational and leadership issues.
2. Aviation Policy and Regulations:  This module aims to empower aviation managers' decision-making by providing awareness and understanding of how the policies and regulations are applied to aviation and thereby enabling better operational and commercial functions management.
3. Digitalisation and Business Analytics in Aviation:  This module investigates digitalisation initiatives (e.g., Blockchain, 5G, SWIM, Augmented Reality) and their impact on aviation.  It also aims to develop the relevant skills and knowledge to effectively use tools to manage and manipulate data and provide a basic data management 'literacy' that is now an essential feature of work in modern organisations.
4. Sustainable Aviation and Green Innovation: This module will increase students' literacy in environmental issues, provide a framework for informed strategic decision-making, and support future aviation leaders in contextualising the course learning and delivering the industry's carbon-neutral and sustainable growth commitments.
This programme is delivered via blended learning, with on-campus classes, synchronous and asynchronous online lectures, and optional elements of on-campus events to enhance networking opportunities and a good student experience.
Dublin City University is a comparatively young but ambitious institution that has forged a reputation as Ireland's University of Enterprise, through its strong, active links with academic, its research and its industry partnerships at home and overseas.
Our solid industry relationships have allowed us to instil an enterprising culture into our postgraduate courses which has resulted in DCU Business School's reputation as being Ireland's most innovative business school.
We provide a unique learning environment where students are encouraged to develop their creativity and skills as innovators.
The quality of our teaching, our small class sizes, our high levels of industry engagement make us stand out, and have been recognized by AACSB, the oldest and most prestigious global accrediting body for business schools.
DCU graduates are highly sought after in the job market, with many going on to pursue management roles in organisations both at home and abroad.
With the ever increasing emphasis on delivering excellence in aviation, there will be important roles for talented and qualified individuals. The aviation industry is expanding in Ireland and internationally. Students of the programme will be seeking to accelerate their careers after graduation.
Our Aviation Alumni network enhances our existing industry connections, providing employability connections to our community.  Our alumni have taken up employment in a variety of positions, for instance:
Airlines and leasing companies (e.g. Aer Lingus, Ryanair, City Jet, Avolon, British Airways, American Airlines, Norwegian);
Aerospace and Manufacturers (e.g. Airbus, Boeing);
Airport Operators (e.g. Dublin Airport, Shannon Airport, Omani Airports);
Aircraft maintenance (e.g. Dublin Airspace, Ryanair, Aer Lingus);
Air Navigation Service Providers (e.g. Irish Aviation Authority);
Consultancy firms
Requirements
General Entry Requirements
For admission to the Graduate Certificate in Aviation Sustainability, Leadership and Innovation candidates must hold –
A 2.1 Honours degree in a relevant discipline, or equivalent international qualification 
Applicants who have achieved a 2.2 Honours degree may still obtain a place. This will depend on availability of places and on obtaining high grades in relevant modules on their undergraduate programme. 
OR
Candidates with relevant Professional qualifications or prior learning and at least 3 years' relevant
work experience in the domain of aviation may be considered for entry subject to interview.
OR
If an applicant does not hold a primary degree but has sufficient and relevant working experience
(more than 5 years in the aviation industry) a case for acceptance will be submitted.
International candidates who are non-native speakers of English must satisfy the University of their competency in the English language. More information about English language requirements for DCU Business School can be found here.
Note applicants who require a study visa for the purposes of studying at DCU, are advised to apply as early as possible.  If you need a study visa and are a Non EU student, you are not eligible to apply for part time programmes as study visas are only granted for full time programmes.
Fees