Graduate Certificate in Financial Intelligence and Technology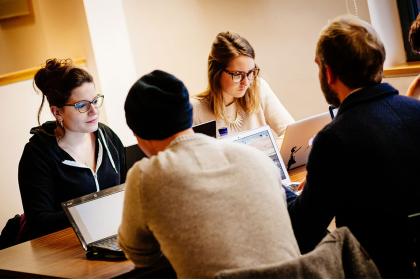 Course Type:
Postgraduate
NFQ Level
9 - Please see www.qqi.ie for further information

+353 (0) 1
700 5265

michael.dowling@dcu.ie
The Graduate Certificate in Financial Intelligence and Technology is delivered by DCU Business School in association with IFS Skillnet and is designed for people who want to add modern financial techniques and innovation expertise to their existing finance experience. 
The programme consists of four microcredential modules, delivered as two modules in Period 1 and two modules in Period 2. 
These microcredentials are:
FinTech – Financial Technology and Innovation
Data Science for Finance
Financial Machine Learning and Automation
Design and User Experience for FinTech
This digital finance competency will enable students to transition to emerging roles that require this knowledge, and to position themselves as champions of this new approach to finance in the workplace.  The financial innovation skillset that this programme develops will also work in terms of kickstarting entrepreneurial approaches to finance, both in a start-up sense and within firms. 
This level 9, postgraduate programme is provided through online distance learning, which means that students can achieve a deeper understanding in a specialist area and provide a sound basis for their long-term career, without disruption to their career or other commitments.
All four microcredentials are Level 9 (postgraduate) qualification modules under the National Framework of Qualifications. 
Fully Online. 100% Continual Assessment. No Exams.
The Graduate Certificate in Financial Intelligence and Technology covers a range of skills that are both in short supply and highly demanded.  This includes the ability to develop modern financial products and services that customers, especially young customers, want to use.  For that we focus on the technical skills of financial data science and machine learning. 
We also develop a richer understanding of who the financial customer is – a behavioural and design aspect which is vital in terms of customer willingness to adapt new financial services and products.  Lastly, we incorporate a deep understanding of the FinTech industry driven by our research and industry expertise and blend this industry perspective with DCU Business School's innovation and entrepreneurial focus. 
The Graduate Certificate in Financial Intelligence and Technology is designed to be highly practical with an immersive learning application at its core. It is a new approach to financial education to suit the new approach to finance that FinTech encompasses.  To that end the course has been developed by both the finance department and the Irish Institute for Digital Business (IIDB), in conjunction with industry expert advice.
Key Facts
— Part-time University Graduate Certificate, run over 2 semesters
— 4 microcredential modules
— 100% online, no attendance requirements
— 100% continuous assessment
— AACSB accredited
— Level 9 qualification
Dublin City University has forged a reputation as Ireland's University of Enterprise, through its strong, active links with academic, research and industry partners both at home and overseas.
Our solid industry relationships have allowed us to instil an enterprising culture into our postgraduate courses which has resulted in DCU Business School's reputation as being Ireland's most innovative business school. The quality of our teaching, small class sizes and high levels of industry engagement make us stand out.
We provide a unique learning environment where students are encouraged to develop their creativity and skills as innovators.
As well as being recognised by AACSB, the oldest and most prestigious global accrediting body for business schools, DCU Business School is also ranked in the top 90 European Business Schools by the influential Financial Times Ranking.
DCU graduates are highly sought after in the job market, with many going on to pursue leadership and management roles in organisations both at home and abroad.
The way that financial organisations compete and conduct business has changed drastically as a result of the rapid development of FinTech.  It is, therefore, increasingly important to have an understanding of the opportunities and challenges that the digital technologies may generate, and to understand the new dynamics in the financial market.  This qualification will position you to take advantage of these opportunities. 
"This programme will position you amongst the first in the workplace with these vital new financial skills. We place a lot of emphasis on modern financial technological skills, but also how to turn these skills into real innovations, and using design and psychological understanding to connect with end users. This is the future of finance."
Prof. Michael Dowling, Professor of Finance
"TFC are extremely enthused about the opportunity to endorse the Graduate Certificate in Financial Intelligence & Technology. We believe the purpose, structure and content of the programme reflects appropriate principles of education programme design and will improve the quality of the learner's education and practice within the FinTech sector. The proposed education programme and activity has been developed with appropriate input from members of TFC and individuals with a proven expertise in the field. The Fintech Corridor actively supports and encourages the programme."
Hilary Moran, Program Manager, The FinTech Corridor
Requirements
For admission to the Graduate Certificate in Financial Intelligence and Technology candidates must hold :
• A 2:1 Honours degree in a relevant discipline eg. Finance, Business or Information Technology, or equivalent international qualification.
OR
• A 2:1 Honours degree in a non-relevant discipline, along with at least 2 years of relevant finance work experience.
• Applicants who have achieved a 2.2 Honours degree may still obtain a place. This will depend on the availability of places and on obtaining high grades in relevant modules on their undergraduate programme.
OR
• A Level 7 qualification in a relevant discipline or non-chartered membership of a professional body, along with at least 3 years relevant managerial work experience.
OR
• Chartered membership of a relevant financial education institution (please contact us to check)
OR
• Evidence of substantial relevant managerial work experience. Such applicants will be required to submit a CV and Personal Statement in support of their application and may be required to attend for interview.
• International candidates who are non-native speakers of English must satisfy the University of their competency in the English language. Please see link https://www.dcu.ie/registry/english-language-requirements-non-native-sp…
Due to the specialist nature of this programme, additional criteria may be used to assess suitability to undertake this programme. For further information, please contact the Programme Chair using the contact details above.