MSc in Aviation Leadership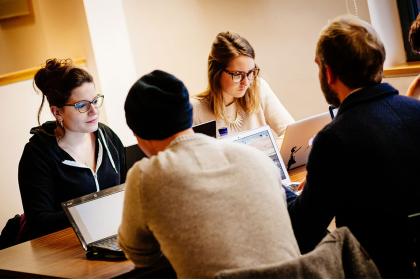 Course Code:
DC525 (Full-Time) & DC519 (Part-Time)
Course Type:
Postgraduate
Duration
1 Year Full-Time & 2 Years Part-Time

+353 (0) 1
(01) 700 5265

business.dcu@dcu.ie
*Note: The next intake for this programme is September 2024
Click here for information on our next Live Webinar for this programme.
The MSc in Aviation Leadership is a specialist postgraduate programme designed to provide participants with aviation knowledge in all key aviation sectors combined with an education in strategic management.
The teaching faculty possess academic expertise and a wealth of industry experience, with many having backgrounds across all branches of the industry - airlines, airports, ATC and regulatory offices.
The programme's Guest Lecture series exposes students to leading aviation managers' views of the important current issues in aviation and the challenges facing senior aviation managers.  The content of the course is guided by our Aviation Industry Advisory Board and reflects current & future issues and trends in the global aviation industry.
The objectives of the programme are to provide graduates with:
An understanding of the complex coordination needed of the various components of airport operations

The important leadership and management competencies required to plan and execute an aviation industry strategy
An understanding of the characteristics, the requirements and the legal aspects of aviation organisations
The skills needed  to undertake business analysis and strategic thinking
The ability to lead and initiate professional and research activity independently or as part of an aviation management team
An ability to take a leading role in the future development of the global aviation industry
Modules taught in this course include:
Aviation Policy and Regulation
Leadership for Aviation Managers
Airport Operations Management
Airline Management
Leadership and Change
Digitalisation of Aviation Operations and Business Analytics
Sustainable Aviation and Innovative Practices
Strategy Organisation and Innovation
Research Methods plus dissertation 
Click here to view information from our graduates & programme news
Learn from academic experts, who reflect leading thinking and latest practices through their teaching, drawing on their continuing research from work with organisations.
Develop a substantial personal network of business contacts across the industry from amongst your fellow students as well as previous graduates of the programme.
Attend lectures part-time by block release over two days on each month of the academic term, minimising disruption to your work and personal life.
Avail of a participatory and action-learning teaching approach consisting of case studies, problem-solving, participant experience and class discussion.
Write a substantial research dissertation that will analyse and seek solutions to issues in contemporary aviation.
Home to the Dublin Aviation Institute, DCU has built a strong reputation within the aviation industry since launching the innovative BSc in Aviation Management (with Pilot Studies) in 2009, which has grown in stature and influence in the industry.
DCU Business School is accredited by AACSB, a standard reached by only 5% of business schools worldwide reflecting its established international reputation for high quality graduates.
Assessment of each module will be by competency test, continuous assessment (including project work) or a combination of these elements. There are no final exams.
View the current course structure
Dublin City University is a comparatively young but ambitious institution that has forged a reputation as Ireland's University of Enterprise, through its strong, active links with academic, its research and its industry partnerships at home and overseas.

Our solid industry relationships have allowed us to instil an enterprising culture into our postgraduate courses which has resulted in DCU Business School's reputation as being Ireland's most innovative business school.

We provide a unique learning environment where students are encouraged to develop their creativity and skills as innovators.

The quality of our teaching, our small class sizes, our high levels of industry engagement make us stand out, and have been recognized by AACSB, the oldest and most prestigious global accrediting body for business schools.

DCU graduates are highly sought after in the job market, with many going on to pursue management roles in organisations both at home and abroad.
With the ever increasing emphasis on delivering excellence in aviation, there will be important roles for talented and qualified individuals. The aviation industry is expanding in Ireland and internationally. Students of the programme have been drawn from management and senior management mainly in the aviation industry and will be seeking to accelerate their careers after graduation. 
Many of our graduates have seen a remarkable elevation in their career after the completion of this programme.  Our alumni network enhances our existing industry connections providing employability connections to our DCU MSc Aviation Leadership community.  Our alumni have taken up employment in a variety of positions, for instance:
Airlines (e.g. Aer Lingus, Ryan Air, City Jet, Stobart Air, British Airways, American Airlines, Norwegian);
Aerospace Manufacturers (e.g. Airbus);
Airport Operators (e.g. Dublin Airport, Shannon Airport, Omani Airports);
Aircraft maintenance (e.g. Dublin Airspace, Ryanair, Aer Lingus);
Consultancy firms;
Safety & Security;
Air Navigation Service Providers (e.g. Irish Aviation Authority)
Requirements
This programme will not be running in September 2023.
For admission to the M.Sc. in Aviation Leadership candidates must hold –
A 2.1 Honours degree in a relevant discipline, or equivalent international qualification. 

 A

long with 3 years of work experience in the aviation industry. 
OR
An equivalent professional qualification (ATCO, CPL) along with 3 years of work experience in the aviation industry.
OR
Applicants with more than 5 year

s 

relevant work experience in the aviation industry may be considered.
OR
Recent graduates with less than 3 year

s 

relevant work experience in the aviation industry, or with work experience in a different industry, who have the equivalent of a first class Honours degree may be considered.
International candidates who are non-native speakers of English must satisfy the University of their competency in the English language. More information about English language requirements for DCU Business School can be found

 here

.
Fees
Full time
EU Status Fee
€10,955 per annum
Non EU Fee
€19,000 per annum
Part time
EU Status Fee Part-time
€6,650 per annum
Non EU Fee Part time
€12,000 per annum