MSc in Electronic Commerce (Business)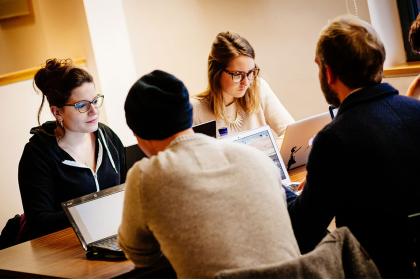 Course Type:
Postgraduate
NFQ Level:
9 - Please see
www.qqi.ie
for further information

+353 (0) 1
01 700 5265

david.kenny@dcu.ie
Join us for our next Postgraduate Event taking place in August 2022. Full details to follow shortly: Click here to register >>
This programme is no longer accepting applications.
*Please note this programme is no longer accepting applications.
In recent years, Electronic Commerce has experienced continual growth around the world and in Ireland. The ever increasing popularity of E-commerce and the emergence of data analytics technologies creates new opportunities and challenges for organisations to compete online, develop innovative consumer experiences and processes and harness consumer data in meaningful ways. 
The MSc in Electronic Commerce is designed for graduates of business and computing degrees who want to advance their careers in the growing ICT industry in Ireland and abroad. The programme is designed to develop participants' knowledge of emerging trends in E-commerce and the ability to harness digital technologies to create engaging online customer experiences.
Graduates from the programme will be equipped with knowledge and practical skills in a host of digital technologies fostered through working on applied and client-based projects in electronic commerce and digital marketing.
The programme focuses on providing students with an in-depth understanding of the prevailing processes and trends in Electronic Commerce and the skills required to reach, attract and retain customers in the digital space. Students will undertake a number of modules with a specific focus on Electronic Commerce including 6 year-long modules and 2 semester-long modules. 
In Semester one, Digital Business equips students with a strong conceptual foundation by studying in detail the concepts underpinning the electronic marketplace and the associated business, technological and societal implications. This foundational knowledge is built upon in the eBusiness Management module which leverages the expertise of industry professionals and enables students to deliver and manage tactical digital marketing and e-commerce campaigns and projects. Students will develop the requisite technical knowledge and skills to author and communicate brand messaging using common and emerging digital marketing technologies in Digital Marketing Mechanics and Authorship. Students will develop their understanding of the privacy, security and risk based challenges managers encounter in the E-commerce context and gives them the ability to analyse and make informed business decisions in managing the digital enterprise in the Information Risk and Regulation module. 
Data Analytics equips students with the knowledge of a variety of data visualisation techniques and statistical techniques to make sense of the emergence and exponential growth of big data. Students are introduced to the tools and techniques for constructing, optimising and maintaining E-commerce enabled websites as part of the Applied Web Design & Development module, addressing web usability, design guidelines and user experience. In Semester two, students will have the unique opportunity to engage with a high-tech start-up to practice the skills and expertise involved in the successful commercialisation of new ICT technologies by developing a commercialisation plan in Innovation and High Technology Entrepreneurship.
Both the Dissertation and Practicum affords students the opportunity to exercise their creative, questioning, analytic, and writing skills in a focused and practical manner. Whereas the dissertation is a critical evaluation of a research question primarily from an academic perspective, the practicum is intended to expose the student to an analysis of a real-world problem. While their focus is different (primarily academic or applied) they must each contain a substantial piece of primary research and students are expected to put into practice the theoretical materials covered in earlier modules.
Click here to view information from our graduates & programme news
This programme is ranked in the top 10 Master's in Electronic Commerce and Digital Marketing in Western Europe by Eduniversal
Designed and delivered in conjunction with both leading industry and academic experts.
Choose between a dissertation or an applied research project for a live client
Opportunity to complete industry recognised certificates such as Google Adwords
DCU Business School, accredited by AACSB, has an established international reputation for high quality graduates
View the current course structure
Dublin City University has forged a reputation as Ireland's University of Enterprise, through its strong, active links with academic, research and industry partners both at home and overseas.
Our solid industry relationships have allowed us to instil an enterprising culture into our postgraduate courses which has resulted in DCU Business School's reputation as being Ireland's most innovative business school. The quality of our teaching, small class sizes and high levels of industry engagement make us stand out.
We provide a unique learning environment where students are encouraged to develop their creativity and skills as innovators.
As well as being recognised by AACSB, the oldest and most prestigious global accrediting body for business schools, DCU Business School is also ranked in the top 90 European Business Schools by the influential Financial Times Ranking.
DCU graduates are highly sought after in the job market, with many going on to pursue leadership and management roles in organisations both at home and abroad.
This Masters has helped develop my career and I apply the knowledge and skills I gained from the programme to my work on a daily basis. I would definitely recommend the MSc in Electronic Commerce to anyone with an interest in the ICT industry. To anyone who is considering it, be ready to dedicate all your energy to this programme. It requires a lot, but it might be the best investment you make.
André Bastié, CEO & Co-Founder, Happy Scribe Ltd.
Graduates have pursued a variety of careers in the information economy as managers, entrepreneurs, business analysts, digital marketing specialists and e-business technologists. Graduates have found work in the growing multinationals based in Dublin including Google, Facebook, Linkedin and Adroll. Other graduates are working in specialist e-commerce organisations such as Amazon and eShopworld. Other students have developed their entrepreneurial talents and have won awards for their work.
Requirements
General Entry Requirements
For admission to the M.Sc. in Electronic Commerce (Business) candidates must hold –
A 2.1 Honours degree in a Business discipline, or equivalent international qualification
OR
A 2.1 Honours degree in a relevant non-business discipline eg. Computer Applications, Enterprise Computing, Social Science, Humanities, or equivalent international qualification.
International candidates who are non-native speakers of English must satisfy the University of their competency in the English language. More information about English language requirements for DCU Business School can be found 

here

.
Fees
Full time