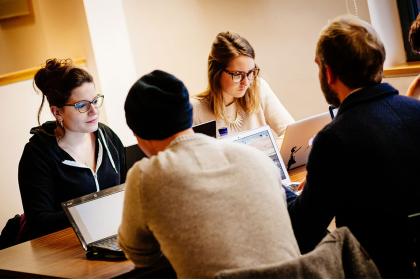 Course Type:
Postgraduate

+353 (0) 1
7008829

catherine.gallagher@dcu.ie
The University has launched a new student application portal. For applications to this programme see the Make an Application section below.
Click here for information on our next Live Webinar for this programme.
The MSc in Finance is a one-year Masters programme providing a leading European finance education, a high degree of flexibility in your learning experience and modern industry-relevant specialisms.
Our programme is structured as a core learning first semester, followed by three specialist streams in the second semester and an applied research over the summer semester. The three streams are: 
·    Financial Management
·    Capital Markets
·    Risk Management
 Through these streams and excellent practical and research-informed core learning, we allow you to specialize in a manner that reflects your interests and career aspirations. We offer an ideal path for graduates of business and economics degrees and non, who wish to undertake a career in finance by obtaining a leading European postgraduate qualification. 
The running of streams is subject to minimum numbers per stream.
This one-year Masters programme is designed to produce the kind of professionals in greatest demand in the financial industry. It does so by fostering analytical and decision making skills and helping you build a set of rigorous competences in financial subjects. You will be exposed to first-class specialist education in financial subjects, develop your quantitative skills, and have the opportunity to learn the latest econometrics and data analysis techniques, which are becoming extremely important for a successful career in the financial industry.
More specifically:
The Capital Markets stream is designed to equip graduates for challenging but rewarding careers at the forefront of the financial industry, especially in investment banking, asset management and corporate finance. It does so by fostering analytical and decision making skills and helping students build a set of rigorous competences in financial subjects. Students opting for this stream of the programme will be exposed to first-class specialist education in investment analysis and treasury and investment management;
The Risk Management stream is designed to produce graduates able to take on the demanding role of risk managers and to generate value for their firms by promoting and practicing a culture of risk-awareness and efficient risk-taking. This is a type of professional in great and fast growing demand in the financial industry. Students opting for this stream of the programme will be exposed to first-class specialist education in risk modelling and capital management and to the latest thinking in enterprise-wide risk management. The structure and course content of this stream is designed to prepare graduates for the FRM (Financial Risk Manager) GARP examination.
The Financial Management stream builds on our extensive knowledge in the field, developing and expanding our students' knowledge and experience with regards to one of the key strategic functions withing businesses of all sizes and structures.  Effective financial management reflects upon efficient effective management and investment of corporate reserves, while selecting an appropriate capital composition, accurate estimation of capital requirements and the development of exceptional financial controls.  This stream aims to provide thorough training for graduates with regards to the processes surrounding:
1. the procurement, allocation and control of financial resources;
2. the ability to best provide a regular and adequate supply of operational funds;
3. to ensure adequate returns to the shareholders;
4. to ensure optimum funds utilisation
5. to ensure safety on investment
6. to plan for a stable capital structure with qualified research supporting an effective corporate balance between debt and equity capital; and
7. to complete all of the above in an ethically and regulatory compliant manner across multiple international jurisdictions.
[Topics include: financial risk management, applied econometrics, international finance, strategic finance and the completion of a research project in financial management.]
The running of streams is subject to minimum numbers per stream.
Key aims of the overall program are to:
Help you to understand the functioning of capital markets and financial choices made by firms by exploring the latest thinking in financial economics, with special emphasis on portfolio theory, asset pricing, corporate finance;
Develop your mastery of techniques and methods of analysis useful to solve financial problems, with special emphasis on the challenges faced in the current economy.
Ultimately, the objective is to prepare you to become effective decision makers in the financial industry, equipping you for high level rewarding careers across the spectrum of the financial sector.
Click here to view information from our graduates & programme news
DCU Business School is accredited by AACSB, a standard reached by only 5% of business schools worldwide reflecting its established international reputation for high quality graduates.
The Risk Management stream is the only Finance Masters in Ireland to be recognised by the Global Association of Risk Professionals (GARP)
Ranked in the Top 100 Best Masters in Financial Markets globally by Eduniversal
View the current course structure
The MSc in Finance has been ranked in the Top 100 Best Masters in Financial Markets globally by Eduniversal
Excellent facilities, including a dedicated Bloomberg terminal, and access to Datastream and a wide range of cutting-edge "industry-grade" statistical and financial software.
The competence of lecturers teaching on the programme, all highly research-active and with a substantial track record of International publications and/or industry experience.
Close ties with the financial profession to ensure programme relevancy, with guest lectures delivered by senior finance professionals as well as Alumni who have distinguished themselves in the industry and academia.
Partnership with GARP (Global Association of Risk Professionals) and a specialism with a close alignment to the syllabus of their highly regarded Financial Risk Manager (FRM) examination.
Very strong focus on developing your quantitative, research and project management skills to equip you to work in high-end consultancy, asset management and investment banking and/or pursue a Ph.D. in Finance.
The course had the ideal blend of analysis and theory while also keeping students up to date on the fast paced, ever changing finance industry. A number of industry professionals were brought in to discuss the marketplace from their firms' perspectives. The course is very challenging, however, I have managed to find my ideal job, and I would not be in my current position without the qualification. I am only now really starting to realize how holding the MSc definitely differentiates you in the industry, and that will make you stand out for your whole career." Shane O'Doherty Brandes Investment Partners (Europe) Ltd
This programme is designed to prepare ambitious students for the challenges and rewarding career opportunities in the financial services industry. You will be equipped for a career in financial markets and institutions, especially in investment banking and asset management, or in the risk management and corporate finance functions of corporations, as well as regulatory bodies and government offices dealing with the financial industry.
Recent graduates are employed by major financial institutions including UBS, Standard & Poor's, Royal Bank of Scotland, KPMG, PwC, Boston Scientific, Commerzbank, AIB, Bank of Ireland, Goodbody Stockbrokers, Davy, Geneva Trading, Mercer, Nestle, Citco Fund Services, Standard Life and BNY Mellon.
Requirements
General Entry Requirements
Candidates apply for admission to the M.Sc. in Finance (Common Entry) which provides a common pathway into three specialised streams. The three streams are Risk Management, Capital Markets and Financial Markets, and all have the first semester in common. At the end of the first semester, with the help and advice of faculty, each student will choose which stream to take.
Entry requirements for this programme are:
A minimum second class (upper) honours degree (or international equivalent) in a Business-related or Engineering, Physics, Maths and Computer Science discipline.
International candidates who are non-native speakers of English must satisfy the University of their 

competency 

in the English language.  More information about English language requirements for DCU Business School can be found 

here

.
Fees
Full time