MSc in Global Management (Digital Disruption)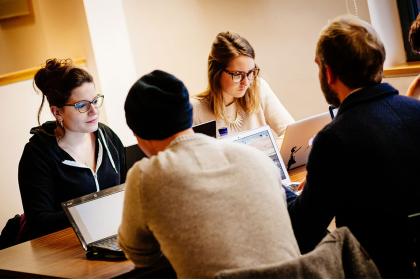 Course Type:
Postgraduate

+353 (0) 1
(01) 700 5265

business.dcu@dcu.ie
The University has launched a new student application portal. For applications to this programme see the Make an Application section below.
Click here for information on our next Live Webinar for this programme.
Your chance to meet new people and experience new cultures.  Study in two countries of your choice and learn the skills to be a successful global leader in the digital age.
In Industry 4.0, technology is disrupting, advancing and challenging business.  Management practices are operating in an era when business is borderless.  The next generation of aspiring leaders must understand the global and technological forces shaping the future of business.
While the MSc Global Management (Digital Disruption) is rooted in core management disciplines, global strategy and technological considerations underpin the programme, enabling graduates to excel in a business world where disruption, change and innovation are the only constants.
This programme is set apart by the ability to study at a partner Business School in North America or Europe.  This is facilitated through DCU Business School's membership of the International Partnership of Business Schools (IPBS), an international alliance of top business schools.  This unique opportunity immerses students in other cultures, enhancing intercultural competency and ensuring that programme graduates will excel in global business.
The programme is offered through three pathways, including an option to graduate with a double degree award.
What will I study?
Semester 1: 
International Business: Disruption & Challenges
Strategy in a Global Context
Marketing & Customer Experience Management
Cross Cultural Agility
Economic Geography & GeoPolitics
Business Process Innovation
Semester 2: 
Statistics for Business
Data Analytics & Visualisation
International Corporate Finance
Consulting Skills
Technology Management
Design Thinking & Creativity for Innovation
Thesis / Practicum
Programme formats
This programme is unique in its format and can be studied through three paths:
1.  Full time, one year programme completed at DCU Business School.  This programme confers a single MSc degree from DCU (apply through PAC).
2.  Spend semester one in either Universidad de las Americas Puebla in Mexico, Università Cattolica del Sacro Cuore (UCSC) in Italy or Goodman Business School at Brock University in Canada before coming to DCU in semester two.  This programme confers a single MSc degree from DCU (apply at ipbsmgm.com)
3.  Spend one semester in DCU* and either ESB Business School** at Reutlingen University, Germany OR NEOMA Business School** in Reims, France (apply at ipbsmgm.com)
* Options include
Semester one in DCU Business School and Semester two in ESB Business School, Reutlingen Germany
Semester one in NEOMA Business School, Reims France, and Semester two in DCU Business School
**NEOMA Business School, France, and ESB Business School, Germany, are both AACSB accredited universities.
All programmes are taught entirely through English.  Students complete their thesis in the second partner university they attend.
Click here to view information from our graduates & programme news
Find out more here: business.dcu.ie/course/msc-global-management/
Dublin City University has forged a reputation as Ireland's University of Enterprise, through its strong, active links with academic, research and industry partners both at home and overseas.
Our solid industry relationships have allowed us to instil an enterprising culture into our postgraduate courses which has resulted in DCU Business School's reputation as being Ireland's most innovative business school.
We provide a unique learning environment where students are encouraged to develop their creativity and skills as innovators.
The quality of our teaching, our small class sizes, our high levels of industry engagement make us stand out, and have been recognized by AACSB, the oldest and most prestigious global accrediting body for business schools. 
DCU Business School is along standing member of the International Partnership of Business Schools (IPBS), which is an alliance of 13 leading business schools through Europe and North America.
Building on the success of the suite of Global Business undergraduate programmes, the MSc Global Management (Digital Disruption) offers an exciting new opportunity to experience a truly unique international programme.
Graduates will acquire advanced business knowledge and the prerequisite skills to prepare them to adopt leading roles in international management.  They will learn during the programme how to use modern business solutions and acquire the data-driven digital competencies to deal with organisational and technological challenges which face corporations with international operations.
The programme promotes initiative-taking and creativity to identify and advance solutions for management problems.  Through project and case study work, graduates will be adept at teamwork and interdisciplinary thinking.  Graduates will be versed in and comfortable with data, analytics and statistics and will possess a strong understanding of innovation processes.
What skills will I learn?
International management and strategy
Data management
Technology management
Intercultural agility
Innovation, design thinking and marketing
Requirements
For admission to the M.Sc. in Global Management (Digital Disruption) candidates must hold:
• A 2.1 Honours degree in a Business discipline, or equivalent international qualification
• Applicants who have achieved a 2.2 Honours degree may still obtain a place. This will depend on availability of places and on obtaining high grades in relevant modules on their undergraduate programme.
• All applicants must also submit Letters of reference (Academic OR Professional).
• International candidates who are non-native speakers of English must satisfy the University of their competency in the English language.
Qualification
MSc in Global Management (Digital Disruption)
Fees
Full time
EU Status Fee
For full time MSc at DCU (no study abroad option) fees for EU status applicants are €11,300. For fees associated with study abroad or double degrees options please see ipbsmgm.com
Non EU Fee
For full time MSc at DCU (no study abroad option) fees for Non-EU status applicants are €17,600. For fees associated with study abroad or double degrees options please see ipbsmgm.com