MSc. International Accounting and Business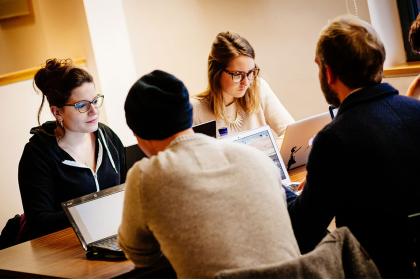 Course Type:
Postgraduate

+353 (0) 1

aideen.odochartaigh@dcu.ie
The University has launched a new student application portal. For applications to this programme see the Make an Application section below.
Click here for information on our next Live Webinar for this programme.
The DCU MSc in International Accounting and Business is the leading graduate programme of its kind in Ireland, an innovative partnership of accounting and business which is informed and shaped by the needs of the professionals of tomorrow.
The programme is designed for graduates to combine study for a Master's degree while gaining business knowledge and skills, and exemptions from professional accounting examinations at the same time.
The one-year full-time Masters programme encourages critical thinking, teamwork and communication, analytical and managerial competence, and develops a diverse range of professional attributes which equip graduates to excel and to adopt leadership positions in their professional lives.
Successful completion of this programme will achieve significant professional accounting exemptions including six exemptions at F Level with ACCA and three exemptions at CAP 1 level with Chartered Accountants Ireland.
The programme aims to foster the student's ability to provide professional solutions based on a comprehensive understanding of the relationship between the various elements of accounting and business. This is increasingly important in today's complex commercial environment.
The programme is designed in conjunction with both leading industry and academic experts.
Subject matter incorporates both professional and applied business material as well as an analytics component.
Lectures are delivered by experienced experts from academia, industry and practice, facilitating graduates with the most up-to-date theory and practice.
Select between a dissertation and an applied research project, where students can gain applied knowledge through real work with assigned industry clients.
Participate in an interactive, supportive, multicultural learning environment.
Gain generous exemptions from globally recognised professional accounting bodies such as the Association of Chartered Certified Accountants (ACCA) and Chartered Accountants Ireland. 
Graduates will be well positioned for success in advanced professional accounting examinations, or may utilise the knowledge and skills gained to develop a more general career in business.
Click here to view information from our graduates & programme news
View the current course structure
Dublin City University is a comparatively young but ambitious institution that has forged a reputation as Ireland's University of Enterprise, through its strong, active links with academic, its research and its industry partnerships at home and overseas.
Our solid industry relationships have allowed us to instil an enterprising culture into our postgraduate courses which has resulted in DCU Business School's reputation as being Ireland's most innovative business school.
We provide a unique learning environment where students are encouraged to develop their creativity and skills as innovators.
The quality of our teaching, our small class sizes, our high levels of industry engagement make us stand out, and have been recognized by AACSB, the oldest and most prestigious global accrediting body for business schools.
DCU graduates are highly sought after in the job market, with many going on to pursue management roles in organisations both at home and abroad.
DCU Business School has a long track record of producing high calibre graduates in accounting. Graduates of the MSc in International Accounting and Business will have a strong combination of technical accounting and general business skills. They will be attractive to leading international accounting firms as they can achieve generous exemptions from the globally recognised Association of Chartered Certified Accountants (ACCA) and Chartered Accountants Ireland.  They will also be attractive to national and international employers seeking to recruit graduates who can make significant contributions to discussions and decisions that have a financial dimension, even when these graduates are employed in roles other than accounting.
Requirements
For admission to the M.Sc. in International Accounting and Business candidates must hold:
• A 2.1 Honours degree in any discipline, or equivalent international qualification
• Applicants who have achieved a 2.2 Honours degree may still obtain a place. This will depend on availability of places and on obtaining high grades in relevant modules on their undergraduate programme.
• Applicants with relevant professional qualifications and/or at least 5 years of appropriate work experience may also be considered for admission to the programme.
• International candidates who are non-native speakers of English must satisfy the University of their competency in the English language.
Qualification
Postgraduate Taught
Fees
Full time