MSc in Leadership and People Strategies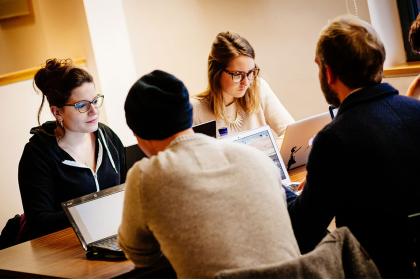 Course Type:
Postgraduate

+353 (0) 1

aurora.trif@dcu.ie
*Note: The next intake for this programme is September 2024
The DCU Business School MSc in Leadership and People Strategies is being offered from 2023 to relaunch and update the School's highly successful Msc in HR Strategies (MHRS) programme.  The MSc in HR Strategies over the past 20 years has established a reputation as the leading programme in Ireland for managers and professionals who are interested in pursuing a strategic approach to human resource issues in their organisations. Since its inception in 1997, the MHRS has attracted a variety of participants including human resource professionals and consultants, training and development professionals, and employee relations specialists, in addition to line managers and those involved in managing their own companies. 
The programme has now been relaunched as the MSc in Leadership and People Strategies to meet the changing and future needs of professionals in this space.  In updating the programme, we have blended the significant strengths of our established programme with new and cutting edge content.  The established strengths of the programme's focus on strategic leadership in the people management side of business are now augmented by continuously updated content from our faculty's globally recognised research.  New and exciting elements reflect the need for increased agility not only in organisation processes, but in leadership behaviours also within the HR function itself.  The growing importance of future–focused Talent Management, data and storytelling are explicitly recognised in the new modules, and our School's national leadership in HR and related research will be continuously updated for students via the new module Contemporary Issues in HRM and Talent Management. 
MHRS graduates are employed in major multinational, indigenous, public and non-profit organisations such as: PwC, IBM, Intel, JP Morgan, Pfizer, VHI, ESB Group, An Garda Síochána, the Health Service Executive and the Defence Forces, among many others. The MSc in Leadership and People Strategies will continue to be fully accredited by the Chartered Institute of Personnel and Development (CIPD).  This programme is suitable for anyone who has, or aspires to, a HR leadership position. 
This programme is closely aligned with CIPD's HR professional map and contributes towards the development of the behaviours required to undertake key HR and people leadership roles in organisations. Modules focus on the following areas:
Talent Management

Strategic Human Resource Management

Leadership and Change Management

Employment Law and Negotiations

Strategy, Organisation and Innovation

Business Analytics and Storytelling

Contemporary issues in HRM and Talent Management

Coaching and Mentoring

Dissertation Research Project
The MSc in Leadership and People Strategies programme equips managers and professionals with the capabilities that will be needed the unpredictable future world of work.  Participants in this programme are not only embarking on an education programme, but are engaging in a personal leadership development journey that will enable them to fulfil their leadership potential.
The MSc in Leadership and People Strategies programme equips managers and professionals with the competencies needed to take on challenging roles in turbulent times. On completion students will have acquired
Mastery in problem diagnosis and the implementation of solutions as guided by theoretical and empirical research;
An ability to adopt a broad strategic perspective, rather than a narrow, functional one when resolving organisational and human resource problems;
An increased awareness of how career goals can be realised using a variety of personal and professional development techniques;
An ability to use advanced skills to conduct, implement and communicate research that will bring about successful organisational change.
Click here to view information from our graduates & programme news
DCU Business School is accredited by AACSB, a standard reached by only 5% of business schools worldwide reflecting its established international reputation for high quality graduates.
View the current course structure
Since 1997 this programme has been the leading programme in Ireland for professionals seeking to pursue a strategic approach to human resource management. The programme content is continually updated in partnership with CIPD to ensure relevance to today's HR challenges.
Students transfer academic insights into real value for their organisations; the final project is a good example of this.
A core focus on developing leadership competencies means that students emerge with significantly enhanced capabilities - a fact verified by our published research on the impact of this programme.
The interactive learning climate within the programme ensures that students build positive relationships with a valuable network of professional colleagues.
What Our Graduates Say
Barry McKimm, HR Director, Coyle Hamilton Willis
"This is an excellent programme. Its key strength lies in helping participants transfer the academic insights gained on the programme into practice. In terms of personal development and its impact on personal effectiveness, I believe this programme is second to none." 
Michael Loughnane, Manager, Leadership and People Development, ESB
"Having worked for 6 years in HR at the time of commencing the programme, it was great to see the full range of HR issues and challenges pulled together in a consistent way and set in the context of business strategy. Much of what had been observed in practice was borne out in theory. At the end, I felt as knowledgeable in HR as anyone I would encounter - a great source of enhanced self-confidence."
Milla Mamia, People & Change Consulting Manager, PwC
"The DCU MSc in HR Strategies course is the best course that I've ever undertaken. It was an excellent blend of high quality, interactive academic lectures and research and the practical application of the learning in my own workplace setting. The course has transformed the way I go about analysing strategic challenges and has given me a robust skillset to build a fit for purpose HR Strategy and System for any organisation. The last two years have been very challenging, stimulating, interesting and extremely rewarding. In my classmates and lecturers I have also met an amazing group of people who I look forward to interacting with for a long time to come. I am very happy that I chose the course in DCU, it has given my confidence, my skills portfolio and my career in HR a huge boost!"
Career ProspectsResearch conducted by the LInK Research Centre at DCU has shown statistically significant changes in leadership style over the course of the programme with participants demonstrating increased preference for developmental styles, in particular embracing the need for change, challenge and risk under conditions of freedom and scope for personal choice.
These leadership competencies are crucial in organisations facing conditions of uncertainty and rapid change.
This change process has proven to be very successful for managers completing the programme and has resulted in positive career moves and promotions.
Requirements
This programme will not be running in September 2023.
For admission to the  MSc in Leadership & People Strategies candidates must have at least three years relevant work experience and hold;
A 2:1 Honours degree in a related discipline.
Applicants who have achieved a 2.2 Honours degree may still obtain a place. This will depend on availability of places and on obtaining high grades

in relevant modules on their undergraduate programme.

 
Alternatively, candidates with relevant Professional qualifications and at least 3 year

s 

relevant work experience in Human Resource Management may be considered for entry subject to interview.
Selection of applicants will include an interview.
This programme is fully accredited by the Chartered Institute of Personnel Development and completion leads to graduate membership of C.I.P.D.
Qualification
MSc in Leadership & People Strategies
Fees
Part time
EU Status Fee Part-time
€6,650 per annum
Non EU Fee Part time
14,500 per annum