MSc in Management (Strategy)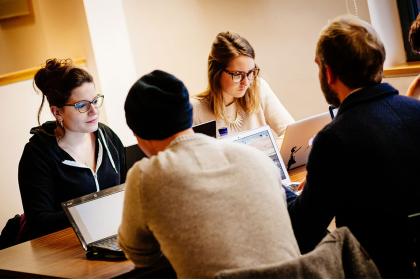 Course Type:
Postgraduate

+353 (0) 1
(01) 700 5265

business.dcu@dcu.ie
The University has launched a new student application portal. For applications to this programme see the Make an Application section below.
Click here for information on our next Live Webinar for this programme.
The MSc in Management (Strategy) enhances the knowledge skills, and competencies of students who already have an undergraduate degree in business, but who wish to develop a deeper competency in business strategy and management at Master's level.
The programme provides you with highly sought-after skills and competencies to assess and contribute to strategic thinking, analysis, decision-making, strategy formulation and strategy execution in organisations.
You'll gain applied knowledge through real work with assigned industry clients and by the end of the programme, you will have developed into a strong and confident business professional.
I have no regrets in going back to complete the MSc in Management (Strategy). I'm really enjoying working in Dublin Airport Authority as I'm getting a huge amount of experience and the opportunity to work on some really exciting projects. Completing the MSc in Management (Strategy) has been a key enabler for my success to date in the company.
Students will take a number of key strategic management based modules. Strategy and Competition will provide students with a thorough grounding in the nature of business strategy, strategic interaction, competition, and competitive advantage, while Strategy and Leadership deepens students' understanding of the strategy process in its wider context, developing skills in business analysis and strategic thinking. How to implement strategic plans will be explored in Consulting Skills, which develops students' conceptual understanding and skill proficiency for practising consulting.
In addition, there are a number of domain specific modules, which take a strategic perspective. In Marketing Strategies, students develop skills in analysis, creativity, and communications as well as providing practice in the application of marketing concepts, techniques and principles, while students will analyse and select the most appropriate business modelling tool or technique for problem situations in Business Process Innovation.
Knowledge and understanding of the key issues in the management of technology has become an integral part of strategic management and there are a number of modules that address this. Technology Management helps participants to develop a clear understanding of technology's role as a driver of change and increased productivity in business and as an enabler of business model evolution and increased business value. Digital Business equips students with a strong conceptual foundation by studying in detail the concepts underpinning the electronic marketplace and the associated business, technological and societal implications. The challenges organisations face when introducing information technology and the choices management make when leading such large-scale IT-enabled change initiatives are explored in the Organisation and Management in the Networked Era module. Students will have the unique opportunity to learn and practice the skills and expertise involved in the successful commercialisation of new ICT technologies by developing a commercialisation plan for a product, process or service idea in E-Commerce and Entrepreneurship. Finally, in Data Analytics & Visualisation, learners are equipped with a variety of techniques and the knowledge of a variety of tools and statistical techniques to make sense of the emergence and exponential growth of big data.
The unique and highly regarded Next Generation Management module provides students with the opportunity to develop the competencies required for successful management and leadership careers. It focuses on four key themes: personal and career development; research skills; global and societal awareness; and digital media and communication. Particular emphasis is placed on reflective and critical thinking, collaborating with people, creating and sharing knowledge and dealing with complexity. 
Both the Dissertation and Practicum affords students opportunity to exercise their creative, questioning, analytic, and writing skills in a focused and practical manner. Whereas the dissertation is a critical evaluation of a research question primarily from an academic perspective, the practicum is intended to expose the student to an analysis of a real-world problem. While their focus is different (primarily academic or applied) they must each contain a substantial piece of primary research and students are expected to put into practice the theoretical materials covered in earlier modules.
Click here to view information from our graduates & programme news
Find out more here: business.dcu.ie/course/management-strategy/
Ranked in the Financial Times world's top 90 MSc in Management
DCU Business School is accredited by AACSB, a standard reached by only 5% of business schools worldwide reflecting its established international reputation for high quality graduates.
Opt between a dissertation or a practicum, an applied research project for a live-client
Our capstone Next Generation Management module offers you flexibility in learning opportunities personal to you and your career aspirations
Modules continually updated to meet the needs of industry
View the current course structure
Dublin City University has forged a reputation as Ireland's University of Enterprise, through its strong, active links with academic, research and industry partners both at home and overseas.
Our solid industry relationships have allowed us to instil an enterprising culture into our postgraduate courses which has resulted in DCU Business School's reputation as being Ireland's most innovative business school.
We provide a unique learning environment where students are encouraged to develop their creativity and skills as innovators.
The quality of our teaching, our small class sizes, our high levels of industry engagement make us stand out, and have been recognized by AACSB, the oldest and most prestigious global accrediting body for business schools.
DCU graduates are highly sought after in the job market, with many going on to pursue management roles in organisations both at home and abroad.
Sarah McGinn, Executive Coordinator at Dublin Airport Authority
I have no regrets in going back to complete the MSc in Management (Strategy). I'm really enjoying working in Dublin Airport Authority as I'm getting a huge amount of experience and the opportunity to work on some really exciting projects. Completing the MSc in Management (Strategy) has been a key enabler for my success to date in the company.
Graduates are expected to be strong strategic thinkers and formulators of high level directional plans and thus are attractive to large organisations seeking strategy management or consultancy. Coupled with their primary degree, graduates of the M.Sc. in Management (Strategy) will be part of a specialised and valuable select group of graduates with a strategic comprehension and knowledge skill set specializing in strategy.
The career path of a graduate of the programme would ideally be suited to senior management at a strategic level within an organisation or independently at a consultancy firm or as an entrepreneur.
Requirements
For admission to the M.Sc. in Management (Strategy) candidates must hold:
• A 2.1 Honours degree in a Business discipline (which include introductory Economics, Accounting and Finance), or equivalent international qualification.
• Applicants who have achieved a 2.2 Honours degree may still obtain a place. This will depend on availability of places and on obtaining high grades in relevant modules on their undergraduate programme.
• International candidates who are non-native speakers of English must satisfy the University of their competency in the English language. Please see link https://www.dcu.ie/registry/english-language-requirements-non-native-sp…
Fees
Full time
EU Status Fee
€11,300 per annum
Non EU Fee
€17,600 per annum