Law & Government / Computing
Graduate Certificate in Data Protection (Law & Computing)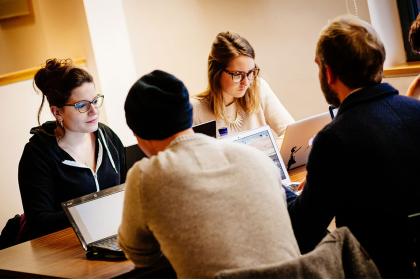 Course Type:
Postgraduate

+353 (0) 1
700 7020

irina.tal@dcu.ie
The growth of the digital economy has resulted in personal data processing becoming a global industry of enormous value. The General Data Protection Regulation (GDPR), which came into effect in May 2018, aims to protect EU privacy rights and harmonise data protection law across the EU. The GDPR changes the way in which personal data must be collected, stored and processed. Given that personal data is used so widely, the GDPR impacts upon a vast number of sectors and data privacy has become an important concern for businesses, internet users, lawyers and public bodies.
The Graduate Certificate in Data Protection (Law and Computing) is an interdisciplinary programme run jointly by the School of Law and Government and the School of Computing with the collaboration of the Association of Data Protection Officers (ADPO), a special interest society within the Irish Computer Society (ICS). The aim of the programme is to combine the University's expertise in law and computing and the materials provided by the ADPO/ICS to provide students with advanced expertise in the technological and legal aspects of data protection and privacy law.
Programme Structure
The course consists of 3 modules, 10 ECTS credits each: one law focused module, one computing focused module and one module very practical in nature delivered by the School of Computing, but with quite an interdisciplinary approach. This latter module encompasses material provided by the Association of Data Protection Officers (ADPO), a special interest society within the Irish Computer Society (ICS). It also encompasses a practical project that students need to complete throughout the whole year.
Project Aims and Objectives:
Provide students with a systematic understanding and critical awareness of the legal and technological issues at the forefront of data privacy.

Enable graduates to be highly competitive in a field which has a high demand for well qualified graduates.

Provide students with a unique interdisciplinary education.
Life on Campus
We have three academic campuses close to Dublin City centre - they are located in Glasnevin and Drumcondra, and can be reached by public transport (Dublin Bus).
Each campus has libraries, study spaces, restaurants, and on-campus residencies. Sports facilities are located on two of the academic campuses. We also have a dedicated sports campus in the form of St Claire's. 
Exceptional facilities
DCU students have access to exceptional teaching and learning facilities across our three academic campuses. 
These include modern learning theatres, research centres, television and radio/podcast studios, classrooms, computer suites and advanced labs in the areas of languages, engineering, physics, chemistry and biotechnology, as well as a sports performance centre and training hospital ward. In 2021, we opened our first virtual reality 'Leadership Lab', which is located in our Business School.
Construction on our FutureTech building on the Glasnevin campus will get underway in 2022. Once completed, this facility will advance DCU's international reputation for excellence in science, computing and engineering disciplines. It will have the capacity to accommodate an additional 3,000 STEM students on the university's Glasnevin campus.
Campus life
Among the student facilities in DCU are a sports complex with a 25 metre pool, three libraries and The Helix, our renowned performing arts centre.
In 2018, a purpose-built state-of-the-art new student centre - The U - was opened. This centre serves the needs of a rapidly growing student body of 18,500 and is home to the Student Leadership and Lifeskills Centre, performing arts and cultural spaces for students and the wider community, and an Entrepreneurship and Innovation Hub.
There are more than 140 clubs and societies for students in DCU, with 'Clubs & Socs' days taking place on both the Glasnevin and Drumcondra campuses at the start of the academic year.
Student Supports
We have a number of academic, professional and social supports for students.
Student Advice Centre: Offers a wide range of supports and services to students
The Writing Centre - drop-in writing workshops for students through the academic year 
Maths Learning Centre - provides maths support for students of all ability levels with maths modules 
Student Learning: facilitate the transition from passive to active learning for students at DCU, by teaching study skills, nurturing critical thinking and building student confidence. 
Careers work with students to help them on their professional journey into graduate employment.
Our student support team offers a comprehensive support programme, helping students make that all important transition into university life and focusing on building confidence and skills which are key to success at third level.
Careers
 There are significant demands from the public and private sector and professional external stakeholders for Data Protection Officers and participants on this course will have the skill set required to fill these positions.  It will also provide people working in the relevant sector the opportunity to upskill for either their current position or for promotion.
Requirements
Applicants must have an Irish or UK Honours undergraduate degree (H2.2 or above) or equivalent in Computer Science, Computing, Computer applications or a related discipline. Candidates with significant experience in the software development sector in addition to an Honours primary degree in some other discipline, may also be considered for entry. Prior professional qualifications and experience may be decisive in admission. For example the ICS certified Data Protection Practitioner will be accepted for entry.
Qualification
Graduate Certificate in Data Protection (Law & Computing)
Fees
Part time
EU Status Fee Part-time
€2,726 per annum
Non EU Fee Part time
€3,896 per annum