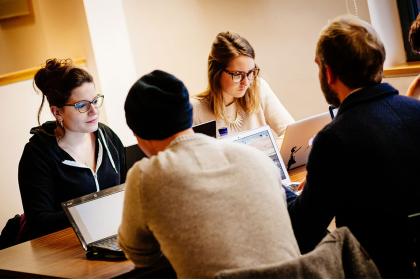 Course Code:
DC643(Full Time), DC644(Part Time)
Course Type:
Postgraduate
NFQ Level:
9 - Please see
www.qqi.ie
for further information
Duration
Full Time - 1 Year, Part Time - 2 Years

+353 (0) 1
7005676

jean-philippe.imbert@dcu.ie
There is no intake for September 2022 for this Programme
The MA in Sexuality Studies is a unique, interdisciplinary, postgraduate programme offering specialist theoretical training in issues relating to all sexualities in the Irish, European and global contexts. 
The programme will equip you with the relevant knowledge and skills to become a competent professional in your encounters with all issues related to sexuality.
Our educational philosophy aims at advancing cross-, inter-, and multi-disciplinary teaching and research. It also seeks to nurture advocacy in sexuality studies to enhance sexual literacy, thereby generating well-being and social justice.
Our strategic aim for this programme is to:
Educate the future generations of pratcitionners in Sexuality Studies, advance quality research on sexuality, and generate dissemination of knowledge;
Elaborate on sexuality-related literary, artistic and cultural discourses and artefacts;
Advocate for social policy on sexual literacies, sexual cultures, and sexual education in relation to human rights that shape social justice and diversity;
For these reasons, the aims of this interdisciplinary programme are to enable students to
Develop knowledge regarding the working and diversity of sexual cultures, sexual identities and gender role formation.
Engage in socio-political and ethical debates regarding the interaction of artistic, cultural, economical, health, historical, and social spheres with human sexuality, at personal and societal levels.
Provide a challenging environment where initiative and creativity will be fostered, where students will be encouraged to share experiences and learn cross-disciplinary approaches from each other.
Familiarise participants with central parameters and trends in the contemporary Sexuality Studies environment.
Equip students with the skills and sexual literacy to devise and implement work-related strategies.
Develop in students the necessary competencies to measure and evaluate Sexuality Studies- related initiatives.
Emphasise in its content and delivery the need for an integrated approach to Sexuality Studies.
Develop negotiating skills to give participants the confidence to promote solutions in the Sexuality Studies environment.
Develop in students lifelong learning skills.
View the current course structure
This programme provides a national platform for contemporary Irish debates, but also formalises and develops links with the leading academic and research institutions in this field.
By bringing together different colleagues from different Schools this programme gathers a vast array of university-wide expertise to create a dynamic, comprehensive and inter-disciplinary new programme.
Our teaching is informed by the best available research, an emphasis on engagement in learning partnerships with our stakeholders, and the development of a distinctive Sexuality Studies inquiry-led approach to learning. The DCU academic community and the on-campus support services all advocate sexual literacy and the advancement of knowledge in this growing field.
Career Prospects
Expertise in human reproduction, sexuality, sexual and gender identity and diversity, sexual orientation and practice will meet the career needs of people aiming at or already working in:
Public health settings, especially those related to AIDS education, AIDS/HIV treatment and care centres.
Civic, charitable or civil organisations focusing on migrancy, homelessness, refugees integration.
Reproductive health education, research, training, and prevention facilities and organisations.
Cultural and artistic environments.
Sexuality /pastoral education at primary, secondary and tertiary levels.
Policy makers in research or public policy institutes. 
Media and journalism.
Service provision and training for service providers in hospitals, clinics, nursing homes, and Rape Crisis Centres.
Human Resource departments of businesses and corporations responsible for the design and implementation of policy/practice pertaining to sexuality, sexual/gender orientation and sexual behaviour. Research, policy, and education provision in gay and lesbian agencies and community centres.
Marriage or Relationship Counselling Services, Psychotherapy and other counselling services.
Preparation for doctoral research in Anthropology, Art Management, Business Studies, Communications Studies, Comparative Studies, Comparative Literature, Drama Studies, Film Studies, Health, History, Intercultural Studies, Law and Government, Media Studies, Migration Studies, Psychology, Sociology, Social Work.
Therefore, graduates will be well equipped to take up positions in universities and colleges, secondary and primary schools, local and national government, non-governmental organisations, research and training, physical and mental health settings, human resources and private sector positions.
Requirements
General Entry Requirements
Requirements
For admission to the MA in Sexuality Studies programme, successful applicants will have - 
A degree at the level of an Irish or UK Honours undergraduate degree (H2.2 or above) or equivalent
Applicants with appropriate combinations of professional qualifications and experience may also be considered. This includes discipline-specific knowledge and know-how; transferable skills; basic research competency; personal effectiveness.
International candidates who are non-native speakers of English must satisfy the University of their competency in the English language.  More information about DCU's English language requirements can be found here

.
Fees