School of Nursing, Psychotherapy and Community Health
Grad Cert in Relationships and Sexuality Education for People with Intellectual Disability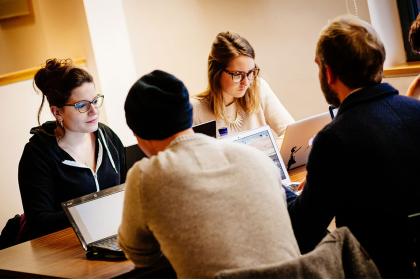 Course Type:
Postgraduate
NFQ Level:
9 - Please see
www.qqi.ie
for further information

+353 (0) 1
700 5833

mel.duffy@dcu.ie
Join us for our next Postgraduate Event taking place in August 2022. Full details to follow shortly: Click here to register >>
This programme will open to applications in January 2022 - date TBC
The Graduate Certificate in Relationships and Sexuality Education for People with Intellectual Disability is a unique programme offering specialist educational training in the area of friendships, relationships, sexuality and sexual health. It will reflect issues relating to all sexualities in Irish, European and global contexts.
This one-year, part-time, online programme begins in September, and comprises three core modules.  
The programme will equip participants with appropriate, accurate, evidence-based, up-to-date knowledge, free from discrimination, gender bias and stigma. It aims to create and develop competent educators in the areas of friendships, relationships and sexuality and sexual health.
Our strategic aim for this programme is to provide the first Irish Level 9, taught programme in Relationships and Sexuality Education for people with Intellectual Disability. The objectives are to:
Train a generation of educators in friendships, relationships, sexuality and sexual health for people with intellectual disability across the lifespan

Elaborate on sexuality-related literary, artistic and cultural discourses

Advocate for the implementation and where necessary the creation of social policy on sexuality, sexual health education and sexual education promotion in relation to human rights that shape social justice and diversity
For these reasons, the aims of this programme are to enable students to:
Develop knowledge regarding the working and diversity of sexuality, sexual identities, gender identities, sexual orientation and formation of sexual cultures

Engage in socio-political and ethical debates regarding the interaction of cultural, health, disabilities, historical and social influences with human sexuality, at personal and societal levels

Provide a challenging environment where initiative and creativity will be fostered and where students will be encouraged to share experiences and learn from each other

Equip students with the skills and sexual literacy to devise and implement work-related strategies

Develop in students the necessary competencies to measure and evaluate friendships, relationships, sexuality and sexual health related initiatives 

Emphasise in its content and delivery the need to exercise critical judgement in order to select relevant friendships, relationships, sexuality and sexual health educational tools

Develop negotiating skills to give participants the confidence to promote solutions in the friendships, relationships, sexuality and sexual health environment

Develop lifelong learning skills 
This one-year, part-time, online programme begins in September, and comprises three core modules.  
Language, Sexuality and Culture
Topics include: Socialisation process; History and theories underpinning sexuality studies; Intellectual disability; Heterosexuality; History of Irish sexuality; Social institutions; Language, media and communications; Lesbian, Gay, Bisexual, Transgender, Queer, Intersex (LGBTQI); Power and intimacy.
Intellectual Disability Relationships and Sexuality
Topics include: Personal values and understanding of people with intellectual disability being a sexual human being; Supporting relationships; Intimacy; Communication; Power; Labelling and discrimination; Friendships and relationships for all regardless of level of disabilities.
Pedagogy and Sexual Health
Topics include: Theoretical perspectives on teaching and learning; Theories of learning; Lesson plan development; Facilitating teaching sessions creatively and RSE policy development. 
Emphasis on engaging in learning partnerships
Teaching informed by best available research
Distinctive inquiry led approach to learning
View the current course structure
Our teaching is informed by the best available research, an emphasis on engagement in learning partnerships with our stakeholders, and the development of a distinctive Sexuality and Sexual Health Education inquiry-led approach to learning. The DCU academic community and the on-campus support services all advocate sexual literacy and the advancement of knowledge in this growing field.
Career Areas
Education
Healthcare
National Voluntary Organisations
NGOs
Public Health
Graduates will be well equipped to develop their existing practices and/or take up positions with a multiplicity of stakeholders such as intellectual disability services, secondary and primary schools, local and national government, non-governmental organisations, health settings and private sector positions, for example:
Sexuality/pastoral education at primary, secondary and tertiary levels

Services for the child and adolescent both with NGOs and governmental agencies

Community and primary care workers, social workers, registered nurses (Intellectual Disability, General and Mental Health) and especially those related to sexual health education and promotion and care centres

Reproductive health education, research, training, and prevention facilities and organisations

Service provision and training for service providers in hospitals, clinics, nursing homes and rape crisis centres

Marriage and relationship counselling services, psychotherapy and other counselling services
Requirements
General Entry Requirements
Normally a recognised primary Level 8 degree with a minimum of a H2:2.
A minimum of two year's post primary degree experience.
In the case of International applicants, having educational qualifications of a standard equivalent to those outlined above. In addition, where such candidates are non-native speakers of the English language they must satisfy the University of their competency in the English language.
Applicants who do not hold a primary degree (or judged equivalent) will have their prior certified learning assessed through a system of Recognition of Prior Learning (RPL).
Fees
Part time
EU Status Fee Part-time
€2,590 per annum
Non EU Fee Part time
€5,000 per annum