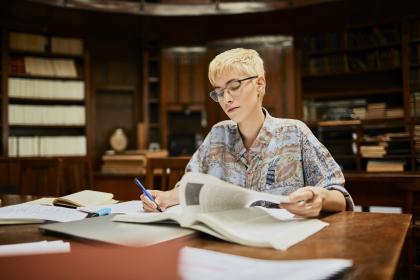 Course Type:
Undergraduate
NFQ Level:
8 - Please see
www.qqi.ie
for further information
Delivery Mode:
Online Distance Learning

+353 (0) 1
7005481

openeducation@dcu.ie
Join us for our CAO Information Evening from 4pm-7pm on Tuesday 18th January 2022 and chat to students live about studying at DCU -
Click here to register >>
Applications for entry to this course are now closed.
Are you passionate about Literature and History? Unlock your potential by learning about how our view of the past is shaped, from the close of the Middle Ages to the twentieth century; and studying Irish, British, American, and other literature in English from a range of perspectives in criticism and theory.
The Bachelor of Arts in English and History programme offers you the attractive opportunity to obtain a DCU undergraduate degree through online learning, which is more open and flexible than if you registered for a full-time, or part-time, campus-based programme.
Patrice completed her course with DCU, studying from her home in Togher, County Louth.
You can view Patrice's video story here : https://youtu.be/oTqSouCzBWs
Watch our Open Day taster lecture below for more.
The English and History subject areas are each presented as a suite of six modules which cover different aspects of that subject, for example Land, Politics & Society in Independent Ireland in History or The Renaissance in Literature.
Programme Subject Areas:
History
The History subject stream equips students with a wide range of skills and techniques upon which historical research and writings are based. Students will engage in the critical examination of historians' works, and the evaluation of primary sources, and will acquire the conceptual tools with which our view of the past is shaped. The modules provide perspectives on major themes in Irish and European political, economic, social, and cultural history from the close of the Middle Ages to the twentieth century. Please click here for a description of each module presented on the History stream.
Literature
The Literature subject stream equips students with the skills and techniques to discriminate between literature and other forms of writing and representation, taking account of contemporary perspectives in criticism and theory, including feminism, historicism and post-modernism. Irish, British, American, and other literature in English will be evaluated in terms of their contribution to cultural formation. Students will encounter competing ideas about writing and literature, within different historical and national frameworks. Please click here for a description of each module presented on the Literature stream. To complete the Bachelor of Arts in English and History a student needs to successfully complete the twelve modules from these two subjects. Students may elect to exit with a Diploma in English and History on successful completion of eight modules, if they do not wish to progress to the full degree qualification.Please note that the programme is under constant review and there may be changes to the structure, content and presentation of the programme in future years.Each module is awarded 15 European Credit Transfer System (ECTS) credit points. These points are accumulated towards your award of degree. 180 ECTS credit points are required for the Bachelor of Arts (Hons) in English and History and 120 ECTS credit points are required for the Diploma in English and History.
How Long does it take to Complete the Course?
It is possible to complete your degree in a minimum of four years, however, this would be a 'full-time' studying commitment. The Diploma can be completed in a minimum of three years with a similar commitment. The greater the number of modules successfully completed each year, the quicker you obtain your degree. In the first year of study a student can only select the two foundation modules. After the foundation modules have been completed a student can select from one to four modules per year. The number of modules you undertake each year will depend on your individual circumstances. The Bachelor of Arts (Hons) in English and History must be completed within an eight year registration period.
 
This programme offers students great flexibility in that they can vary the number of modules they register for in a given year to match the other responsibilities in their life. Given that registering for a module means committing to the workload associated with that module this flexibility allows a student to only take on the work they can accommodate in a given year. When deciding how much work to take on students should consider the time needed to: study learning materials; actively participate in tutorials; and the time they need to set aside to interact with tutors and other students in the online discussion forums. Students on this programme also have a good degree of flexibility in terms of time, place and pace of studying as they do not have to attend campus-based classes on a regular basis.
At the beginning of the academic year, students are provided with access to a suite of self-study learning materials and resources, along with reading lists for required textbooks. Studying Literature and History, necessarily involves spending a lot of time reading academic material.
Students are supported academically through a variety of means: a personal tutor, the humanities programme team and DCU student supports. When studying a module students are supported by a dedicated Tutor. Each module has a blend of face to face and virtual tutorials. Tutorials are activity-based, participatory sessions where Tutors facilitate review and discussion of the material students have been studying. Face to face tutorials are held on DCU campus, usually on Saturdays, while virtual tutorials take place using 'live', online classroom technology. Students can partake in these online tutorials at home, work or anywhere with a broadband internet connection. All that is required is a computer with a webcam and headset. These tutorials are recorded so they can be viewed again later, and usually take place on weekday evenings or on Saturdays. Attendance at tutorials/workshops is voluntary. Students are also supported in online discussion forums. These discussion forums, which can be found within DCU's virtual learning environment Loop, is the key medium through which students communicate with their Tutor and fellow students. Regular participation in these discussion forums is very important. In addition, students have access to a number of support services that can be used to find answers to questions and resolve any issues or problems they may be experiencing.
In each module students will be given several opportunities, throughout the academic year, to demonstrate their learning through assessment work. The form that these assessments take depends on the module, but may include essays, case studies, group work, contributions to online forums and discussions, multiple choice questionnaires, learning journals and/or end of year examinations. All continuous assessment work is submitted online.
Technology and Online Skills Requirements:
Your learning experience as a DCU Connected student is enhanced through the use of learning technology and rich digital media. We understand that students will have varying degrees of technical experience and ability when they begin their studies. Due to the key role technology will play in your studies you should be ready to engage with relevant technologies to a minimum level when you begin your studies. That is, you should be familiar with using email, browsing the Internet, downloading files, and using the word processing package Microsoft Word. when you begin your studies you will then further develop your skills with using technology in your studies. Becoming more confident in the use of technology, as you study, will then help you succeed as an online distance learner.
You can find detailed information on the necessary equipment and skills required for DCU Connected students under the section 'Technology Requirements'.
The Bachelor of Arts (Hons) in English and History degree programme facilitates those interested in pursuing any kind of work that requires critical thinking skills, high quality written expression, and transferable skills such as organisation and time-management, and these skills and abilities are highly valued by employers. The knowledge and skills you will develop are useful and valuable to have no matter what path you take once you successfully complete your DCU degree programme. Graduates from the Bachelor of Arts (Hons) in English and History programme will be able to go on to a variety of postgraduate programmes and careers in those subject areas. This has already been demonstrated by existing graduates who have, to take the example of one graduate, gone on to complete postgraduate studies in Literature and is now a published author working in an Irish University and is a member of the Humanities Programme Board, helping to shape the development of the degree. Similarly, several graduates of the programme have, in addition to their other work as third-level academics in other institutions, returned to work as tutors, bringing their experience as online-learning students to that work.
Many of those studying on the Bachelor of Arts (Hons) in English and History do so with the ambition of becoming a post-primary teacher, with the Literature and History modules being recognised by the Teaching Council of Ireland for the teaching of English and History at post-primary level
Requirements
General Entry Requirements
Applicants aged over 23 years on January 1st in the year of entry are eligible for admission to the programme and are automatically granted a place subject to submission of an application form and deposit. Applicants under 23 years on January 1st in the year of entry must satisfy the normal minimum degree entry requirements of Dublin City University which are detailed here https://www.dcu.ie/registry/entry.shtml In addition, applicants who are non-native speakers of the English language must satisfy the university requirements for competency in the English language.
Fees
Full time
EU Status Fee
€900 per mod
Non EU Fee
€1,288 per mod