Overview
Do you want to develop knowledge and skills in an exciting and fast-moving field? Do you want a degree from a top ranked Irish university? Then this BSc in Management of Information Technology and Information Systems degree is for you.
This level 8 honours DCU degree is delivered through online learning and so is more flexible than a full-time, or part-time, campus based programme.
Depending on your existing level of education, you may complete this degree in a 2 – 4 year or 4 – 8 year time frame.
Watch our Open Day taster lecture below for more.
Careers & Further Options
Careers
There is currently a huge demand for skilled IT graduates. For example, it was estimated that in 2016 the Irish economy had between 2,400 to 4,500 job vacancies for graduates with an Honours Bachelor Degree or Masters in computing (Source: Forfás). This relates to jobs in the ICT sector alone, and does not count additional demand for IT graduates from other sectors of the economy. Indeed, sectors outside of traditional ICT industry are showing strong increased demand for graduates with IT skills such as, for example, the software skills required for financial modelling or database management. You will graduate this programme with a unique mix of skills in computing and business.
In addition to traditional ICT career paths, graduates of this programme will have the skills to peruse innovation and entrepreneurship by starting their own ICT-enabled business.
Entry Requirements
Applicants aged over 23 years on January 1st in the year of entry are eligible for admission to the programme subject to submission of an application form and payment of a deposit.
Applicants under 23 years on January 1st in the year of entry must satisfy the normal minimum degree entry requirements of Dublin City University which are available on the DCU website at: www.dcu.ie/registry/entry.shtml
In addition, applicants who are non-native speakers of English must satisfy the university of their competency in the English language.
IT Equipment and Skills required:
You should have regular access to a computer (with Microsoft Office), a broadband connection, a printer and a basic headset and a webcam. Specifically, you will need access to Microsoft Word, Excel and Powerpoint. You should also be familiar with using email, browsing the Internet, and using word processing packages like Microsoft Word.
You can find detailed information on the IT skills and equipment required for this programme under the section 'Technology Requirements'.
Recommendations
Mathematics
Certain modules (specifically the Mathematical and Statistical Methods (MS001) and Principles of Communications, Devices & Networks (CT1) require a competence in mathematics roughly equivalent to pass Leaving Certificate level. While a Leaving Certificate mathematics qualification is not mandatory for those aged over 23, students without recent exposure to mathematics should consider updating their skills by enrolling in a Leaving Certificate mathematics course or by studying Leaving Certificate mathematics textbooks. After you have applied, you are given online access to a Preparatory Mathematics textbook specially written for Open Education students.
You do not have to defer commencement of the programme while you develop your competence in mathematics. You can take a preparatory mathematics course in parallel with other modules not requiring competence in this area specifically the Exploring Interaction Design (HS1) and IT and Web Technology Fundamentals (C1) modules. It is not recommended to take the CT1 module before completing the MS001 module (unless you have a strong background in mathematics and/or physics/electronicsEntry Requirements:
Course Structure
The DCU Bachelor of Science in Management of Information Technology and Information Systems is a Level 8 (on the National Framework of Qualifications), honours degree programme, which provides students with critical insight into the application of Information Technology and Information Systems to the processes of management, administration and innovation within a range of businesses and organisations. Graduates of the programme will emerge with a unique mix of skills in IT, IS and business.
This degree offers students great flexibility in that they can vary the number of modules they register for each year to match the other responsibilities in their life. Given that registering for a module means committing to the workload associated with that module this flexibility allows a student to only take on the work they can accommodate in a given year. When deciding how much work to take on students should consider the time needed to: study learning materials; actively participate in tutorials; interact with tutors and other students in the online discussion forums and complete assignments. Students on this programme also have a good degree of flexibility in terms of time, place and pace of studying as they do not have to attend campus-based classes on a regular basis.
BSc in Management of Information Technology & Information Systems in 2–4 years
In order to complete this programme in a 2 – 4 year time frame, you should hold an academic qualification - a National Diploma/Ordinary Degree (NFQ Level 7) or equivalent (normally 120 ECTS credits) in a cognate area, for example in Computing or Electronics, normally with credit or distinction.
You must confirm your eligibility by applying for Direct Entry. Application forms are available upon request or you can download them from the Programme Forms section of our website (select the Open Education tab).
Course Structure
BSc in 4 – 8 years
On this course you will study fourteen (14) modules; four at level 1, four at level 2 and six at degree level. The modular courses cover five main areas of study. They are:
Most of the subject areas are presented as a suite of modules, which cover different aspects of that subject. Each module at level 1 and level 2 is awarded 15 European Credit Transfer System (ECTS) credits. Each degree level module is awarded 20 ECTS credits. These credits accumulate towards your award of degree or diploma.
To complete the Bachelor of Science (Hons) in Management of Information Technology and Information Systems you need to successfully complete fourteen modules, equating to 240 ECTS credits. Students may elect to exit with a Diploma on successful completion of the eight modules at level 1 and 2, equating to 120 ECTS credits.
The programme team reviews and updates the course annually; there may be changes to the structure, content and presentation of the programme in future years.
BSc in 2–4 years
Students who have entered with a level 7 qualification or equivalent, and have been granted direct entry to degree level modules, must successfully complete the six degree level modules in order to be eligible for the award of BSc in Management of Information Technology and Information Systems.
How long does it take to complete the course?
Students may register for a minimum of one, and a maximum of four level 1, four level 2 or three degree level modules in each academic year. The greater the number of modules successfully completed each year, the quicker you obtain your degree. The number of modules you undertake each year will depend on your individual circumstances. The minimum timeframe for completion is 2 years (as outlined above) and the maximum timeframe is 8 years.
Module selection
While this programme's modular structure provides you with the flexibility to choose how many modules you commit to studying in any one academic year, there are rules relating to module registration that you must familiarize yourself with in order for you can make a fully informed decision about which modules you wish to take. For example, some modules must be completed before others can be selected, and other modules cannot be taken in combination. Normally, level 1 modules are completed before level 2 modules and all level 1 and level 2 modules are completed before degree level modules.
Fees and Funding
Fees
EU Status Fee
€900 per mod
Non EU Fee
€1,288 per mod
How To Apply
Applications for entry to this course are now closed.
BSc in Information Technology (Code: DC343).
Recognition of Prior Learning (RPL)
In Open Education, Recognition of Prior Learning takes two forms:
1. Exemptions
If you have a Diploma, Certificate or Ordinary Degree (Level 6 or 7 on the National Framework of Qualifications www.nfq.ie) in an area related to the course, it may be possible for you to receive an exemption from studying some Level 1 and Level 2 modules of the course. Or if you have studied towards a qualification and completed modules but never actually qualified you may also be eligible.
If you get exemptions you still need to pass at least three Level 2 modules to qualify for a Diploma. Please note that, (1) you will not obtain exemptions on the basis of work experience alone, (2) you cannot get exemptions from degree level modules and (3) you cannot use an honours degree (NFQ Level 8) to gain an exemption (only qualifications lower than honours degree level apply).
Exemption Application forms are available to all applicants upon request or you can download them from the Programme Forms section of our website, under Open Education. 
2. Direct Entry
Candidates for direct entry to the degree level modules must have an academic qualification in a cognate area - a National Diploma/Ordinary Degree (NFQ Level 7) or equivalent in Computing or Electronics, normally with credit or distinction. Direct Entry is only granted where an award at the same level as the BSc in Information Technology (Level 8 on NFQ) has NOT been conferred on the applicant by another institution on foot of those credits.
Direct Entry Application forms are available to all applicants upon request or you can download them from the Programme Forms section of our website, under Open Education.
RPL applicants should note that each request for Exemption or Direct Entry will be considered on its own merits by the Exemption Board. The granting of an exemption/direct admission will depend on the exact nature and content of any previous award, the date obtained and, in certain circumstances, post-qualification work experience. The date of the previous award is particularly important. Given how quickly knowledge is evolving in the IT area, the Exemption Board will pay particular attention to the content studied in dated awards as they may give rise to questions regarding the currency of the applicant's knowledge.
Important Dates:
Study Period:  September to May
Fee's:
For further information regarding Fees please click on Fees. 
Life On Campus
At DCU, our students can expect a unique campus experience. We are known for our excellent teaching and learning facilities, our active clubs and societies, and our great social and sporting facilities. All this makes DCU an exciting place to be. 
DCU has three academic campuses; Glasnevin, St. Patrick's and All Hallows (both in Drumcondra), all close to Dublin City centre. 
They can be reached by public transport, Dublin Bus and Bus Éireann, with our Drumcondra campuses a ten minute walk from Drumcondra Train Station. Glasnevin is a 20 minute walk from St Patrick's and All Hallows. They are also linked by Dublin Bus.
Each campus has a library (O'Reilly, Cregan and Woodlock Hall), study spaces, restaurants, and on-campus residencies. There are sports facilities on Glasnevin and St. Patrick's, and there is a dedicated sports campus, St Claire's, located near Glasnevin on the Ballymun Road.
DCU's 19,000 students have access to exceptional teaching and learning facilities across our three academic campuses. 
These include modern learning theatres, research centres, a new media and TV studio, radio/podcast studios, computer suites and advanced labs in the areas of Languages, Engineering, Physics, Chemistry and Biotechnology, as well as a Sports Performance centre and a training hospital ward. In 2021, we opened our first virtual reality 'Leadership Lab', which is located in our Business School.
We continue to improve and update our facilities. For example, construction of a new world-class STEM facility is underway on the Glasnevin campus. With capacity for an extra 3,000 STEM students, this facility will advance DCU's international reputation for excellence in science and health, computing and engineering disciplines.
Studying in DCU isn't just about course work. The university is rich in student life and activities.
There are more than 140 clubs and societies for students in DCU, with 'Clubs & Socs' days taking place on both the Glasnevin and Drumcondra campuses at the start of the academic year. They span everything from rugby to rock climbing, anime to jazz.
For many students, sport is an important part of the DCU experience. DCU's Sports Complex boasts a 25 metre swimming pool, fitness centre gym, all-weather pitches and squash courts, as well as soccer, GAA and rugby pitches. DCU Dóchas Éireann, the university's GAA club, is the largest third level Gaelic Games club in the country. Meanwhile, DCU Athletics has been Ireland's highest achieving university club for many years. And DCU has dozens of other clubs to get involved in, from Archery to Weightlifting. 
The Glasnevin campus is home to our purpose built, state-of-the-art student centre, The U, which serves the needs of a rapidly growing student body. Here, you will find the Student Leadership and Lifeskills Centre, performing arts and cultural spaces for students and the wider community, and the Entrepreneurship and Innovation Hub. Also located on our Glasnevin campus is The Helix, our renowned performing arts centre.
On our St Patrick's campus, we have the Java Student Hub, a vibrant, warm and welcoming space where students can meet for coffee, play music, use the projector to watch events, or just relax. The walls of the Java Hub were designed based on the cultural history of St Patrick's Campus, including the special references to the notable sporting history and history of the arts.
We have a number of academic, professional and social supports for students.
Student Advice Centre - Offers a wide range of supports and services to students and advice 
The Writing Centre - drop-in writing workshops for students through the academic year 
Maths Learning Centre - provides maths support for students of all ability levels with maths modules 
Student Learning - facilitate the transition from passive to active learning for students at DCU, by teaching study skills, nurturing critical thinking and building student confidence. 
Careers work with students to help them on their professional journey into graduate employment.
Our student support team offers a comprehensive support programme, helping students make that all important transition into university life and focusing on building confidence and skills which are key to success at third level.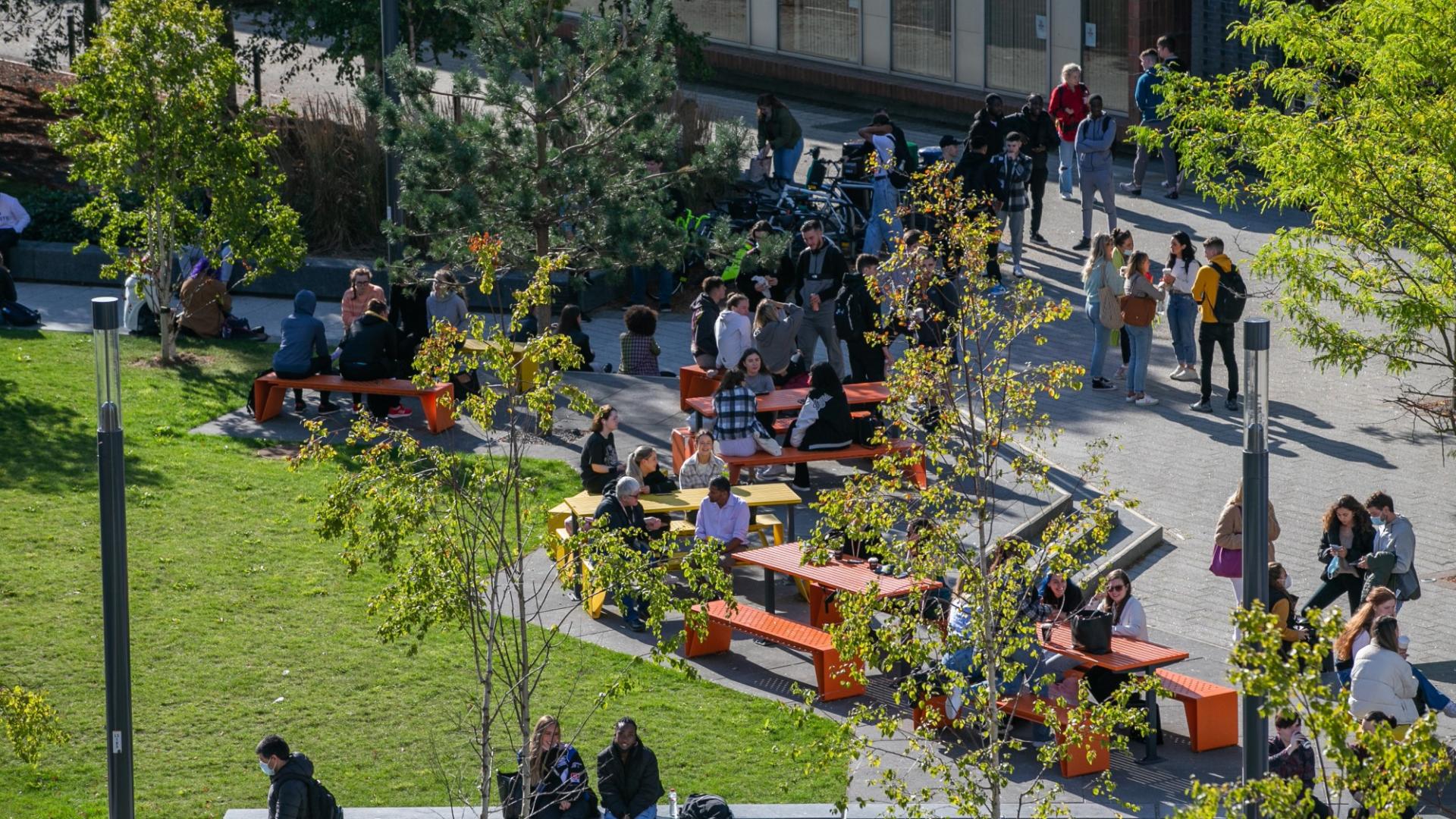 FAQs
Is DCU all one campus?
 DCU is a multi campus university - the Glasnevin, St Patrick's and All Hallows campuses. The St Patrick's campus is where the Education courses are taught and some of the subjects from the BA Joint Honours degree. There is a 20-25 minute walk between the campuses but there are buses and bikes available to go between them also.
Click here to see maps of all of our campuses
If I'm studying on the St Patrick's campus, can I use the library and sports centre on the Glasnevin campus?
Yes, all facilities such as sports and accommodation are open for all DCU students to avail of. 
Does DCU provide accommodation?
DCU does have on-campus accommodation for undergraduate and postgraduate students, and you can find out more and apply via the Accommodation Office webpage.