DCU Supporting Students' Sexual Health with Free Condoms
DCU Student Support and Development, through its healthy campus initiative, DCU Healthy, is working with the HSE's Sexual Health and Crisis Pregnancy Programme on the National Condom Distribution Service (NCDS). 
Nationally, Sexually Transmitted Infections cases are seeing a rise in numbers compared to 2021. The HPSC (Health Protection Surveillance Centre) releases weekly data on STIs in Ireland. In their latest reporting, in the week ending March 30th 2022, there was a 44% rise in Chlamydia cases and a 61% rise in Gonorrhoea cases compared to the same 12 week period from 2021. 
DCU is actively supporting the HSE's work by providing students with access to free condoms in 23 locations across the three campuses. We know increasing access supports the sexual health needs of students, who may be at increased risk of unplanned pregnancy, HIV or STIs. 
Annabella Stover, Deputy Director of Student Support in Development remarked: "I would like to thank everyone involved in the rollout of this important service across our teaching campuses. DCU is committed to initiatives that support healthy relationships and the sexual health and wellbeing of our students." 
The NCDS works to support the health promotion needs of people living in Ireland and the service which includes that of young people, students, LGBTI+ and others, as part of the National Sexual Health Strategy 2015 - 2020. 
 
DCU's role in the NCDS is to ensure condoms are more accessible for students through machines (pictured below) located on our campuses. .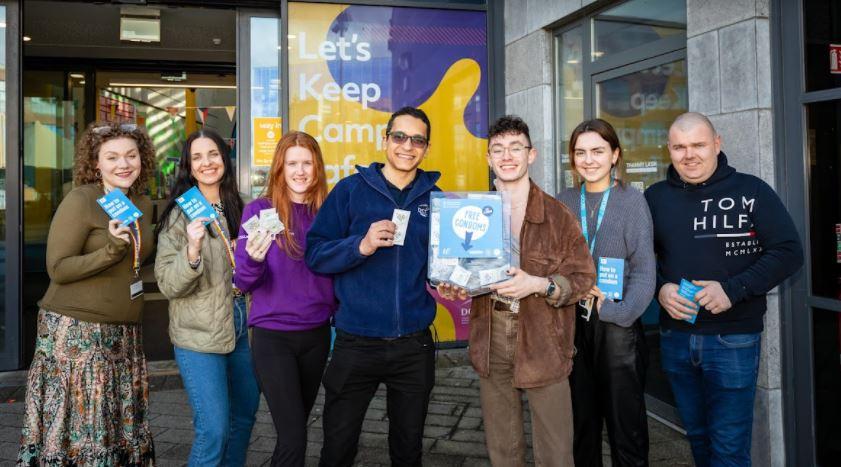 'What is really successful about this initiative is the internal partnerships and support it's received across DCU, to increase accessibility for students on our campuses. A special thank you to DCU Cleaning, Estates, Campus Res and Nubar. We want to encourage students to consider your sexual health & wellbeing. Consider contraception, STI testing and practice consensual, fun and safe sex.' Caroline Mahon, Health Promotion Officer, DCU Healthy
Collaboration is a key pillar in this programme, DCU works closely with the HSE to install and restock machines. Internally the machines are installed, restocked and promoted thanks to the Cleaning Service, Campus Res, Student Health Centre, Nubar and the Students Union.
For more information on your sexual health and wellbeing and services at DCU, go to the Develop on Loop or sexualwellbeing.ie
For exact locations of condoms on campus please check out our campus maps for Glasnevin, St Patrick's and All Hallows: