Disability and Learning Support Service
Volunteering|Disability & Learning Support Service
DCU Disability & Learning Support (DLSS) Volunteer Programme
What is the DLSS Volunteer Programme?
Building on the success of the programme last year, it is an exciting programme of visits to secondary schools, to encourage pupils with disabilities from socio-economically disadvantaged backgrounds to study in DCU. All of the target schools are linked to the University through the DCU Access programme. Volunteers also volunter at other events such as DLSS Orientation which takes place in September, DCU Open Days in November and other DLSS recruitment and information events held throughout the year.
What will it involve?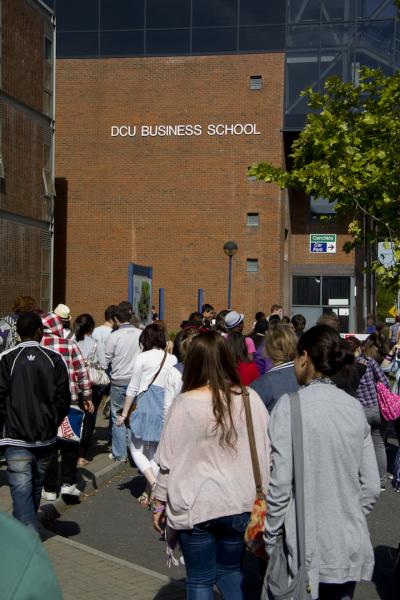 Outreach programme:
A minimum time commitment of one school visit (approximately three hours in total including travel). DCU students who have a disability will visit Access-linked schools to talk about their transition from school to college, being a DCU student, and the Disability Access Route to Education (DARE) college entry scheme.
Recruitment and other events:
DLSS orientation days will take place in Glasnevin Campus and Drumcondra Campus over three days in the first week of September. It is expected that you would be available for at least one of these days. It will involve various duties for example acting as a point of contact to new students or directing students to locations across campus or leading campus tours.
DCU Open Days take place across two days, Friday and Saturday, around the third week in November It is expected that you would be available for at least one of these days and will involve a time commitment of approximately 3-4 hours. Tasks will involve for example representing the DLSS and answering queries at the exhibition stand, directing students to locations across the campus or leading campus tours.
Other events will be advertised closer to the time and volunteers will be contacted by the DLSS to seek their support and attendance.
Do I need any particular qualifications or experience?
No, all you need is a positive attitude! We will provide training for all volunteers.
What are the advantages to me as a student?
You will gain valuable experience in working in the community and in public speaking.
All volunteers will receive a Certificate of Excellence in Volunteering from the Head of the Disability Service to formalise their contribution, and will receive a reference for their CV if required.
You will also have an opportunity to contribute to the future life and career choices of the next generation of DCU students!
How do I apply?
Further Information
Contact disability.service@dcu.ie