Educational Disadvantage Centre
EDC News 2006-08
EDC News 2008 / 2007 / 2006
2008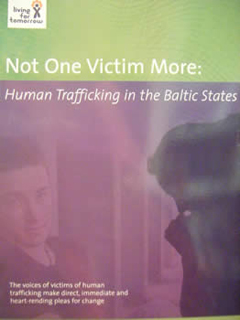 'Not One Victim More: Human Trafficking in the Baltic States' (Eds. P. Downes, A. Zule-Lapimaa, L. Ivanchenko and S. Blumberg),published by Living for Tomorrow, NGO, Tallinn, was launched on September 24, 2008 in Tallinn, Estonia. At the launch there wererepresentatives from the Estonian Ministry of Social Affairs, Ministryof Justice, Ministry of Foreign Affairs, the National Health Development Institute, AIDS Information and Support Centre, as well as theNorwegian and Swedish Embassies and the BBC.
---
EUROPEAN EDUCATIONAL RESEARCH ASSOCIATION
Founded in 1994, the European Educational Research Association's aim is to promote educational research in Europe through fosteringcooperation between European associations and institutes of educationalresearch, and international government organisations.
This year's European Conference on Educational Research, "From Teaching to Learning",took place this September 2008 in Gothenburg, Sweden. Jane Carrigan and Catherine Dooley, research fellows with the Educational Disadvantage Centre gave papers at the Conference as part of a symposium entitled "Social Justice and Lifelong Learning in Europe: mid-way findings from the EU Sixth Framework funded project LLL2010". The abstracts for these two papers can be accessed here.
---
BALLYMUN EDUCATION FAIR 2008
Ballymun Education Fair was an event of theLifelong Learning Sub Group of Ballymun Partnership. The Fair was organised asa community event where education, training and learning programme providers could meetlocal people and promote their courses tothem. Over 30 different education providers displayed at the Fair. These providersoffer education programmes ranging fromearly childhood to schooling and basic adul teducation to university. The main aim therefore of the Fair was to promote learning as a possibilityand an opportunity for everybody from cradle to grave.The organisations participating in this Education Fair provided information to people from Ballymun on what education opportunities areavailable to them in Ballymun and surrounding areas. They recruited for courses and provided guidance and advice about what course or learning programme suits you to get you where you want to be in life. A programme of entertainment, demonstrations and workshops ran throughout the day of Ballymun Education Fair too. These activities highlighted the wide variety of learning experiences on offer in Ballymun.
Click here to view the brochure for Ballymun Education Fair 2008.
---
OVERCOMING BARRIERS TO EDUCATIONAL DISADVANTAGE - CROKE PARK
The Combat Poverty Agency held a conference Overcoming Barriers to Educational Disadvantage in Croke Park on Wednesday 25th June 2008. Guest speakers included Dr. Paul Downes, Director of the Educational Disadvantage Centre, St. Patrick's College as well asProfessor Hugh Mehan, Department of Sociology, University College San Diego and Professor Kathleen Lynch, Equality Studies Centre, University College Dublin.
Dr. Downes expanded on the conclusions of a number of recent reports published by the Educational Disadvantage Centre and highlighted the need for a mental health strategy in education for contexts of disadvantage. The sessions were chaired by Mr. Jim Mulkerrins, Social Inclusion Unit, DES; Ms. Emily Logan, Ombudsman for Children and Mr.Kevin O'Kelly, Acting Director Combat Poverty Agency. Conference papers,including Dr. Downes' presentation are available here.
---
GLOBALIZATION, LIFELONG LEARNING AND THE LEARNING SOCIETY
The public lecture by Professor Peter Jarvis on 'Globalization,LifelongLearning and the Learning Society' took place on Thursday 7th February 2008, organised by the Educational Disadvantage Centre inthe college. A number of wide ranging themes were explored in relationto future directions for lifelong learning and society beyond modernist assumptions of individualism.
Professor Jarvis highlighted the injustices of global inequality and the need for education of the future to incorporate the social, interpersonal and communal dimensions to self. He highlighted that advertising was already one form of informal learning and the need to engage with other forms of informal learning was vital at all levels of the educational system.
Professor Peter Jarvis of the University of Surrey is the former Head of the Department of Educational Studies and is Adjunct Professor, Dept. of Adult Education, University of Georgia, USA. He has received a variety of academic honours, such as: being President of the British Association of International and Comparative Education (BAICE)1999-2000; the Cyril O. Houle World Award for Adult Education Literature from the American Association of Adult and Continuing Education; the Comenius Award - International ESVA Foundation (Outstanding Adult Educator in Europe – First Holder). He was also the first non-NorthAmerican to be elected to the International Hall of Fame of Adult andContinuing Education in USA. He was also awarded a Japan Society for the Promotion of Science research fellowship at the University of Tokyo. He was Noted Scholar at the University of British Columbia, and has been a Visiting Professor at the universities of Ljubljana, Tallinn,Tennessee, Alaska at Anchorage and Maryland.
Professor Jarvis is the author of a wide number of books on lifelong learning including Globalization, Lifelong Learning and the Learning Society: Sociological Perspectives: 2 (Lifelong Learning and the Learning Society) published in 2007 by Routledge.
The launch also took place of the National Report on Lifelong Learning in Ireland - LLL2010: Sub-Project 1: Towards a Lifelong Learning Society in Europe – The Contribution of the Education System
A copy of this report can be accessed here.
Authors: Dr. Catherine Maunsell, Dr. Paul Downes, & Ms. Valerie McLoughlin
The National Report is funded by the 6th EU Framework Project.
---
2007
---
BEYOND EDUCATIONAL DISADVANTAGE
The launch of Beyond EducationalDisadvantage,edited by PaulDownes and Ann Louise Gilligan and published by the Institute ofPublic Administration (IPA) was held in theAuditorium of St.Patrick's College on Monday 17th September 2007. Among the 250peopleattending were Pat Carey, Minister of State at the Department of Community, Rural and Gaeltacht Affairs and Fergus Finlay CEO of Barnardos whoofficially launched the book. (Click here to access Fergus Finlay's launch speech). Dr. Mark Morgan chaired the proceedings with Jim Cullen, Director General of the IPA opening thesession.Drs. Paul Downes and Ann Louise Gilligan spoke about the Centre's committment tothe eradication of educational disadvantageand their hopes that this volume would have an impact on policy andpractice in the education field, inparticular in the context of disadvantage. Dr. Gilligan called for an increaseof 1% of GrossNational Product assigned to education and Dr. Downes stressedtheneed for a distinct funding strand in the Department of Education and Science for mental health and educational disadvantage. Over forty authors contributed to the thirty nine chapters in the book; half ofthe contributorswork here in St. Patrick's as lecturers andresearchers.
The sale and distribution of the book is being handled by theIPA; it isavailable in Easons, Waterstones and Hodges Figgis. It canalso be purchaseddirectly from the IPA on their
website www.ipa.ie.
________________________________________________
On Thursday 28th June 2007, the report Count Us In. Tackling early school leaving inSouth West Inner City Dublin: An integrated response, commissioned by the South Inner CityCommunity Development Association (SICCDA)and authored by Paul Downes and Catherine Maunsell was launched by Minister Mary Hanafin during the SICCDAconference at the Guinness Storehouse. Paul Downes was the keynote speaker atthe conference.Other speakers included Pat Carey, Minister of State at the Department of Community, Rural Gaeltacht Affairs. Minister Carey also holds the position of head of the National Drugs Strategy.
---
2006
QDOSS
QDOSS, Quality Development of Out of School Services,hosted a conference on the 14th December 2006 in Dublin Castle. The topic was Out of School Services – their role in influencing and enabling educational outcomes for children and young people. A report entitled 'Quality Development of Out of School Services: An agenda for development,'compiledby Dr. Paul Downes,was also launched at this conference. The keynote speaker was Professor Robert Halpern, Chair of the Research Council at the Erikson Institute Graduate School in Child Development,Chicago. He holds the position of Faculty Associate at the Chapin Centre for Children at the University of Chicago. His current research focuses on the evaluation of after-school programmes for poor childrenand their families. The conference was opened by Brian Lenihan,Minister for Children.
QDOSS, working collaboratively, seeks a strategic approach at national and local community level to the provision of Out-of-School Services for those children and young people most at risk ofeducational disadvantage.
QDOSS member organisations include, along with th eEDC, Barnardos, Border Counties Childcare Network, Children's Research Centre,Foroige, Limerick City Childcare Committee, Mary Immaculate College in Limerick, TIDE and Youth Work Ireland.
The launch of a report commissioned by the Blanchardstown AreaPartnershipinto early school leaving took place on Wednesday the 6thDecember 2006. This report entitled 'Aholistic approach to early school leaving and school retention in Blanchardstown: Current issues and future steps for services and schools' is authored by Dr.Paul Downes, Dr. Catherine Maunsell andJo-Hanna Ivers.
The Educational Disadvantage Centre, in conjunction with theCentre for Human Development, have been part of a successful consortium with twelve other EU countries from Western and Eastern Europe to engage in a 5 year EU fundedproject 'Towards a Lifelong Learning Society: the Contribution of the Education System' Keythemes in this research will include social inclusion, active citizenship and access toeducation. Working in conjunction with Dr.Catherine Maunsell, Dr. Paul Downesis the Irish national coordinator.
Part of the role of the Educational Disadvantage Centre is to inform teachers of models of good practice that aim to tackle educational disadvantage in use in schools throughout the country. With this in mind, the Centre proposes to gatherinformation on Models of Good Practice and disseminate this information on its website. If you arecurrentlyusing an innovative method to tackle educational disadvantage, please contact the Educational Disadvantage Centre at +353 1 8842021 or by email at valerie.mcloughlin@spd.dcu.ie
The Educational Disadvantage Centre has been awarded a grant of 158,158 Eurofrom thePobal Dormant Accounts Fund to installsound-field amplification systems in 8 primary schools in Ballyfermot and North Inner City Dublin, and toengage in a 2 year research programme on their benefits for speech andlanguage, behaviour management and prevention of Attention Deficit Disorder.
On the 11th April 2006, Barnardos launched their new campaign on Educational Disadvantage. Their document, 'Make the Grade', accommodated a range of suggestions from the Educational Disadvantage Centre,including material from its National Forum and MonitoringGroup for theimplementation of the Forum Action Plan.