Educational Disadvantage Centre
Podcasts and webcasts
Podcasts and Webcasts
EU COMMISSION SCHOOL EDUCATION GATEWAY INTERVIEW WITH DR PAUL DOWNES ON EARLY SCHOOL LEAVING IN EUROPE
At the Second European Education Summit, School Education Gateway interviewed Paul Downes, Associate Professor of Education (Psychology) at the Institute of Education, Dublin City University.
THE INDICATORS FOR INCLUSIVE SYSTEMS IN AND AROUND SCHOOLS – WEBINAR.
November 20th 2020. School Education Gateway.
This webinar discusses the indicators for inclusive systems in and around schools that were used for the self-assessment tool on the European Toolkit for Schools website, and how these indicators can be useful for schools, administrators or teacher education.
Erna Nairz-Wirth - Associate Professor and Head of the Education Sciences Group at Vienna University of Economics and Business and member of the EDC's International Research Network on Equity in Youth Education and Training
Dr Per Kornhall - an independent author, lecturer, and consultant in school development and education Business and member of the EDC's International Research Network on Equity in Youth Education and Training
Moderator: Inna Agadzhanova - School Education Gateway
Sinéad Crossan spoke to Shane Coleman on Newstalk Breakfast on November 26th 2020, on the introduction of 'No Idling Zones' outside schools across the country. Sinéad is a teacher in the Central Model School in Dublin's city centre, and an NEIC Fellow with the Educational Disadvantage Centre in DCU
No-Idling Zones in Certain Schools Introduced
Dr Paul Downes, Suspensions and Exclusions in Primary School; Developing an Action Plan. Seminar School Completion Programme Dún Dealgan and Louth Children & Young People's Services Committee. November 24th 2020
Dr Eavan Brady. Webinar on the Educational Pathways of Care-Experienced Adults. 18th November 2020
Paul Downes of @DCU_IoE critiquing current policy on #EdDisadvantage at @ChildRightsIRL webinar. Wellbeing and increased guidance hours are a 'figleaf'. Proper therapeutic and trauma-related supports are necessary.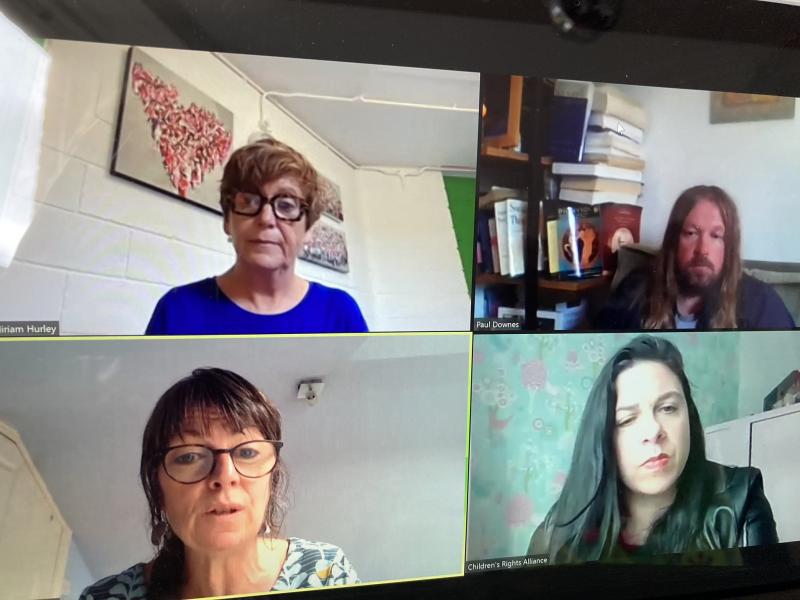 'One good adult' is no substitute for therapeutic support and exclusionary approach of suspensions is not in best interest of the child. #edchatie #eddisadvantage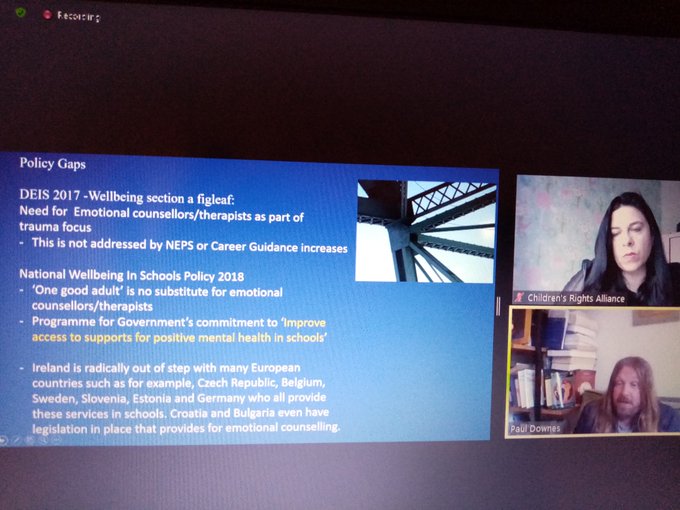 Figures on #ChildPoverty in Europe and #Ireland show that the burden of the last economic recession was placed significantly on children. We must learn from our historical mistakes to address #EdDisadvantage in the #Covid19 generation
FRESH Open Web Meeting July 15th 2020
May 2nd 2020. Education in the times of Corona: Can mainstreaming Social-Emotional Learning ensure effective learning & well-being? with panelists including Dr. Nandini Chatterjee Singh, Senior National Programme Officer, UNESCO Mahatma Gandhi Institute of Education for Peace and Sustainable Development.
May 14th 2020. Education in the times of Corona: Is preparing for peace and global citizenship, a priority?, with panelists including Monika Froehler, CEO, Ban Ki Moon Centre for Global Citizens.
Luke Rodgers, from The Care Leavers organisation, explains how school experiences of children in care are shaped by the systems around them. Webinar hosted by the Rees Centre University of Oxford, July 2020.
EDC AND NORTHSIDE PARTNERSHIP
Interview on Near FM with Challenger Coordinator, Jeannette Beirnes where she talks about Northside Partnership's Challenger Programme. The EDC and Northside Partnership have been working together for many years, providing oral Irish supports to local students with the cooperation of IoE student volunteers. LISTEN HERE
Paul Downes (@21.45) spoke on Kildare FM's Kildare Focus on the report on Early School Leaving in Carlow
Paul Downes (@23 mins) and Dylan Thomas, from Carlow County Development Partnership (@31 mins), spoke with Eimear Ní Bhraonáin of KCLR 96 FM about the rerport on Early School Leaving in Carlow
McVerry Trust and Educational Disadvantage Centre Homelessness in Education Report
INTERVIEW WITH DR PAUL DOWNES ON SCHOOL ATTENDANCE ISSUES: RADIO NEWS FEATURES. THURSDAY NOVEMBER 21ST 2019. NEWS ON THE HOUR FROM 6AM TO 10AM
Peter McVerry Trust and DCU's Educational Disadvantage Centre's research video
Pat Doyle, Chief Executive Peter McVerry Trust, and Sarah Murphy, Educational Disadvantage Centre in DCU, discuss new research from DCU's Educational Disadvantage Centre into young homeless men's educational experience with Mary Wilson on RTE's Drivetime, Wednesday 6th November 2019
MORNING IRELAND'S IT SAYS IN THE PAPERS, RADIO 1, WEDNESDAY NOVEMBER 6TH 2019
Paul Downes Keynote Presentation, Finnish National Education Agency September 2019 (from 8.48)
Listen back to Ciara Kelly's Newstalk interview with Paul Downes, Monday October 14th 2019 (from 1.29.55)
Dr Paul Downes' keynote presentation at the CNESCO (Conseil national d'évaluation du système scolaire) CIEP Sorbonne Universities' Conference on Early School Leaving Prevention. His presentation was entitled Early school leaving: taking a holistic, differentiated and systemic international perspective on the issue. Paris, November 9th 2017
Professor Daire Keogh's address
PREVENT 's challenge is to conciliate a theoretical thought of quality with the implementation of concrete recommendations useful to each partner.
PREVENT enables to:
• Exchange good practices between countries in order to learn from them at a local level
• Build, at the level of each city partner, a local plan of action thanks to the work of a support group gathering professionals, associations, parents and more widely every stakeholders interested in the drop-out issue
• Communicate and share the information with a large audience targeting principally local authorities who are not involved in the project. Antwerp, March 13th 2014
Annual conference of the European Network of Education Councils (EUNEC) on Early School Leaving.
Dr Downes gave the opening address at the European Network of Education Councils (EUNEC) conference on Early School Leaving in the Lithuanian Parliament (Seimas). The title of his presentation was, 'A Holistic Approach to Early School Leaving Prevention in Europe: Key Strategic Priorities for System Level Development'. This conference was organised by EUNEC, in conjunction with the European Commission and the Lithuanian Government (Ministry of Education and Science) in the context of its EU Presidency. Vilnius, November 18th 2013
Dr Downes' presentation is to be found at 24 minutes in on Part 1.
Paul Downes was an invited speaker at the 'Health and Welfare in the Nordic and Baltic States' seminar at University College London on Friday 26th November 2010. His presentation was entitled Social Exclusion, Ethnicity and HIV in Estonia: A Case for a Visit from the UN Special Rapporteur on the Right to Health? London, November 26th 2010