School News
Please view our school site to catch up with the latest news relating to the school.

Latest News & Events (School Site)
Older News Archive
Please find a list of older news stories from the school:
Below are just a small selection of the more recent news items associated with the School of Electronic Engineering. These include research announcements, organised events or simply tidbits of interesting information. Please contact us if you would like to have a relevant item added to the news archive. For older archived news items, visit the News Archive. Alternatively, please visit the DCU News archive for more general university reporting: DCU News

For more up to date and instant news, please follow our Engineering Twitter feed!

Tweets by @DCUEngineering
---
May 2015: BlueTape has won the PCH Hardware Hackathon in Dublin
PCH, the Irish company that designs custom product solutions for startups and Fortune 500 companies, today announced BlueTape, which developed and prototyped a Bluetooth connected tape measure, has won the PCH Hardware Hackathon at DCU Innovation Campus. The product aims to reduce clothing returns for online retailers by helping customers find the right fit first time and was created in just 54 hours, from Friday 22nd - Sunday 24th May. Over the course of the weekend, participants collaborated to hack new hardware devices from concept, to working prototype, to final product. They ultimately developed a range of functioning hardware devices that have the potential to have consumer appeal and to answer a consumer need.
First prize went to BlueTape, which developed and prototyped a connected tape measure. The team was awarded a €3,000 cash prize, a service design workshop with Each&Other as well as a free starter office for four months at the DCU Innovation Campus, should they wish to pursue and further develop their idea;
Killian Dolan, who is a current fourth year student in the B.Eng. in Electronic Engineering programme was one of the successful BlueTape designers.
---
May 2015: Guru Project Awarded Enterprise Ireland Commercialisation Funding
The Guru Project is a student information platform, designed and developed within the School of Electronic Engineering at DCU. It allows the analysis of student, module, programme and institutional data and the generation of new sub-systems which utilise this data. Principal investigator, David Molloy, has been successful in applying for commercialisation funding from Enterprise Ireland to fund the deployment of the system into the wider educational market.
---
March 2015: NEW - B.Eng. in Electronic and Computer Engineering

First Year Engineering: (Mobile Robotics EM106)


The School of Electronic Engineering has undergone a radical and exciting change to its undergraduate degree structure. This involves the creation of a new undergraduate programme, the B.Eng. in Electronic and Computer Engineering. This programme is for you if you want to acquire a creative and innovative approach to problem-solving and gain a critical awareness of the impact of electronics and computers on society. As a qualified engineer you will have the ability to design a wide range of electronic systems, such as analogue and digital systems, micro-electronic circuits, computers and communications systems.
In the final year, focus will be on particular majors and samples of these include:
Systems & Devices
Internet of Things
High-Speed Communications
Digital Interaction
For more information, please visit the programme information at
B.Eng. in Electronic and Computer Engineering
---
June 2014: DME4 Student wins Fujitsu Award for Innovation at DCU
Anoop Sebastian, a final year student in Digital Media Engineering, has created a web-based programme to tackle the difficulties experienced by Android app developers. His Integrated Development Environment (IDE) provides easy access to Android development tools allowing the user to focus his or her attention purely on app development. His innovation allows apps to be wirelessly deployed to an Android phone and for log messages generated on the phone to be wirelessly relayed to the web based IDE. This type of tool could potentially make Android application development much more accessible to those new to the discipline.
Anoop won in the Student Category and was presented by Regina Moran, CEO of Fujitsu Ireland, and Professor Brian MacCraith, President of DCU, at The Helix.

---
May 2014: Major New Research Programme for Autism & Intellectual Disabilities
A major new research programme aimed at creating new technologies to enhance the lives of people with autism and intellectual disabilities has been launched. This programme was launched by Commissioner Maire Geoghegan-Quinn on May 15th. All Irish Universities are represented in this initiative and DCU is represented by Prof. Paul Whelan (Centre for Image Processing and Analysis (CIPA) - http://www.cipa.dcu.ie). This programme was developed as part of the DOCTRID (Daughters of Charity – Technology, Research into Disability) research institute and will fund 40 postdoctoral fellows (Incoming 2 yrs, Outgoing 3 years) over a wide range of disciplines (engineers, computer scientists, behavioural psychologists, occupational therapists)
ASSISTID team presenting to the EU parliament in Brussels March 2013

The website is live at www.assistid.eu
---
April 2014: President's Award for Excellence in Teaching
DCU's annual Teaching and Learning Day took place in the Helix on Wednesday, 16th April 2014 which celebrated innovation and excellence in teaching and learning at DCU. As part of the day DCU President, Professor Brian MacCraith, announced the 2013/2014 winners of the President's Awards for Excellence in Teaching.


Jennifer Bruton from the School of Electronic Engineering received a special award for distinctive assessment and feedback.
Liam Domican from the School of Mechanical & Manufacturing Engineering received an award in the Academic Support Category.
For more information visit: President's Annual Awards
---
December 2013: School of Electronic Engineering Undergraduate Prize Giving Ceremony
The 2013 Ericsson DCU Student Project Prize was awarded to James Reilly, BEng in Digital Media Engineering. The award was presented to James by Mr Ultan O'Gorman, Senior Consultant at Ericsson Ireland.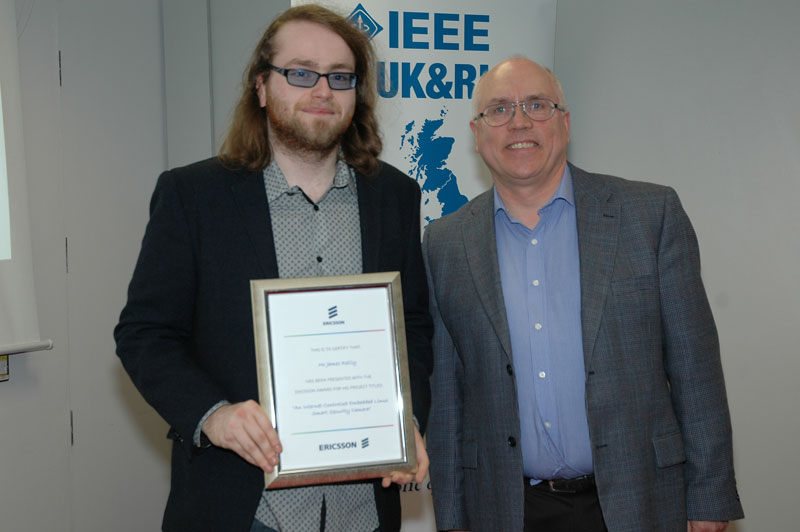 James Riley (left) receiving the 2013 Ericsson DCU Student Project Prize from Ultan O'Gorman
The 2013 Institution of Engineering & Technology (IET) Prize for best overall performance in the School of EE was awarded to Mark Marsden, also BEng in Digital Media Engineering.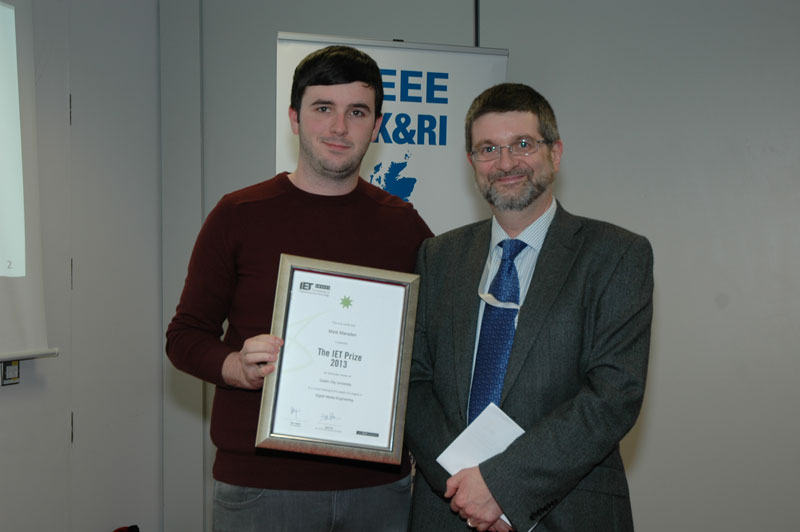 Mark Morriston (left) receiving the 2013 IET Prize from Prof Patrick McNally, Head, DCU School of EE.
The awards ceremony took place just before a Technical Seminar to the IEEE Dublin Electron Devices Society / Ireland Photonics Society delivered by Prof John Cartilage of Queens University at Kingston, Canada. The lecture was entitled "100 Gb/s Using Intensity Modulation and Direct Detection for Short Reach Applications".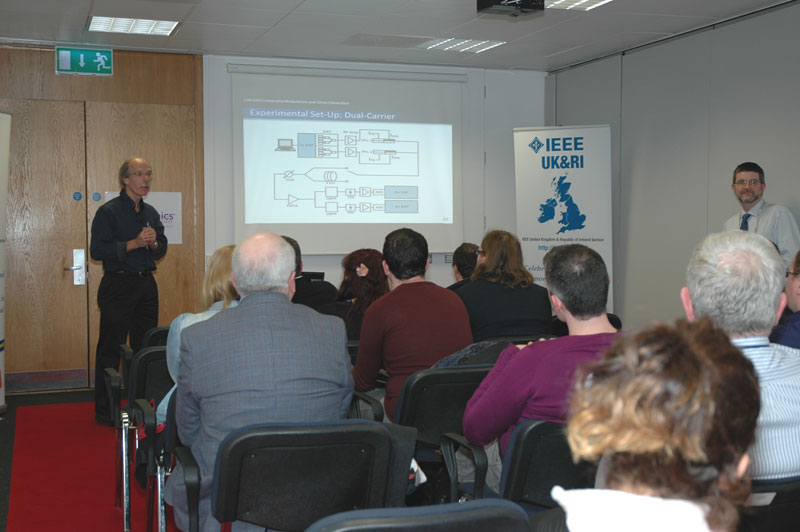 Prof John Cartledge, Queens University at Kingston, Canada, delivering his IEEE Dublin Electron Devices Society / Ireland Photonics Society lecture on 2 Dec 2013 at DCU.
---
November 2013: Recruitment and Trade Fair in India
In November of this year, DCU took part in the Education In Ireland mission to India. David Molloy from Engineering and Computing and Gary Osborne from the International Office visited Mumbai, Delhi, Bangalore and Chennai meeting hundreds of potential applicants. Of most interest were our graduate engineering programmes but also popular were our science, business and humantites programmes. There is a growing number of students from all over India at DCU and there is an active Indian student society on campus. The Education mission was part of the larger Enterprise Ireland/IDA trade and investment mission to India led by Minister Richard Bruton, seen here attending the event in Mumbai.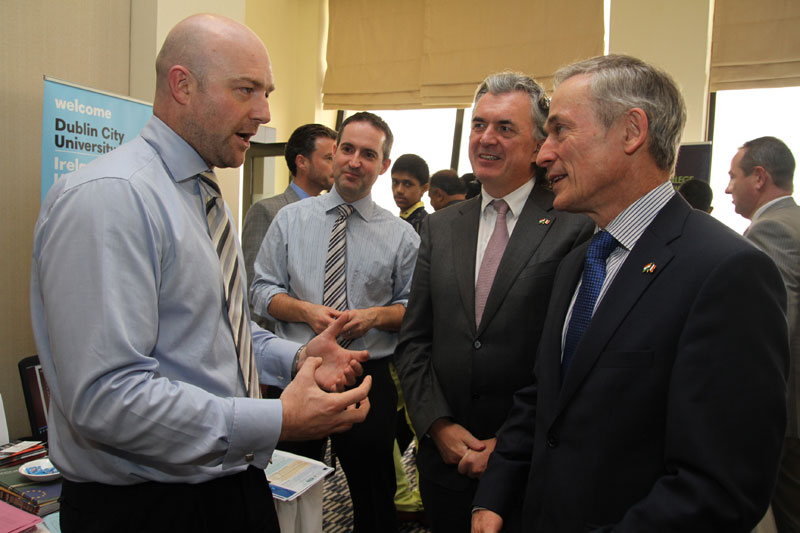 Minister Bruton visiting the DCU Stand at the Education Fair in Mumbai
---
June 2013: Engineering and Computing features prominently in the Fujitsu Innovation Awards
There was a strong representation from the Faculty of Engineering and Computing at the recent Fujitsu awards. The awards are to recognise and encourage innovative achievements by DCU students, researchers and staff. The criteria for these awards not only look at the key benefits of the idea, but more so, the greater benefit to society.
In the Student category Kaylee Cherry, a final year Digital Media Engineering student won the award for her barcode-scanning android app 'Scandroid' designed to assist the visually-impaired and blind shoppers. Kaylee worked with the National Council for the Blind of Ireland on this idea to address the issue of visually-impaired people relying on touch or assistance to identify products in a retail setting. 'Scandroid' extracts the barcode number from the product, finds the matching product online and the information is read out to the shopper using text-to-speech technology.
Engineering also focused strongly in the Administration & Support Staff Category. David Molloy, Analyst programmer in the School of Electronic Engineering, was shortlisted for his fantastic work on 'GURU'. This is a user friendly information system that assists academic management of student, module and programme performance. The criteria for this award was based on a significantly enhanced, process or method which was conceived and adopted internally at DCU and which led to a tangible and demonstrable benefit to DCU.
Paul Young, The School of Mechanical and Manufacturing Engineering was shortlisted in the 'Academic and Research Staff Category' for his 'Ecovolve' project. This is a zero emission electric vehicle for use on construction sites. The criteria for this award was for a) a product or process based substantially on research carried out at DCU with significant utility. B) clinical, economic, social or industrial) and which ideally has been endorsed externally as representing a valuable contribution to the field. Or the implementation of a new teaching and learning method (conceived and developed substantially at DCU) which enhances the student learning experience supporting evidence required.
From the School of Computing the final shortlisted nomination was Prof. Alan Smeaton, INSIGHT was also nominated for 'REMPAD', a web based system to offer reminiscence therapy for people with dementia. It was a wonderful achievement for all concerned and Fujitsu CEO Regina Moran, complimented the work and input from every individual who was nominated.
---
May 2013: Engineering and Computing : Projects Expo 2013
The 26th Annual Projects Expo took place in the Faculty of Engineering and Computing on Tuesday 28th of May. Final year students staged a showcase of their final year projects, with inventions ranging from internet-controlled security robots to an autopilot demonstration rig and hospital spillage sensing devices. Many employers from the computing and engineering sectors, including SAP, Google, Paddy Power, IBM, Deloitte and Amazon, were in attendance to snap up some of the brightest and best students DCU has to offer from its Schools of Computing, Electronic Engineering and Mechanical & Manufacturing Engineering. For more information see: Employers Snap up Brightest and Best Engineers at DCU. If you are an employer and would like to attend this event in future years, please contact Christine.Stears@dcu.ie to register your interest.
---
May 2013: Billy Roarty wins Teaching & Learning Award 2013
Billy Roarty has won the 2012/2013 President's Award for Excellence in Teaching & Learning in the teaching support category. He received huge numbers of student support nominations for his excellent work in supporting the teaching of our undergraduate modules. The citations consistently mentioned the way that he goes well beyond the normal "call of duty" in all of his work. Congratulations Billy!
---
May 2013: DCU, INSIGHT Research Centre Seeks to fill Vacancies
The INSIGHT Research Centre for Big Data Analytics is a joint initiative between researchers at University College Dublin, NUI Galway, University College Cork, and Dublin City University, as well as other partner institutions. It will bring together a critical mass of more than 200 researchers from Ireland's leading ICT centres to develop a new generation of data analytics technologies in a number of key application areas.
The €70m centre is funded by Science Foundation Ireland and a wide range of industry partners. INSIGHT's research focus encompasses a broad range of data analytics technologies and challenges, from machine learning, decision analytics and social network analysis to linked data, recommender systems and the sensor web. And together with more that 30 partner companies INSIGHT researchers are solving critical challenges in the areas of Connected Health and the Discovery Economy. The Discovery Economy refers to novel products and services based on a better understanding of short and long-term user needs. It combines ideas from personalization and recommender systems with location-based services and the real-time social web. Connected Health advocates a technology-based model for healthcare delivery to maximize healthcare resources and provide increased, flexible opportunities for people to engage with clinicians and better self-manage their own care.
Within DCU, INSIGHT will continue the work done as part of the CLARITY CSET and will initially involve researchers across Materials Science and Chemistry, Computing, Engineering, and Health and Human Performance.
For its initial start-up phase within DCU, INSIGHT is seeking to fill vacancies for 7 postdoctoral researchers, 2 research assistants and 14 PhD students across a range of disciplines, starting between July and September 2013. Further vacancies will arise throughout the next 12 months. PhD studentships are fully funded for 4 years and cover stipend, University fees and travel/materials, and are available in Computing, Engineering, and Materials Sciences
In the first instance, potential candidates should contact Prof Noel O Connor (noel.oconnor@dcu.ie) for PhD studentships in the School of Electronic Engineering.
---
April 2013: Techniques: 3D Imaging of Crystal Defects
Read Prof. Patrick McNally's review of a new 3D imaging technique for crystal defect detection in "Techniques: 3D Imaging of Crystal Defects" published in 'Nature: News & Views".
Nature 496, 37–38 (04 April 2013) doi:10.1038/nature12089 Web Link
---
March 2013: Launch of Re-Play Project
A major European motion capture technology project to preserve, promote and develop culturally important sports has been developed in Ireland through a unique collaboration between scientists, sporting bodies, cultural organisations and athletes.
Launched by Minister for Jobs, Enterprise and Innovation Richard Bruton TD at Croke Park, Dublin, Re-Play is a €2million research project funded by EU Framework Programme 7 (FP7) and involves top-class scientists from Ireland, Spain, UK, Switzerland and Greece. Their collaborative work will capture the styles of play and skills unique to Gaelic and Basque Games and develop 3D interactive software that will be used to educate future generations about these culturally significant sports.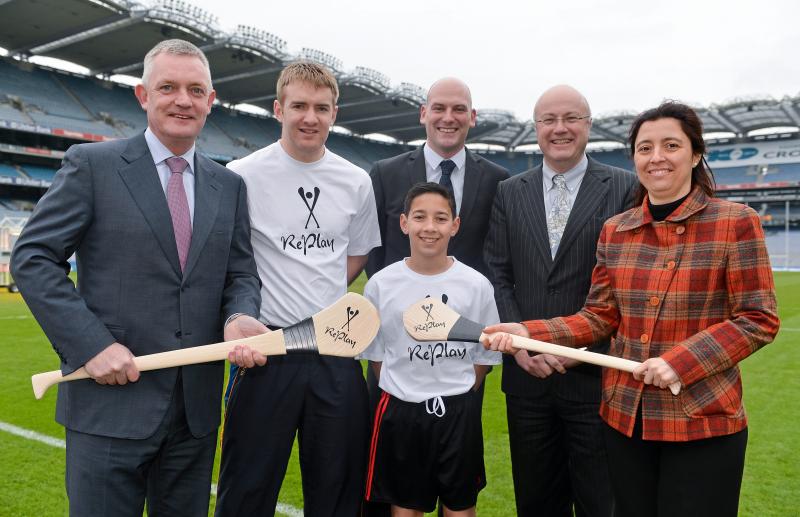 ---
November 2012: Dr. Stephen Daniels wins Entrepreneurship Award
At The big Ideas Showcase held this week by Enterprise Ireland Dr Stephen Daniels was honoured with a Commercialisation Award in recognition of his outstanding entrepreneurial spirit and commitment to commercialising research. In addition to his work leading a multidisciplinary research team in plasma technology and energy systems Stephen also holds a post as senior Lecturer in the School of Electronics at Dublin City University. Stephen has also been instrumental in the formation of several technology businesses including Arann Healthcare Ltd, Qualflow Systems Ltd, Lexas Research and Sonex Metrology. Within DCU Stephen is regarded as a real champion of innovation through his research work, his engagement with industry and his encouragement of entrepreneurship amongst students. He plays an integral part in furthering DCU's vision to be internationally recognised as a research intensive, globally –engaged University of Enterprise.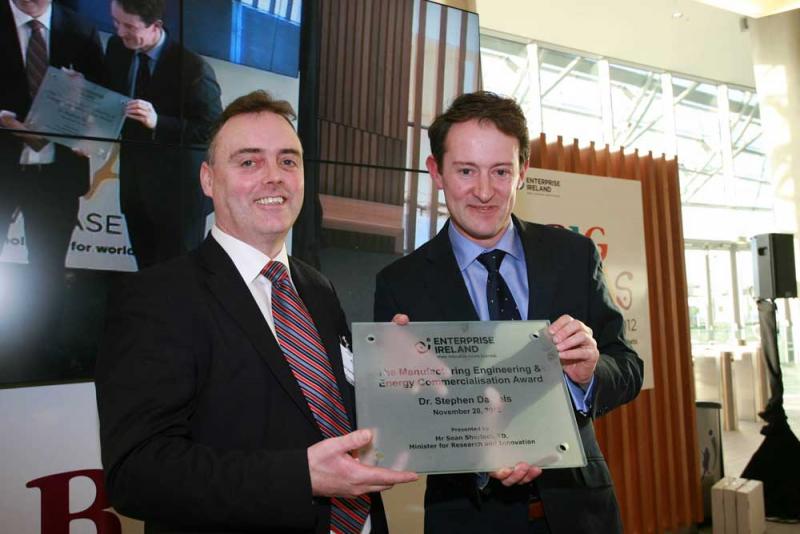 ---
November 2012: Irish Film on K2 Disaster set for Sundance
An Irish documentary about a mountain-climbing disaster has been selected for Robert Redford's Sundance Film Festival. Produced and directed by Nick Ryan, 'The Summit' tells of how on August 1, 2008, 24 climbers from several international expeditions converged on High Camp of K2, the last stop before the summit of the most dangerous mountain on earth. At the heart of the film is the story of Limerick climber and DCU Electronic Engineering graduate, Ger McDonnell – the first Irishman to reach the summit of K2, but who encountered a disastrous scene on his descent: three climbers tangled up in ropes. Ger lost his life with the three Korean climbers he was attempting to save. "The Summit" is also nominated for a prestigious Grierson Award for Best Documentary at this year's London Film Festival. (more)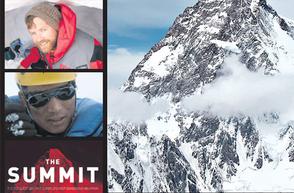 ---
July 2012: HE Luo Linquan, Ambassador of China to Ireland has opened the 2012 China Ireland Information & Communications Technology (CIICT) symposium, ICT & Energy Efficiency, at Dublin City University. The symposium will explore how the design of Information and Communications Technology (ICT) is increasingly influenced by energy costs and power consumption constraints and, additionally, how ICT will be broadly applied in future to help manage the emerging global energy crises.
Organised by RINCE, DCU's research institute focussed on innovation in engineering technologies, and a partner event of the Euroscience Open Forum (ESOF) 2012, the two-day symposium will feature talks and technical panel sessions led by international experts and a special session on China-Ireland research funding opportunities.
For more information on CIICT, visit the CIICT Website
---
July 2012: DCU's School of Electronic Engineering will again be hosting this year's Undergraduate IC Initiative training course. This event will be held 22-25 October 2012 as a 3.5 day event on behalf of MIDAS whereby the participants are introduced to open-source tools that can be used for IC Design & Layout. As per last year ALL postgraduates, postdoctoral researchers and teaching and technical staff are also welcome to attend.
---
June 2012: The YouTube Channel 'Digital Electronic Systems', created by Dr. Derek Molloy has continued to grow in popularity and has now had over 300,000 views across each of the 46 user-created videos. For more information visit the channel at: http://www.youtube.com/user/derekmolloydcu?feature=results_main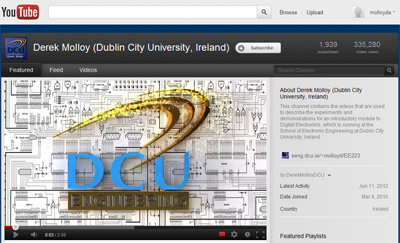 ---
June 2012: There was a great buzz on Campus this week when the final year students from the Faculty of Engineering and Computing participated in a hugely successful event in the Helix. The Expo 2012, gave the students the opportunity to showcase the work they had completed for their final year project (FYP) assignments and to demonstrate their achievements to invited corporate guests from the ICT sector. Over 250 guests from many of the top ICT companies arrived with great enthusiasm and eagerness to meet the students. Companies such as Fidelity Investments, Accenture and IBM all sponsored key prizes for best projects.
For more information on our Final Year Projects Expo 2012 visit: http://www.computing.dcu.ie/fyp or contact Christine.stears@computing.dcu.ie or Tel: +353 1 7005237
---
May 2012: Dr. Derek Molloy, from the School of Electronic Engineering has been presented with the Overall Excellence in Teaching and Learning Award 2012. The 2012 President's Awards for Excellence in Teaching have been presented at a special ceremony during the annual Teaching and Learning day in The Helix. Presented on the basis of student and peer nominations, the President's Awards recognise outstanding contributions to DCU's teaching and learning activities. Speaking at the Awards ceremony, Professor Brian MacCraith said, "The President's Awards for Excellence in Teaching are an important acknowledgement of the innovative ways in which DCU staff strives to improve the learning experience of their students. Through the words of commendation we have heard from DCU students today, we have good reason to feel confident about the future of DCU's tradition of best practice in teaching."
---
March 2012: For the last 12 months, researchers in CLARITY: Centre for Sensor Web Technologies (www.clarity-centre.org) have been working with Irish artists Connolly-Cleary, the only two living Irish artists to have had an exhibition in the Pompidou Centre (http://www.connolly-cleary.com). DCU's contribution has been to act as scientific advisors and to provide technology to help facilitate the artists' investigations into human perception. Our joint piece in Dublin Contemporary 2011 was cited as the "Stand Out Exhibit" according to one reviewer (Guide2Dublin).

This year, as part of the Dublin City of Science initiative, we are running a public exhibition in Farmleigh House, from 15 March - 22 July. The exhibition, entitled Hall of Mirrors, addresses different aspects of how we perceive ourselves and the world around us, and is designed to be interactive, hands on and fun! Since it's opening the exhibition has attracted over 10,000 visitors. The exhibition is part of the the Dublin City of Science Public Engagement Programme and features a strong educational outreach component. After Farmleigh, the exhibition will tour to the Limerick Gallery of Art, Solstice Art Centre in Navan and Ballina. The exhibition was recently reviewed in the Sunday Times piece "Time to make an exhibition of yourself" where it was referred to as "beautiful, intelligent and fun".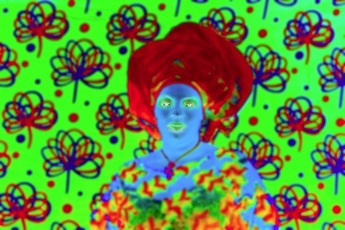 ---
March 2012: The Faculty of Engineering and Computing hosted Engineers Week for the fifth running here in DCU. The aim of the week is to create awareness and enthusiasm about the engineering profession and engineering as a career. Faculty staff and students welcomed over 300 primary school students aged 10 - 14 on campus for a week and got them involved in exciting engineering demonstrations. Activities including how to build a robot, how to build a car were two of the activities run by Mechanical and Manufacturing Engineering. The children also had a chance to see activities from Electronic Engineering such as Digital imaging and hydrogen powered cars. Once the hydrogen cars were built and fully fuelled, the cars competed against each other so see which group had the car that kept running for the longest time. The excitement of the race could be heard throughout the building! The students particularly loved the solar powered bugs and had great fun watching how they bounce around purely on solar power.
Year on year the event has been a great success and yet again we were fully booked for 2012! For more information contact Christine.stears@dcu.ie
---
Oct 2011: Over 40 students and local faculty participated in the Integrated Circuit Festival sponsored by the Microelectronics Industry Design Association (MIDAS) of Ireland, where SSCS AdCom member Jake Baker presented a short course on designing CMOS analog integrated circuits for fabrication through the MOSIS program (www.mosis.com). Coordinated by Dr. Donnacha Lowney of the AMS Group at Xilinx, Ireland, and held on the campus of Dublin City University on 24-27 October 2011, the four-day event aimed at encouraging engineering students to pursue IC-related careers by instructing them on the design and fabrication of analog integrated circuits and outlining the support structures necessary for such instruction in the participant's home institutions.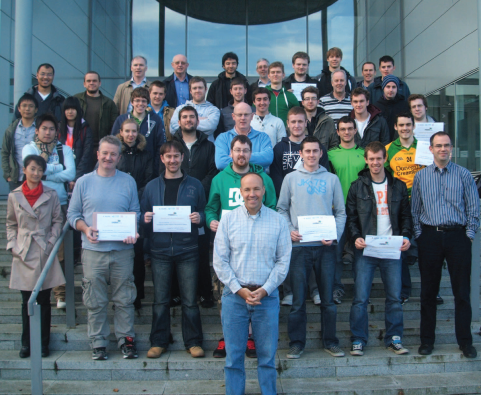 SSCS AdCom member Jake Baker at DCU with students and faculty at the Integrated Circuit Festival
---
June 2011: A team of students from Dublin City University (DCU) has today (Friday, 17 June 2011) been named 'College Entrepreneur of the year 2011' and won the prestigious top prize of €10,000 at this year's Enterprise Ireland Think Outside the Box Awards, with their project Team Prometheus. The team represented by Oisin O Doinn and Eoin Markey (Digital Media Engineering) invented a system that can pinpoint the exact location of fire fighting crew in action, non-intrusively and in real-time. In case a fire fighter becomes incapacitated in the line of duty the new system allows them to be located and recovered as quickly as possible. The device also detects the coordination of the crew members and can help manage them more effectively in those emergency situations.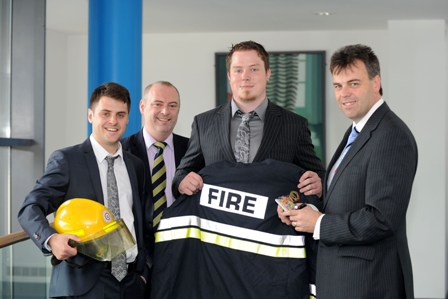 ---
October 2010: On October 20th 2010, the CDVP/CLARITY INSPECT project was awarded Enterprise Ireland's Innovation Award for ICT for 2010, at EI's annual showcase event in Croke Park. The award was presented by Minister Conor Lenihan and collected by David Sadlier and Noel O Connor on behalf of the team. The team consists of Noel O Connor, David Sadleir, Paul Ferguson, Dian Zhang, Ciaran O Conaire, Hyowon Lee and Cathal Gurrin. The project, an Innovation Partnership funded by EI, is a collaboration with local Irish company Fairview Analytics (http://www.fairview-analytics.com/). Over the last year, on foot of the project's success, DCU technology has been licensed to Fairview, they have moved into INVENT, been awarded HPSU (High Potential Start Up) status by EI and are about to close a round of significant private investment.
The project developed the InSPeCT (Integrated Surveillance for Port Container Traffic) system that has been deployed in Rosslare port where it is in 24/7 operation since April. It analyses video from CCTV and Vehicle Monitoring cameras and provides analysis of vehicle traffic that passes through border crossings and seaports. InSPeCT automatically reads and records the container number and vehicle number plate and has integrated video playback. InSPeCT utilizes advanced query and search techniques for the efficient retrieval of information. see: http://www.fairview-analytics.com/solutions.html
---
October 2010: Accenture GRADchances event. Accenture are offering final year students and graduates the chance to meet with them, take part in skills workshops and find out exactly what they're looking for when hiring grads. The events take place through October and November - visit www.accenture.com/gradchances for further information.
---
Student Engineering Society: If you are interested in helping establish the new Student Engineering Society in DCU, the first discussion meeting is taking place Thursday 7th October. Please contact David at engcomputing@dcusu.ie for further information and to indicate your interest.
---
April 2010 - Pre-cancer stage is a focus of early detection initiative New approaches are being developed that could eventually help doctors to pick out and treat unusual growths on the bowel wall. View the full article on the Irish Times website
---
April 2010 - Economy and Shortages Affect the European Job Outlook - The bigger high-tech companies in Europe are recruiting Electronic Engineers. Talent is in short supply, especially for smaller firms looking for very specific skills. For more information, please see the IEEE Spectrum article here.
---
March 2010 - Dublin City University (DCU) has agreed to license its breakthrough Computer Aided Detection (CAD) technology to Biotronics3D a London-based company, active in the research, development and marketing of advanced, image-based medical diagnostic devices. The solution, developed at DCU's Centre for Image Processing and Analysis (CIPA), is designed to assist in the early detection and treatment of colon cancer. Computed Tomography Colongraphy (CTC) also known as Virtual Colonoscopy (VC) is an alternative to traditional endoscopic optical colonoscopy procedures. Using the VC approach, the patient undergoes a non-invasive CT scan of the colon from which a computer generated 3D image of the organ is displayed on a workstation. The CAD tool automatically identifies abnormalities on the colon surface and identifies these on the computer display to assist the clinician in diagnosis. The CAD technology is the result of an extensive multi-year research programme led by Professor Paul Whelan. The project involved a broad multidisciplinary research team at CIPA in DCU, and was supported by leading consultant clinicians in Ireland, Dr. Helen Fenlon and Dr. Padraic Mac Mathuna. Of the license agreement Professor Whelan stated, "We look forward to engaging with the Biotronics3D team to bring this DCU research to market."
---
October 2009 - Kingspan looking for 2 graduate engineers - Kingspan have been in touch with the EE school regarding two vancancies they are looking to fill. One position is for a Divisional Projects Engineer, which will deal with project management of equipment installment and upgrades. The second position is for a Divisional Controls Engineer, who will deal with control system design. Both roles require travel flexibility (national and international). For the full job spec and application details, please email ruth.blayney@dcu.ie
---
9th June 2009 - Postgraduate Accommodation Scholarships - The Graduate Research Office would like to announce the 2009/10 postgraduate accommodation scholarship scheme. This scheme is open to all incoming first year full-time postgraduate research students. Students who register from 1st April 09 onwards are eligible to apply. Students must be nominated by their supervisors and all details can be found at the link below: http://www.dcu.ie/graduate_research/scholarships.shtml Please note the closing date for applications is Wednesday 1st July. Any queries on the scheme can be directed to graduate.research@dcu.ie
---
June 2009 - Don't forget to transfer your Engineers Ireland membership - All students graduating this year from DCU Engineering Degrees, who currently have an Engineers Ireland student membership account, should contact the Third Level Liaison Officer at EI in order to get the membership transferred to full membership (this is free in the first year of graduation). You can read up on this here
---
May 2009 - DME student wins 'Bright Ideas Competition' - The DCU Entrepreneurial & Social Society 'Bright Ideas Competition' was comprised of four DCU students presenting their ideas to a panel in a Dragons Den setting. The judging panel consisted of Richard Stokes (CEO Invent), Donal O'Shea (CEO Slidepath) and Bernard Hensey (CEO Phive Plasma Technologies). The concept behind each project was explained and demonstrated in front of the judging panel. The overall winner Allan Dixon (Digital Media Engineering 4th Year) received a cheque for €500 from the Dublin City Enterprise Board for his project utilising Google Map technology for an events portal.
---
April 2009 - ESB to recruit 250 engineers - ESB have announced that they will be recruiting up to 250 engineers over the next 5 years. The electricity company is focusing on the development of new energy technologies, and this is where the majority of the new positions will stem from. The company stated in their media briefing (16th April) that it was developing new infrastructures including smart metering, biomass, telecoms and also a recharge system for the growing number of electric cars. Source - ESB
---
April 2009 - DME student has commercial success with IPHONE and IPOD applications - Steven Troughton-Smith, a first-year student of Digital Media Engineering, has been declared Ireland's most successful software developer for Apple's iPhone. Steven has created numerous software games and programmes for Apple's App Store, an area where iTunes offers free and paid-for downloadable applications for iPhones and iPod Touch multimedia players. Stephen's first major success came with Speed, an application which uses the GPS technology in an iPhone to tell you what speed you are traveling at. It was downloaded 36,000 times in the first six days it was available. While Speed "took an hour to figure out", Stephen's next project 'Lights Off' took 175 days to work out. Just five days after its launch on the Apps Store last month, he sold almost 700 copies in a single day. It generated profits of $2,200 in the first five days of its release.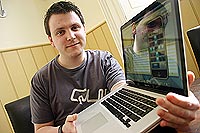 ---
April 2008 - Remote Control Car Fabrication - First year engineering 'Remote Control Car Fabrication' module came to a close in 'The Venue' where 23 teams competed against each other for the coveted first place position. The event highlighted the unique designs and teamwork involved by all students over the past year, an entertaining afternoon for all who attended as the cars battled it out on the pitch. Many congratulations to all students involved and also to the winning team with their successful design 'HEX:HK', no doubt a career in Formula 1 racing looks very likely. Pictured, Dr Noel Murphy presenting first prize to winning team members, Kevin Martin, Hozaifa El Sayed, and Xiao Liu. Also First year Engineering students 2008, and their various designs.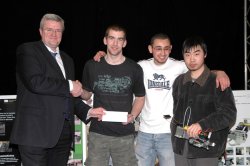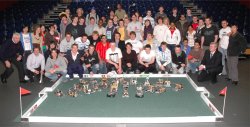 ---
March 2008 - Mobile Robotics - Congratulations to the winning team in the School of Electronic Engineering 3rd year 'Mobile Robotics Competition'. This 3rd year Mobile Robotics module involved students working in teams to design and constructed a microprocessor based mobile robot. Shown are the winning team members, Dian Zhang, Xiang Ye, and Keyang Dai receiving their prize from sponsor Mr. Pat Devlin, of Farnell Ireland.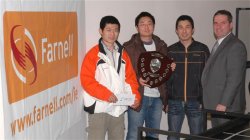 ---
Feb 2008: The School of Electronic Engineering and the School of Mechanical Engineering jointly hosted the DCU element of the Steps "Engineered - A Week of Wonder". The event took place on February 14th and 15th and was attended by over two hundred 8 - 14 year olds (and many parents). For further details on the DCU element please visit http://www.dcu.ie/electronics/wow. For further details on the Steps Week of Wonder Programme please visit www.weekofwonder.ie . Pictured are Edward Nash and John Smith participating in 'Make Your Own Car' activity.
---
Feb 2008: Eoin Kennedy, a PhD Graduate of the School of Electronic Engineering, was yesterday named the Vodafone GAA All Star Handball award winner for 2007. His domination of Handball's major prizes at home and abroad is further illustrated by the fact that this is the fourth time in seven years that Kennedy has been selected for the Vodafone award. For further information.
---