MEng in Electronic Systems
Major in Network Implementation
This Major will prepare graduates for career opportunities in the burgeoning fields of wireless networking, mesh networks, peer-to-peer networking, sensor networks, GMPLS and their successor technologies.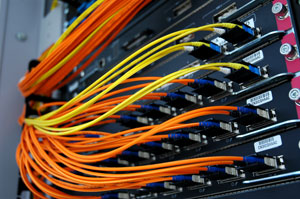 Graduates with will be equipped with the skills and expertise required to implement tomorrow's networking protocols on network devices and user equipment and will be qualified to provide critical skills to the ICT industry and engage in the development and provision of network services.
M.Eng. participants taking this Major will be required to take four core modules, an applied project in the field, plus four other modules available from the wide range of modules on the taught M.Eng programme. (Two of these four additional modules must be designated as telecommunications-related modules).
This Major is also available on the Telecommunications Engineering Graduate Diploma programme.
Core Courses
Network Programming
Object-Oriented Programming
Web Application Development
Broadband Networks
Data Network Protocol Analysis & Simulation
Internetwork Security
Applied Project
Please use the Module Listing Facility (select this programme) for more details.
Key Staff

List of Majors | Taught Postgraduate Information | Registration Details