Postgraduate Programmes
Programme Structure
The diagram below shows the structure of the postgraduate programmes within the School.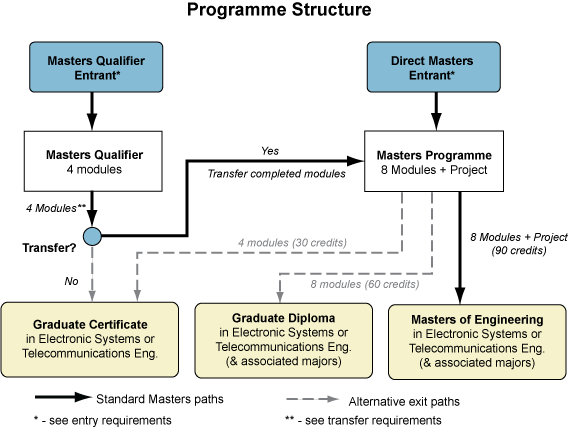 Students who do not have the entry requirements to enter directly onto the Masters programmes may be offered entry on the Masters Qualifier Programme. Students on the Masters Qualifier Programme may at a later stage transfer onto the Masters programme, subject to the transfer requirements. Additionally, students who opt to take "Individual Postgraduate Modules - Electronics" may at a later stage transfer to a programme with full credit for modules completed.
For more information regarding transferring between programmes please visit
Qualification Requirements
University requirements stipulate that a postgraduate qualification, such as a Masters or Graduate Diploma, require the completion of 60 credits of Level 9 material. The Masters programme structure is made up of a combination of Level 8 and Level 9 material. More information relating to the module levels can be found on the module information page. The following table indicates the requirements for each of the qualifications:
| Award | Level 8 Credits | Level 9 Credits | Project Credits (L9) | Total Credits Required |
| --- | --- | --- | --- | --- |
| Masters | 0-30 credits | 30-60 credits | 30 credits | 90 credits |
| Grad. Dip. | N/A | 60 credits | N/A | 60 credits |
| Grad. Cert. | N/A | 30 credits | N/A | 30 credits |
Each of the Masters qualifications require the completion of 8 taught modules and a project (90 credits), where at least 60 credits of material is Level 9 material (including the 30 credits for the project). This means that students aiming for the Masters qualfication may typically take as many as four Level 8 taught modules (30 credits).
While most students aim towards completing a Masters qualification, there are two alternative exit qualifications available. The Graduate Certificate qualification requires completion of four taught Level 9 modules (30 credits) and the Graduate Diploma qualification requires completion of eight taught Level 9 modules (60 credits). These exit routes are designed to facilitate students who wish to leave the programme early or, occasionally, those students who have found it difficult to complete their programme under the requirements of university marks and standards.
Qualification Titles
The following indicates the complete list of achievable titles under the Masters programme. The qualification title awarded depends on the number of credits completed, the choice of modules taken and the final project subject area. For more details on the module requirements for programmes, please use the Guide to Choosing Modules facility.
Masters in Electronic Systems (90 Credits)
Masters in Telecommunications Engineering (90 Credits)
Graduate Diploma in Electronic Systems (60 Credits)
Graduate Diploma in Telecommunications Engineering (60 Credits)
Graduate Certificate in Electronic Systems (30 Credits)
Graduate Certificate in Telecommunications Engineering (30 Credits)
In addition, students registered on the Masters Programme in Electronic Systems have the option of specialising towards qualifying with a Major title:
Students registered on the Masters in Telecommunications Engineering have the option of specialising towards qualifying with a Major title:
For more information regarding Electronic Systems Majors, please visit Taught Postgraduate Majors
Entry Requirements
A 2.2 honours degree (Level 8) in Electronic/Electrical Engineering, Applied Physics, Computer Sciences or other Engineering disciplines is a normal requirement for direct entry onto the Masters programmes, however:

There are two entry routes for the Masters Qualifier Programme:
- A H3/Pass honours degree (Level 8) in a relevant disciple
or
- A related diploma/ordinary degree (Level 7) plus a minimum of three years relevant experience. Applicants applying via this route may also be required to attend an interview as part of the application process.

Non-EU applicants are assessed under the same criteria as specified above and their qualifications are also checked for equivalence using the NARIC system (UK National Academic Recognition Information Center).

Students who are accepted onto the Masters Qualifier programme have the performance-dependent option of transferring to the Masters programme. For more information please see the page regarding Programme Transfer.

Please note that all applications are subject to review/approval by the Programme Chair.
International applicants who do not meet the entry requirements for our undergraduate degree programs may qualify for our International Foundation Certificate program that are specially designed for non-native English speakers. For detailed information of the IFC program in both English and Chinese, please follow the following link.
Participation Models
The system is designed to be as flexible as possible and allows for different levels of participation and different times to completion. The postgraduate programmes may be taken in any one of four primary models:
Full Time Model - Masters Programmes may be completed within 1 year on a full time basis. This involves course participation over two twelve-week semesters (4 modules per semester), followed immediately by the project (in the case of the Masters). Each module is presented during a fifteen-week semester consisting of twelve weeks of lectures followed by two study weeks prior to 1 or 2 weeks of examinations.

Part Time On-Campus - Normally students (employees) will attend classes in DCU during the normal working day. Part time students are advised to take two modules per academic semester. This is facilitated by attendance on a day-release basis for one day a week.

Web-based - Currently, there are approximately thirty fully web-compatible postgraduate modules offered, with more to follow. It is possible to complete modules exclusively via the web (distance learning mode - RACeE). It is also possible to complete a full Masters degree via the web and this is one of the most common approaches taken by students. This is subject to the selection of a project, which could be completed remotely. The project element, whilst in the majority of cases completed in DCU, may with approval be completed in industry.
NB: It is necessary to attend DCU for all final exams. For the project module there is a requirement to attend DCU on two occasions - firstly to perform an interim presentation and secondly for the final project interview.

Hybrid Web/On Campus - This option allows students to take any number of modules via the web (distance learning mode - RACeE) and the remaining options on-campus. This tends to suit those students who can only take one half day per week from work, but would like to complete two modules per semester. In this scenario, one module is performed via the web and the other on campus. Of course, the level of mixing is entirely up to the student who may also change between attendance and web-based formats on any individual modules at any time.
Potential Students
The courses are offered through any of the above methodologies and are designed for a number of potential student categories:
Newly qualified graduates who wish to enhance their qualifications but who do not necessarily want to undertake a Master's degree by research.

Engineering graduates already in employment who wish to update their knowledge of modern engineering ideas and practices.

Graduates who wish to enhance their knowledge before undertaking a research programme leading to a PhD.

In some cases, graduates from other science or engineering disciplines who wish to move into this area.
Module Titles & Timetable
The full list of modules, together with links to their syllabus descriptions may be found on the Module Information Pages. All information relating to modules and the latest available timetables are linked from this page also.
Case Studies
A number of case studies have been made available on the web to show the different routes that may be taken in achieving a qualification.
Fees & Registration
The fee information is available on the Registration Information page.
International Students
A selection of useful links for international students is available on the International Information Page.
Frequently Asked Questions (FAQ)
Still haven't found the information that you are looking for? Check out the FAQ page and if that fails please don't hesitate to contact us.