School of Electronic Engineering
Sample Graduate Profiles | School of Electronic Engineering
Graduate Profiles
Below is a short list of profiles for some of our programme graduates:
Gillian Rutledge
Name:
Gillian Rutledge
Year of Profile:
2010
Degree:
B.Eng Electronic Engineering, 2002

We asked Gillian to answer some questions for us about Electronic Engineering at DCU, and what she's been up to since she graduated.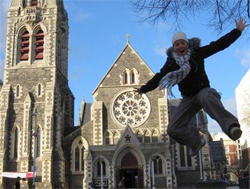 Gillian Rutledge pictured outside Christchurch Cathedral, New Zealand, 2009
Question: What attracted you to Electronic Engineering?
Gillian's Answer: I initially heard about the course through my brother, who had completed it two years before me. His experience gave me a good insight into what was covered, the practical aspect applied to all sbubjects in the form of labs and project assignments. I was also attracted to the wide range of subjects taught as I wanted a broad understanding of Engineering before picking my specialty. In first year, all the Engineering degrees, Electronic / Telecommunications / Digital Media etc shared the same course syllabus and as the years progressed, the modules became more specific and challenging within the chosen area. Course Modules varied from Eng. Mathematics, Physics and Software Engineering in first year to Industrial Electronics, Digital Signal Processing and Systems & Analogue by my final year.
Question:What were your first impressions of DCU and of the Engineering programme?
Gillian's answer:I was very impressed with how DCU organized our first few weeks – we had introcuctions to our Faculty and to the gym, library and of course the social life and societies.
I found the Engineering course was well structured, and started off from a beginners level of theory helping the transition into college life. The lecturers were very understanding and helpful. The course also provided numerous lab sessions which gave us exposure to the practical side of engineering from day one.
Question: What did you think were the best parts of the programme? And what were the most challenging aspects?
Gillian's answer: One of the great things DCU offered was the INTRA placement in our third year. This was a six-month internship from April to Sept where DCU helped find a placement on an internship in a similar area to what you were studying. The application process was handled by the INTRA staff, but also involved applying for a number of placements on offer and partaking in interviews with the HR teams of these companies before getting a placement. This was a very benefical experience in itself. In my case, I got the chance to work in AIB's IT Operations department working with the upkeep of their IT systems used internally by their sales force. Having this experience behind me when finishing the Engineering course really stood to me.
Final Year Project: The opportunity to work on your own final year project was both challenging and worthwhile at the same time. For my project, I developed a GPS Receiver System which communicated with GPS satellites to calculate your location, and display it in a small handheld device. Although it may seem quite a common device these days, this handheld unit involved working with innovative technology of the time, 5 years ago , unlike your personal GPS navigator today! I was assigned a lecturer to work with me throughout the course of the project, ensuring my access to any special equipment I needed or contact with specialists I needed to talk with. This format really pushed me to reach my full potential to achieve the best outcome of the project. On completion, this Final Year Project was shortlisted for an Ericsson Undergraduate Award along with another project from theDCU Electronic Engineering School.
Question: What did you do when you graduated?
Gillian's answer: On completion of my undergraduate degree, and achieving a First Class honours, I successfully obtained a placement on the FAS Science Graduate Program promoted by the Engineering School. This consisted of an intensive six weeks working over in NASA, Cape Canaveral, Florida, among the finest and most sophisticated Engineers and Scientists in the world. Primarily, we completed demanding projects with The Florida Space Authority. Such projects dealt with Mobile Robotics, Rocket calculations, payload construction, designing of GPS circuitry and transmission of video signals 10,000 feet above. The program also consisted of in-depth lectures and presentations on topics such as Stellar Astrophysics, Cryogenics, Aviation Physiology and Human Space Exploration. As part of the program, we were in the position to meet and become acquainted with many top scientists and engineers working within NASA. We were introduced to their high tech laboratoires and got up front inquisition on their current and future project being completed within NASA. This was a truly amazing experience and an opportunity that wouldn't have been an option without my Engineering degree from DCU.
Masters of Business in Project Management from Michael Smurfit School of Business: I undertook this course to complement my Engineering background with an understanding in management of technical projects and new product development. Over one year, I completed eight core modules which covered specialist courses within this area again achieving an honours degree.
Extreme Blue Internship: In June, on obtaining a place on the Extreme Blue Internship in IBM, I decided to undertake the completion of my thesis in association with IBM. This internship involved the development of a technical solution and project business plan for a new and innovative product, which addresses an existing market challenge. I undertook the Project Management role within this team and compiled my Business Plan on this project for my thesis.
IBM Project Manager: After completion of the Internship, I was offered a permanent position as a Project Manager within the Business Transformations Solution Centre. This involved working with clients to figure out what report issues may need to be resolved or streamlined and then alongside the Business Analyst and Developers, come up with a solution using Portal Technology to address their needs.
In September 2008, I took a year out and travelled around the world covering Asia, Australia, New Zealand, Vanuatu, Fiji and North America in one year. Within this time I had great fun trying out plenty of new things – skydiving, snowboarding, ski-ing, trekking, zip-lining and finding out all about the different cultures.
Question: What are you doing now?
Gillian's Answer: On returning to Ireland in Sept 2009, I was lucky enough to secure a position as Online Media Associate in Google, Dublin in the AdWords Operations department. Since I've started, I have thoroughly enjoyed working in this area. It is a challenging yet motivating environment where innovation and implementing change is constant and part of my daily job.
Alongside working in Google, I have returned to DCU to complete a part-time 2-year Masters in Telecommunications. I hope this will help create new opportunities for me in the field of Telecommunications projects where I would hope to specialise in the future.
Question: Why should people pursue a degree in engineering?
Gillian's answer: I believe my engineering degree is a very valuable asset and will also stand to me in the future. Although I took the year out, I was able to come back to Ireland and secure a job in Google based on my academia and experience. Having a degree that can be transferred from business to business is so important nowadays. Three friends of mine who completed the Digital Media Engineering degree have had the opportunity to move over to China and Japan to secure professional jobs through another FAS program. # Two years on, they have returned bringing many new skills back to Ireland with them.
DCU would like to thank Gillian for taking the time to answer these questions for us.
Below you will find some brief profiles of some of our other engineering graduates.
Peter Smyth
Name:
Peter Smyth
Year of Profile:
2005

Peter Smyth, BEng Electronic Engineering, 1985. Peter is CEO of Irish semiconductor start-up RedMere Technology. The company makes communications chips for networking audio and video content in the home. Previously, Peter was VP Business Development for Ceva Inc.'s Wireline Communications division, formerly Parthus. Peter also held positions as VP Product Marketing and VP Sales at Ceva. Prior to that, he was Europe Manager for Taiwan-based Microtek (DSD) in Munich and he also spent time as western region Sales Manager for Microtek in the US.

Peter Smyth
Brendan McKittrick
Name:
Brendan McKittrick
Year of Profile:
2004

Brendan Mc Kittrick, BEng Electronic Engineering 1989 and MEng Electronic Engineering 1991, is founder and chief executive officer of Columba Global Systems Ltd. The company has developed an exciting new technology that enables 'anytime-anywhere' access to corporate, government and airline databases, and numbers four governments on three continents among its clientele. Brendan has worked for companies including Vision Consulting and Saudi Aramco, Saudi Arabia's state oil company. In 1998, he founded European Library Solutions in Dublin.

Brendan McKittrick
Seamus McGrath
Name:
Seamus McGrath
Year of Profile:
2004

Seamus McGrath, BEng Electronic Engineering 1993, is managing director of ezfinance Ltd. where he runs a number of companies under the holding group from its office in Dublin. The company's primary activities include property finance, site acquisition and development, portfolio restructuring, and commercial and mezzanine finance provision. Ezfinance also enters into joint venture opportunities with property developers and provides value-added services to reduce overall development costs. It has just set-up a technology company to exploit its in-house software platform within wider industry opportunities, for example, telecoms and new opportunities within the insurance industry are also being established.

Seamus McGrath
Paddy Dillon
Name:
Paddy Dillon
Year of Profile:
2002

Paddy Dillon, BEng in Electronic Engineering 1990, initially worked with Motorola as a test engineer developing hardware and software test solutions for 2-way radio systems. He became engineering manager in Motorola in 1995. Moving to DSC Communications as operations manger in 1997, he took responsibility for the operations and engineering teams. Paddy joined Lucent Technologies as director of technology in 1999. The company designs and delivers networks for the world's largest communications service providers. He is responsible for test, product and supply chain engineering in support of the EMEA (Europe, Middle East & Africa) business, including optical, data, voice and wireless communications solutions.

Paddy Dillon
Seamus Walsh
Name:
Seamus Walsh
Year of Profile:
2002

Seamus Walsh, BEng in Electronic Engineering 1992, is currently the director of engineering with Esat Business, which is now part of BT Ignite's European telecommunications business. He is responsible for a staff of over 250 in Ireland who plan, design, build and operate Esat's network, which provides voice, data and IP services to over 12,000 corporate customers and 100,000 residential customers. He is also responsible for 150 network assurance staff in Europe, who manage the European network from centres in Brussels, Munich, Amsterdam and Madrid. Prior to this, he worked for Data Port International - a mobile technology company - and Galileo as a network engineer. Seamus graduated with an MBA from the Michael Smurfit Graduate School of Business in 2000.

Seamus Walsh
Eoin Kennedy
Name:
Eoin Kennedy
Year of Profile:
2003

Eoin Kennedy, BEng in Electronic Engineering 2000 and current research student, became only the second Dubliner in 50 years to win an All-Ireland Senior Singles Handball final at Croke Park. In the final he defeated the legendary Michael 'Duxie' Walsh of Kilkenny, a man who has rewritten the handball history books throughout his career at the top level. The St Brigid's clubman, Eoin added his All-Ireland Senior 60x30 Singles title to the All-Ireland Senior 40x20 Singles and Irish Open Singles crowns already captured earlier this year, thus completing a unique treble in the sport. His 2002 winning record includes the Irish Universities title in February, the Irish Open in March, the All-Ireland Senior 40x20 Singles title in May, the Munster 60x30 Open in July and now the 2002 Senior 60x30 title. Kennedy has proven himself over the last twelve months to be an outstanding Irish handballer.

Eoin Kennedy