Centre for Engaged Research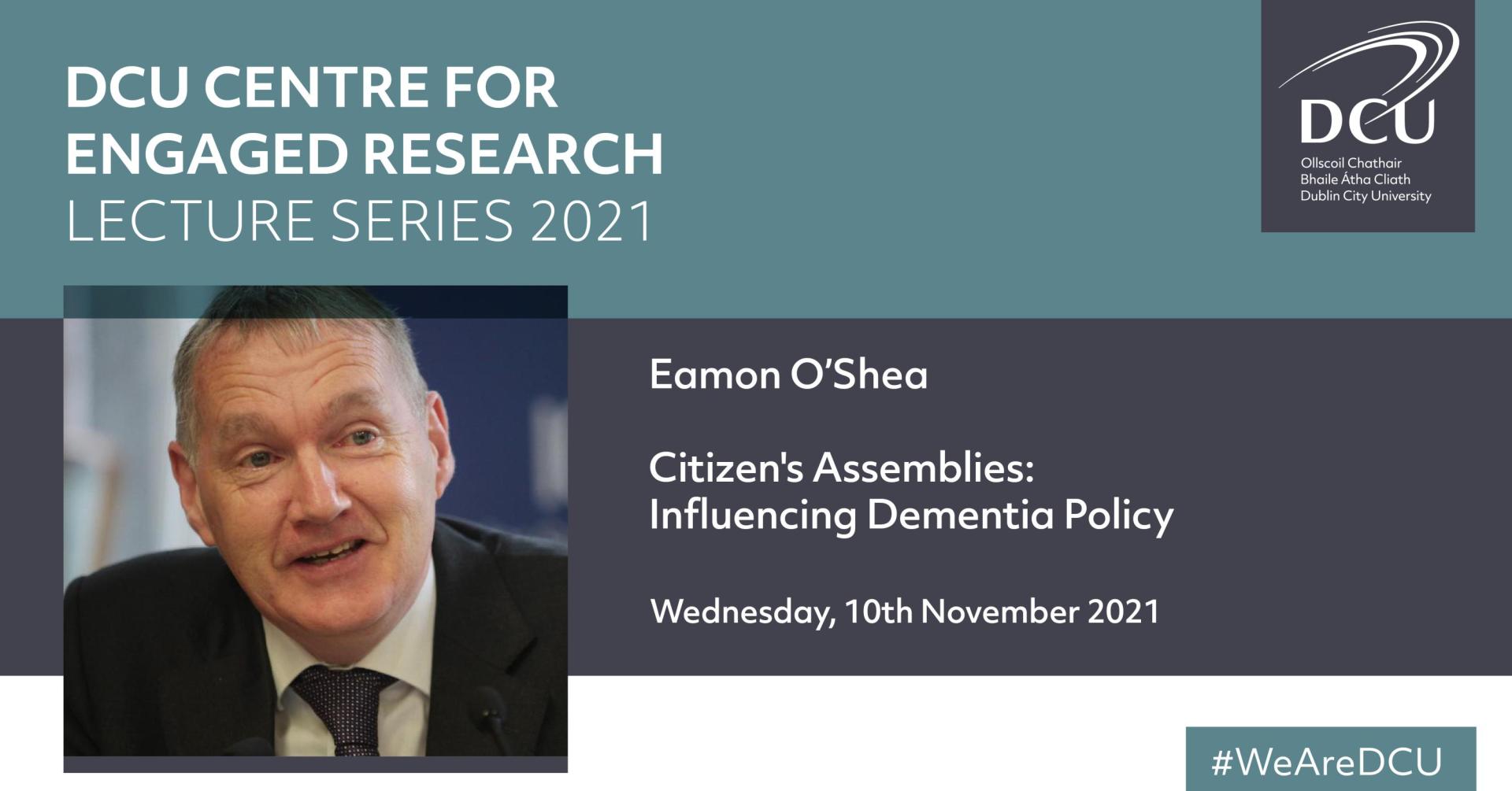 CER Autumn Lecture Series: Eamon O'Shea - Citizen's Assemblies: Influencing Dementia Policy
to
Target Audience
All Welcome
Is registration required?
No
Free of charge or ticket price
Free of charge
For more information contact
mariana.colman@dcu.ie
The CER Autumn Lecture Series continues on November 17th with Professor Eamon O'Shea, the Director of the National Centre for Social Research on Dementia at NUI Galway, delivering a lecture on ' Citizen's Assemblies: Influencing Dementia Policy.'
Eamon O'Shea is a Personal Professor in the School of Business & Economics and was inaugural Director of the Irish Centre for Social Gerontology (ICSG) at the National University of Ireland, Galway. He is currently Director of the National Centre for Social Research on Dementia at NUI Galway. He holds an M.A. from University College Dublin, an M.Sc. from the University of York and a Ph.D. from the University of Leicester. He has published over 100 scientific papers in refereed journals, including publications in top-ranked journals such as the Journal of Health Economics, Social Science and Medicine, Age and Ageing, Ageing and Society, Health Policy and the International Journal of Geriatric Psychiatry. Professor O'Shea has authored/co-authored 15 books and monographs, mainly in the field of ageing, dementia and social policy. 
His work has been influential in setting the agenda for the reform of services and policies for people with dementia in Ireland. He was Chair of the National Economic and Social Forum Expert Group on Care of the Elderly in 2005/06 and co-authored the influential Creating Excellence in Dementia Care report in 2012. He is currently a member of the Implementation Group for the Irish National Dementia Strategy.
This seminar explores future directions in relation to the care of people with dementia in Ireland.
There is a particular focus on values and the role of a national dementia strategy in providing the
philosophical framework for a more sustainable approach to resource allocation for people with
dementia. The continuum of care is explored, especially the role of housing, design and technology in enabling people to remain living in their own place for longer. Funding issues are also addressed, especially the potential of a social insurance model, as recently mooted by the Citizen's Assembly on Ageing. The needs of carers will also be examined drawing on data generated through the Carer's Assembly organised by the CESRD at NUI Galway. More recent work from CESRD on the public's willingness to support additional taxation for expanded services and supports for people with dementia and family carers will also be discussed.
The main mission of engaged research is to be collaborative and change oriented, positioning the community as a full participant in shaping the research question, analysing the data and developing effective knowledge dissemination strategies. It seeks to empower communities and local stakeholders through knowledge and to promote democratic values for positive social transformation. Engaged research is also a key element in the impact agenda of the engaged university.
The lecture will run from 12.30 to 13.45 on Zoom. Attendance is free