Centre for Engaged Research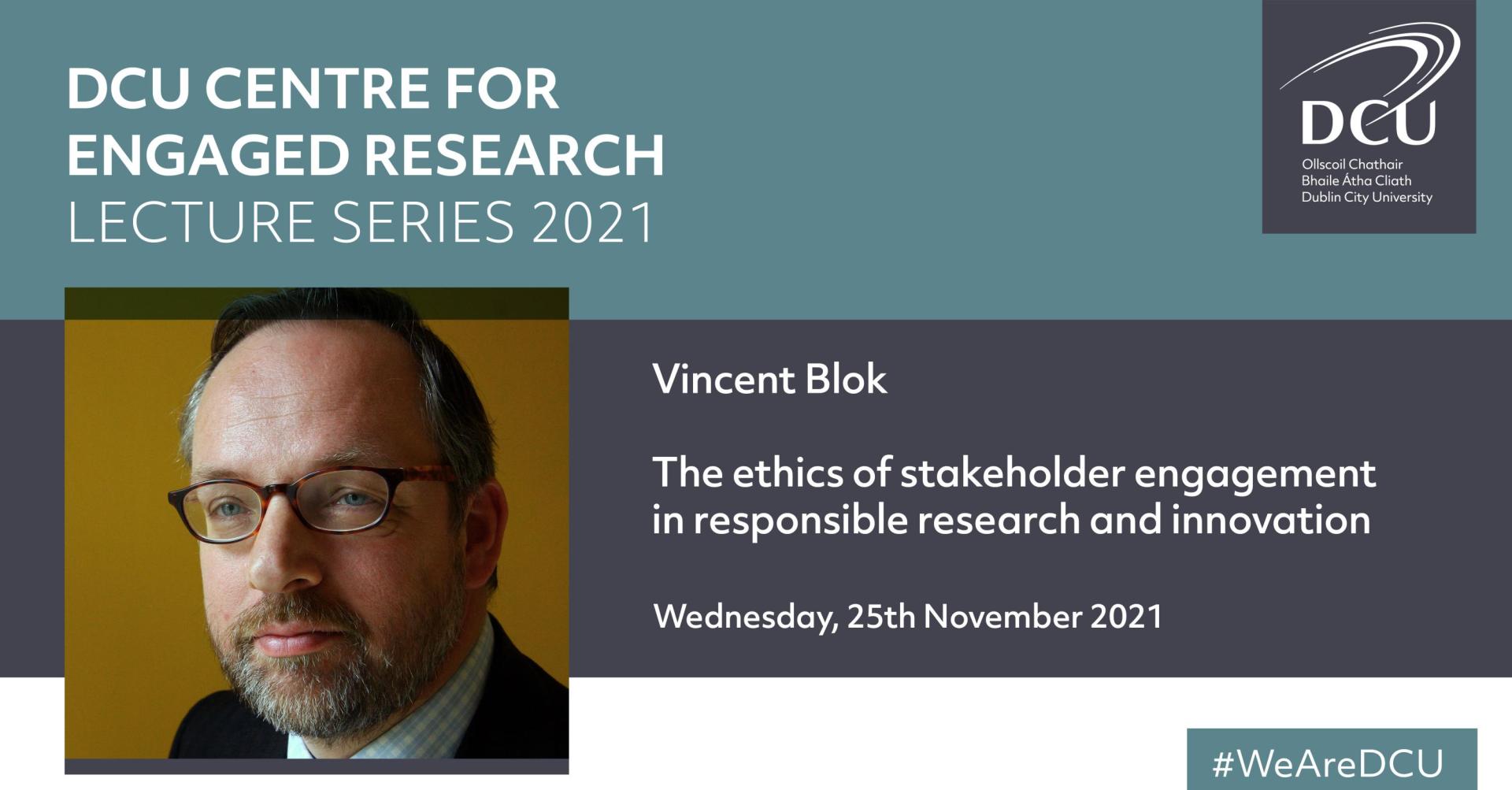 CER Autumn Lecture Series: Vincent Blok - The ethics of stakeholder engagement in responsible research and innovation
to
Target Audience
All Welcome
Is registration required?
No
Free of charge or ticket price
Free of charge
For more information contact
mariana.colman@dcu.ie
The CER Autumn Lecture Series continues on November 25th with Professor Vincent Blok, associate professor at the Wageningen University (The Netherlands), delivering a lecture on 'The ethics of stakeholder engagement in responsible research and innovation.'
Vincent Blok is associate professor in Philosophy of Technology, Environmental Philosophy and Responsible Innovation at the Philosophy Group, Wageningen University (The Netherlands). In 2005 he received his PhD degree in philosophy at Leiden University with a specialization in philosophy of technology. Together with four PhD candidates and three Post-docs, he is involved in several (European) research projects in the field of philosophy of technology, biobased & circular economy and responsible innovation. His books include Ernst Jünger's Philosophy of Technology. Heidegger and the Poetics of the Anthropocene (Routledge, 2017), Heidegger's Concept of philosophical Method (Routledge, 2019) and The Critique of Management. Toward a Philosophy and Ethics of Business Management (Routledge, 2021). Blok published over hundred articles in high ranked philosophy journals like Environmental Values, Business Ethics Quarterly, Synthese and Philosophy & Technology, and in multi-disciplinary journals like Science, Journal of Cleaner Production, Public understanding of Science and Journal of Responsible Innovation. Seewww.vincentblok.nl for more information about his current research.
The main mission of engaged research is to be collaborative and change oriented, positioning the community as a full participant in shaping the research question, analysing the data and developing effective knowledge dissemination strategies. It seeks to empower communities and local stakeholders through knowledge and to promote democratic values for positive social transformation. Engaged research is also a key element in the impact agenda of the engaged university.
The lecture will run from 12.30 to 13.45 on Zoom. Attendance is free