Centre for Engaged Research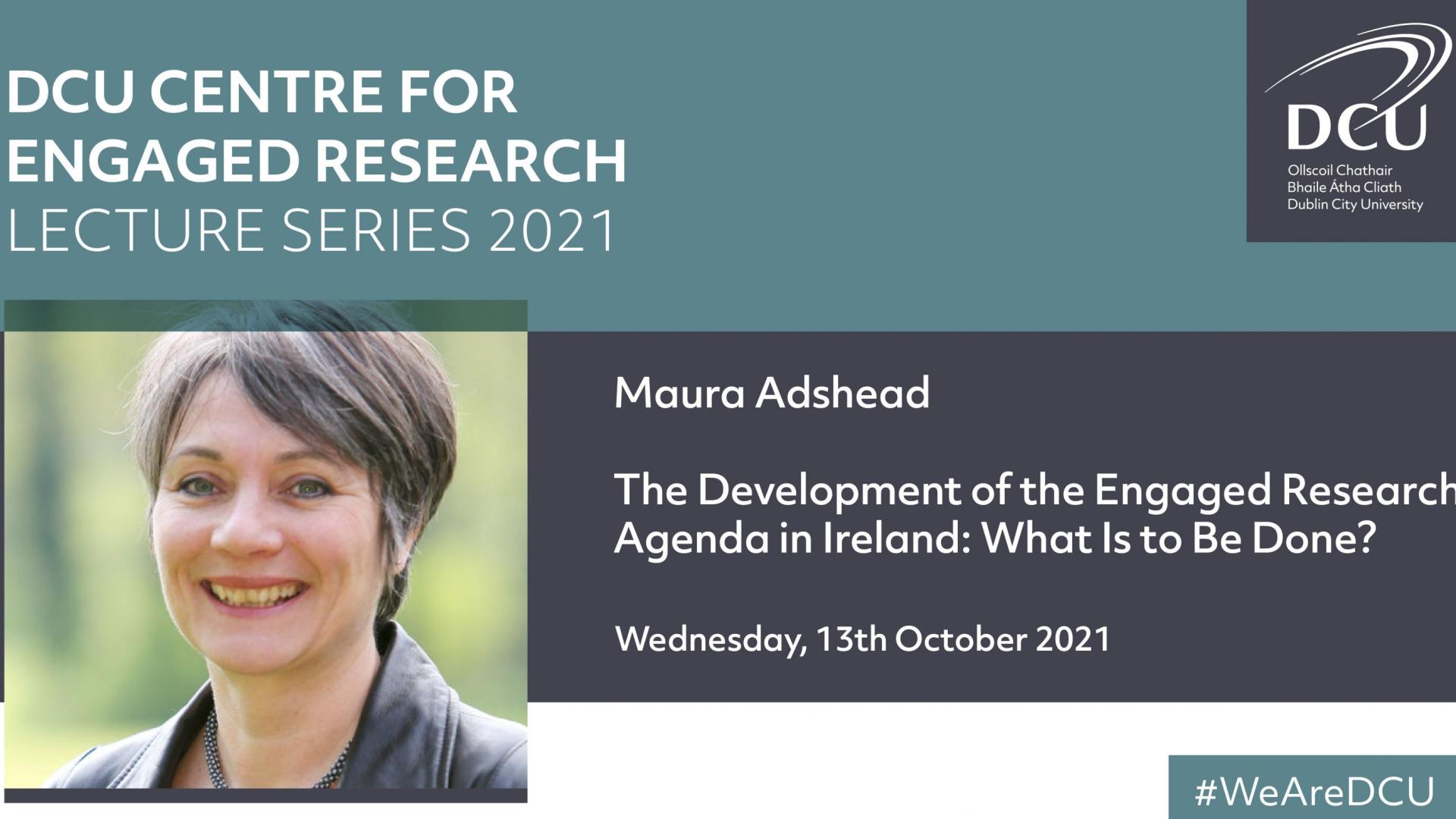 CER Autumn Lecture Series: Maura Adshead - The Development of the Engaged Research Agenda in Ireland: What Is to Be Done?
to
Target Audience
All Welcome
Is registration required?
No
Free of charge or ticket price
Free of charge
For more information contact
colm.g.kearns@dcu.ie
The CER Autumn Lecture Series continues on October 13th with Professor Maura Adshead of the University of Limerick delivering a lecture on 'The Development of the Engaged Research Agenda in Ireland: What Is to Be Done?'
Maura Adshead, BA, MA (Limerick), Phd (Liverpool) is Associate Professor in Politics and Public Administration at the Department of Politics and Public Administration, and Head of UL Engagement.  She is currently co-convenor of the national Campus Engage Working Group on Engaged Research and responsible for promoting and supporting national policy on Engaged Research. Whilst her research interests focus on Irish and European politics and public policy, she has been involved in a number of community oriented research projects at local, regional and international levels. Prior to her appointment in Limerick, she carried out research and taught in the universities of Dundee, Liverpool, Essex, Galway and Dublin. She is author of Developing European Regions? Ashgate, 2002, co-author (with Jonathon Tonge) of Politics in Ireland, Palgrave, 2009; and co-editor (with Michelle Millar) of Public Administration and Public Policy in Ireland: theory and methods, Routledge 2003 and (with Peadar Kirby and Michelle Millar) Contesting the State: lessons from the Irish case, Manchester University Press, 2008; and (with Tom Felle) Ireland and the Freedom of Information Act, 2015, Manchester University Press, 2016.  She has published a variety of articles on aspects of Irish politics and public policy and has carried out commissioned research for Combat Poverty, the Health Service Executive, the National Economic and Social Forum, and the Department of Public Expenditure and Reform.
The main mission of engaged research is to be collaborative and change oriented, positioning the community as a full participant in shaping the research question, analysing the data and developing effective knowledge dissemination strategies. It seeks to empower communities and local stakeholders through knowledge and to promote democratic values for positive social transformation. Engaged research is also a key element in the impact agenda of the engaged university.
The lecture will run from 12.30 to 13.45 on Zoom. Attendance is free