Centre for Engaged Research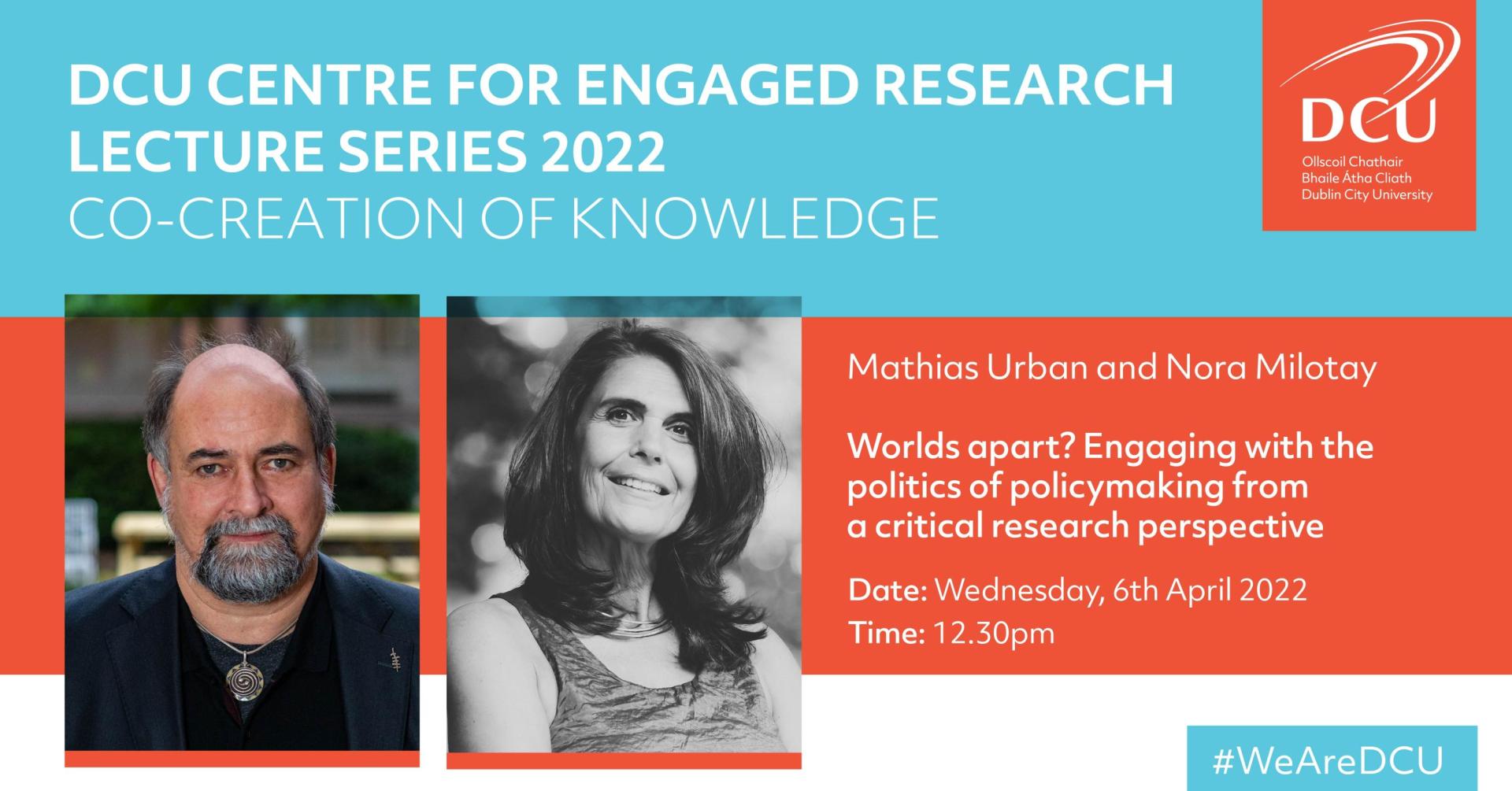 CER Lecture Series 2022 'Co-Creation of Knowledge': Mathias Urban and Nora Milotay - Worlds apart? Engaging with the politics of policymaking from a critical research perspective
to
Target Audience
All Welcome
Is registration required?
Yes
Free of charge or ticket price
Free of charge
For more information contact
mariana.colman@dcu.ie
The new edition of the DCU Centre for Engaged Research Lecture Series starts on April 6th with Professor Mathias Urban & Nora Milotay delivering a lecture entitled  'Worlds apart? Engaging with the politics of policymaking from a critical research perspective'.
Speaking about the lecture, Prof. Mathias Urban said:
"Critical policy analysis, deconstruction and critique are well-established tenets of critical scholarship. So, too, are approaches to research that seek to inform (impact!) real world policy making, and provide the 'evidence base' that such policies regularly cite as their foundation and justification. They tend to reside on opposite sides of an academic continuum with little overlap, quite literally 'worlds apart'. Taking my own discipline and field–early childhood education in international comparative contexts–as a case study, I offer some selected insights into what I would describe as the two worlds of 'hands-off' and 'hands-on' scholarship. I discuss some of the pitfalls and risks to integrity of scholarship that aims to connect the 'ivory tower' with the 'corridors of power' and argue that far from having 'run out of steam' (Latour), critique is a necessary tool for policymaking and reconceptualisation, with real implications for the lives of young children, their families, communities, and their educators."
Mathias Urban, PhD, is Desmond Chair of Early Childhood Education, and Director of the Early Childhood Research Centre (ECRC) at Dublin City University, Ireland, Professor (II) of Pedagogy at the University of Stavanger, Norway, and Affiliate Professor and Fellow at EDPolicyFORWARD: The Centre for Educational Policy at George Mason University, USA. He works on questions of integrated early childhood systems, diversity and equality, social justice, and professionalism in diverse socio-cultural contexts. Mathias has over 20 years' experience in designing and leading international collaborative research projects. He was awarded the 'Marianne Bloch Distinguished Career Award' by the international Reconceptualising Early Childhood Education network in 2018, and the DCU President's Research Impact Award 2020.
Mathias is the lead author of the 2018 (Argentina), 2019 (Japan), 2020 (Saudi Arabia), 2021 (Italy) and 2022 (Indonesia) G20/T20 early childhood development, education and care policy briefs, and a member of the European Commission expert working group on Early Childhood Education and Care.
Nóra Milotay worked as a policy analyst at the Economic Policies Unit of the Members' Research Service at the European Parliament on issues of European social policy. She joined the Research Service in November 2015 after having worked on several aspects of education policy in Hungary and then for many years at the European Commission. Her main areas of interest are issues of inequality, governance (including questions of systemic change) and social innovation. A historian by training, she holds a BA Hons. from Eötvös Loránd University, Budapest,  an MA from the Central European University,  Budapest and an MPhil and a PhD  from the University of Cambridge.
The lecture will run from 12.30 to 13.45 on Zoom. Attendance is free.