Centre for Engaged Research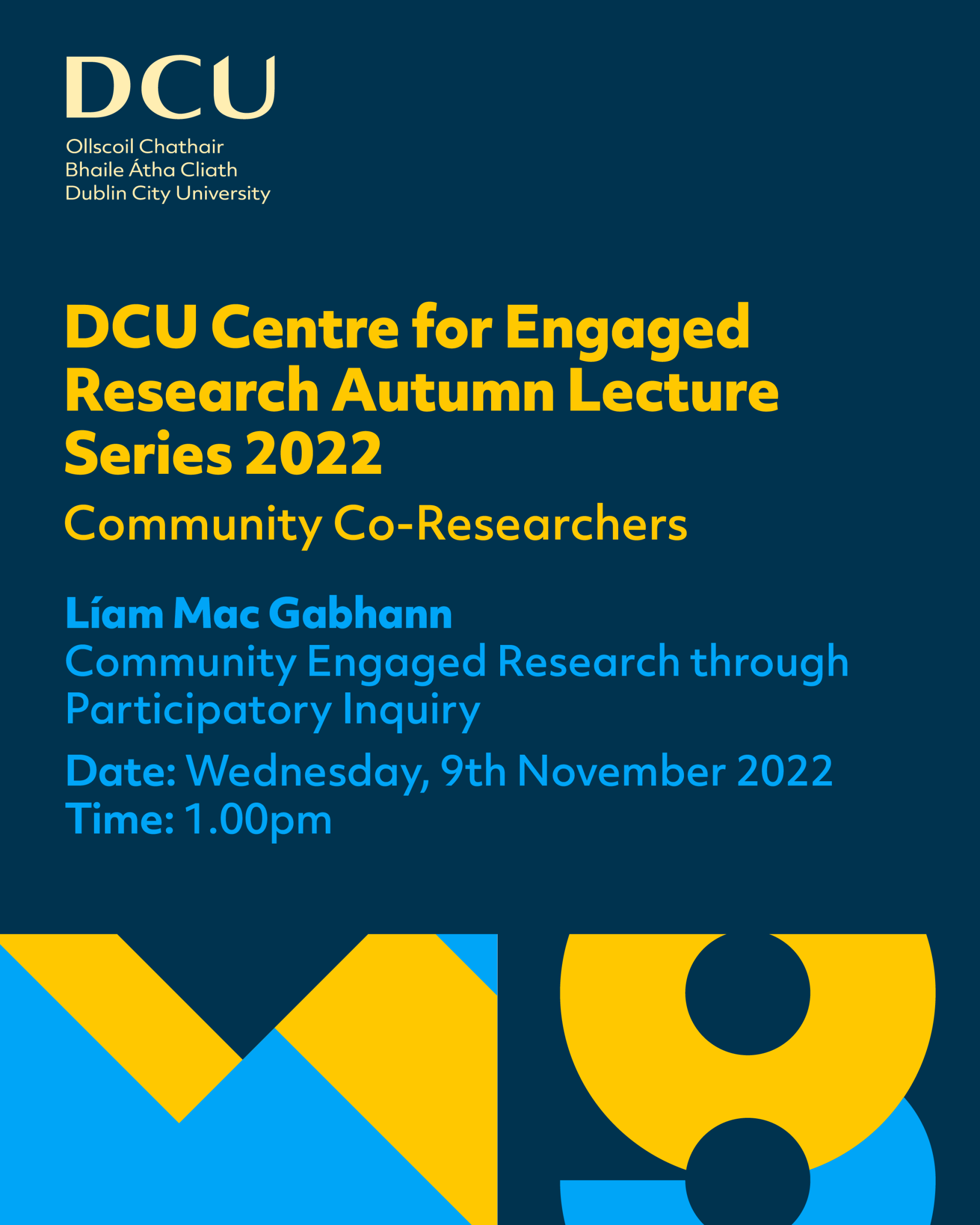 Centre for Engaged Research Autumn Lecture Series 2022 'Community Co-Researchers' - Líam Mac Gabhann, 'Community Engaged Research through Participatory Inquiry'
to
Target Audience
All Welcome
Is registration required?
Yes
Free of charge or ticket price
Free of Charge
For more information contact
luke.quinlan@dcu.ie
The Centre for Engaged Research is delighted to welcome Líam Mac Gabhann to take part in our Autumn lecture series 'Community Co-Researchers' and present his work entitled 'Community Engaged Research through Participatory Inquiry'. This is the penultimate lecture of our six-part series, we believe Liam's presentation will offer an excellent insight into engaged research and working within communities.
Líam has noted that Participatory Inquiry involves researching into a social system, with the people in that system, with social transformation a purposeful intention and knowledge generation a useful consequence. This lecture will firstly outline why participatory inquiry as a research world view is an obvious approach to community engaged research and how it can overcome challenges around traditional research methodologies, when engaged in community research. The second part of the lecture will illustrate some practical methodologies and methods for researching within communities, providing live examples and collaborations, and focusing on the impact of these for communities.
Líam Mac Gabhann is a mental health practitioner, researcher, educationalist, and community activist. Along with a wide group of colleagues my main programme of research focuses on `Transforming Dialogues in Mental Health Communities`. Much of this work centres around people reconciling their own experiences, perceptions and practices with other people/groups associated with mental health and using different approaches to improve these at indiviual, group, organisational and community level. Examples of relevant areas include; where people have extraordinary experiences and beliefs; when people are disenfranchised by society and community; and in the area of Trauma and responses to traumatic events. Approaches include cooperative learning, participative action, open dialogue, community development and systemic family constellations work. Some relevant recent developments I have been involved with include; a broadening of the Trialogue community in Ireland; developing a community based Recovery College; enhancing public and patient involvement in health and social care research; developing Dual Diagnosis services; and developing the role and educational pathway for Peer Support Working in mental health.
This event will be held online via Zoom. 
This event will be recorded and made available on our website and YouTube Channel.