Centre for Engaged Research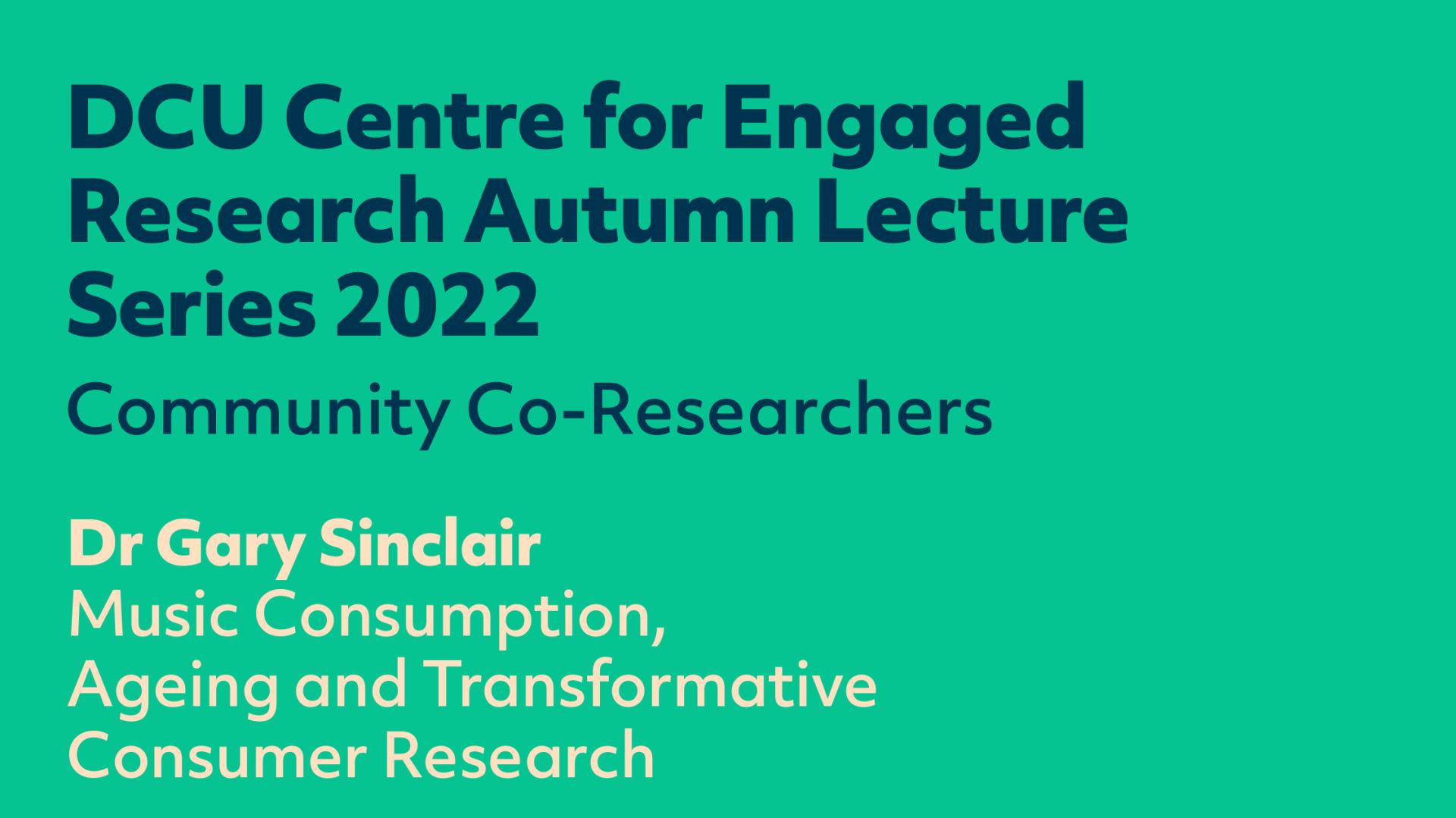 Centre for Engaged Research Autumn Lecture Series 2022 'Community Co-Researchers' - Dr Gary Sinclair, 'Music Consumption, Ageing and Transformative Consumer Research'
to
Target Audience
All Welcome
Is registration required?
Yes
Free of charge or ticket price
Free of Charge
For more information contact
luke.quinlan@dcu.ie
The Centre for Engaged Research is delighted to welcome Dr Gary Sinclair to take part in our Autumn lecture series 'Community Co-Researchers' and present his work entitled 'Music Consumption, Ageing and Transformative Consumer Research'. This is the first of six guest lectures in our series and we are very excited to get underway with Gary's intriguing work. 
Sinclair's research explores how music is used as a resource for well-being for older adults (60-81) and adolescent teenagers (15-17) in the management of the challenges experienced in age-related transition. This lecture documents the findings and processes developed from a participatory research design that involved collaboration with DCU's Age Friendly University community group, two local secondary schools and the non-profit community arts organisation 'Fighting Words'.
Dr. Gary Sinclair is an Associate Professor in Marketing, specialising in Consumer Behaviour. He is the Programme Director for Business Studies International and the Head of the 'Subcultures Lab' at the Irish Institute of Digital Business. Gary is the Irish PI on a 3-year UKRI/IRC funded project on 'Online Hate in Football'. His research focuses on consumer culture primarily in the contexts of music, technology, sport and sustainability. His work has been widely published in a variety of top international peer-reviewed journals including but not limited to the Journal of Business Research, Journal of Business Ethics, Marketing Theory and the European Journal of Marketing. His work has featured in mainstream media outlets such as CNN, ABC, CBC, the Irish Times, RTÉ and the Conversation. Gary is an Associate Editor for the Journal of Marketing Management. He also guest-edited a special issue on music and marketing for the European Journal of Marketing.
This event will be held online via Zoom. 
This event will be recorded and made available on our website and YouTube Channel. 
Register here.