Centre for Engaged Research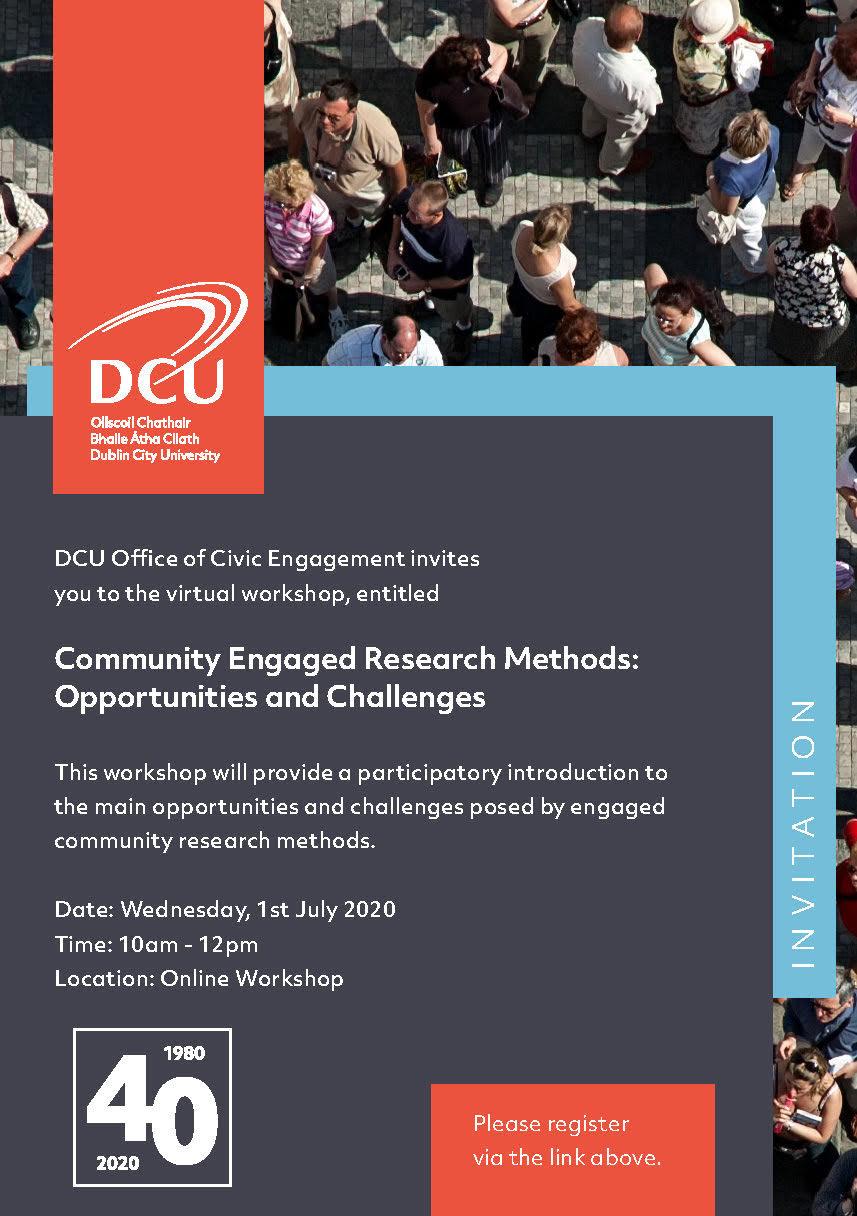 Community Engaged Research Methods: Opportunities and Challenges Workshop 2020
Workshop #1 - Community Engaged Research Methods: Opportunities & Challenges, Wed 1 July 2020
This workshop provided participants with a concise, interactive introduction to the main advantages and hurdles posed by conducting engaged research with the community. Case studies showcased included Dr. Gary Sinclair discussing using music by older adults (60-81) and adolescent teenagers (15-17) as a resource to manage age-related transition and facilitate well-being, and Dr. Laura Grehan outlining citizen science and public engagement at ADAPT Centre.
Workshop #2 - Engaged Research in Europe: The Science Shop Experience, Wed 7 Oct 2020
In this workshop, Dr. Henk Mulder of the Faculty of Science and Engineering in the University of Groningen (and co-founder of the Pan-Europe Living Knowledge Network) offered participants a concise picture of what successful engagement of research with societal needs looks like on a European level.
Slides from the workshop can be found here.
Workshop #3 - Metrics for Engagement and Impact, Thur 19 Nov 2020
Engaged Research for societal impact is of crucial importance. In aiming for significant impact, a researcher must first ask themselves: How do I measure my success? This workshop helped participants develop a number of indicators of qualitative and quantitative impact. It was led by CER Steering Committee members, Ronnie Munck, Eilish McLoughlin, Sarahjane Belton, Aoibheann Byrd and Caitriona Mordan.
Workshop slides can be found here.
Workshop #4 - Engaged Research and COVID-19:


From rapid response to creative and ethical collaboration

, Thur 17th Dec 2020
As the Covid-19 pandemic hit researchers' plans, discussion swiftly pivoted to adapting research methods for a locked-down world. Dr Su-Ming Khoo of NUIG, co-editor of three rapid response books entitled Researching in the Age of COVID-19, lead a session focused on fundamental research issues, assumptions and new opportunities to connect research creativity.
A link to the slides used in the session (including the Rapid Responses books) can be found here
The session used interactive Jamboards to allow participants to voice their thoughts and suggestions on ensuring care for research participants, researchers and mutual care & on resilience among researchers and participants