Centre for Engaged Research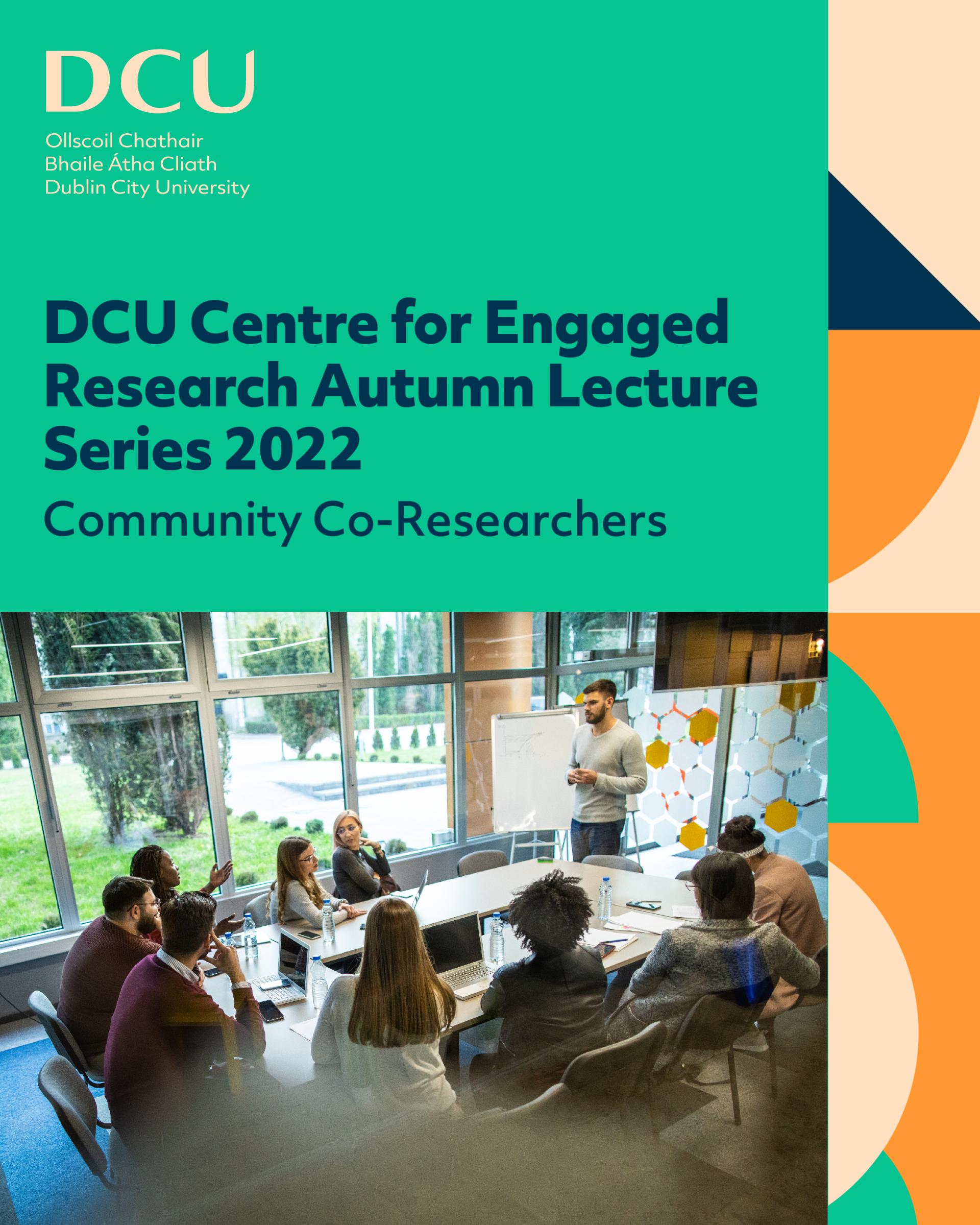 Centre for Engaged Research Autumn Lecture Series 2022 'Community Co-Researchers
This Autumn, the beginning of the new Academic year 2022-2023, the Centre for Engaged Research is hosting an online lecture series which aims to explore and showcase areas of DCU that promote partnerships between community members and researchers in all aspects of the research process. The 'Community Co-Researchers' lecture series wishes to highlight the collaborative and inclusive nature of engaged research, and the various types of knowledge and models of research which engage citizens in research and innovative decision-making
This lecture series includes esteemed DCU speakers; including Gary Sinclair, Martin Brown, Catriona Murphy, Laura Grehan & Emma Clarke, Liam MacGabhann, and Cathal Blake. The series offers insight into many different fields and demonstrates the invaluable nature of engaged research practice. This series will showcase the excellent work being carried out in DCU, the improved working relationship between researchers and community groups, and how research is positively evolving in an attempt make more purposeful and positive change in society. 
All lectures will be held online via Zoom and accessible free of charge. 
All Lecture will be recorded and made available on our website and YouTube Channel. 
Gary Sinclair, Wednesday Sept. 14th:
Music Consumption, Ageing and Transformative Consumer Research
Event Page: Follow this link to access the event webpage
Martin Brown, Wednesday Sept. 28th: 
Towards clarity on the Impact of Educational Networks and Community-Based Evaluation. Lessons to Be learned from the Island of Ireland.
Event Page: Follow this link to access the event webpage
Catriona Murphy, Wednesday Oct. 12th: 
Citizen Participation in The Design of Technology to Support Independent Living: Lessons Learned on The NEX Project
Event Page: Follow this link to access the event webpage
Laura Grehan & Emma Clarke, Wednesday Oct. 26th:
Engaging Stakeholders in Two-way Dialogue: Observations from ADAPT's #DiscussAI Think-Ins
Event Page: Follow this link to access the event webpage
Liam MacGabhann, Wednesday Nov. 9th: 
Community Engaged Research through Participatory Inquiry
Event Page: Follow this link to access the event webpage
Cathal Blake, Wednesday Nov. 16th: 
Using Public Transport: Experiences of People with Dementia.
Event Page: Follow this link to access the event webpage
Speaker information: 
Gary Sinclair
Dr. Gary Sinclair is an Associate Professor in Marketing, specialising in Consumer Behaviour. He is the Programme Director for Business Studies International and the Head of the 'Subcultures Lab' at the Irish Institute of Digital Business. Gary is the Irish PI on a 3-year UKRI/IRC funded project on 'Online Hate in Football.' His research focuses on consumer culture primarily in the contexts of music, technology, sport and sustainability. His work has been widely published in a variety of top international peer-reviewed journals including but not limited to the Journal of Business Research, Journal of Business Ethics, Marketing Theory and the European Journal of Marketing. His work has featured in mainstream media outlets such as CNN, ABC, CBC, the Irish Times, RTÉ and the Conversation. Gary is an Associate Editor for the Journal of Marketing Management. He also guest-edited a special issue on music and marketing for the European Journal of Marketing.
Martin Brown
Martin Brown is Head of School of Policy and Practice at the Institute of Education, Dublin City University (DCU) and co-director at EQI – The Centre for Evaluation Quality and Inspection, also based at DCU. He is an Expert Evaluator to the European Commission, advisor to the Teaching Council of Ireland and an adjunct faculty member of the Centre for Culturally Responsive Evaluation and Assessment at the University of Illinois. He has planned and led evaluations in Ireland, Northern Ireland, Europe and the Middle East; working for, among others, the European Commission, Dept. of Education and Skills (Ireland), the State Education Development Agency (Latvia) and the United Arab Emirates government.
Catriona Murphy 
Catriona is a qualified general nurse and midwife and worked in the UK, Middle East, Asia and Africa before returning to Ireland to complete a Higher Diploma in Public Health Nursing and an MSc in Community Health. In line with my interests in community health and ageing I subsequently undertook a PhD in Health Services and Population Health Research funded by the HRB (2007-2011). This work focused on formal home care provision for older adults and was followed by a postdoctoral research fellowship in cardiovascular epidemiology (2013-2016) at the Irish Longitudinal Study on Ageing (TILDA) at Trinity College. Her current role in DCU is focused on ageing with a particular emphasis on technology to support older adults to live independent at home. She is currently leading a team of researchers from the Centre for e-Integrated Care as PI on the NEX project funded under the Disruptive Technology Innovation Fund
Laura Grehan 
Laura Grehan is Education and Public Engagement Manager at ADAPT. She leads the development and delivery of ADAPT's Education and Public Engagement (EPE) programme. This ambitious programme has been reviewed independently as delivering significant human capacity and societal impact. Under Laura's leadership, ADAPT has won more than €520K in funding for education and public engagement projects since 2017. Some of these projects have won international awards recognising their high quality. Laura has 18 years of experience in delivering impactful communications and public engagement campaigns for diverse audiences. She holds a BA in International Marketing and Languages and a MSc in Electronic Commerce from Dublin City University. Laura has previously held marketing and communications, business development, and education outreach roles at DCU School of Computing, DCU Business School, and the Irish Computer Society. She is a member of the Board of the International Linguistics Olympiad.
Emma Clarke 
Dr Emma Clarke is the Education and Public Engagement Officer in ADAPT, the SFI Research Centre for AI-driven Digital Content Technology at DCU, where she leads the #DiscussAI Think-Ins project.
Liam MacGabhann
Líam Mac Gabhann is a mental health practitioner, researcher, educationalist, and community activist. Along with a wide group of colleagues my main programme of research focuses on `Transforming Dialogues in Mental Health Communities`. Much of this work centres around people reconciling their own experiences, perceptions and practices with other people/groups associated with mental health and using different approaches to improve these at indiviual, group, organisational and community level. Examples of relevant areas include; where people have extraordinary experiences and beliefs; when people are disenfranchised by society and community; and in the area of Trauma and responses to traumatic events. Approaches include cooperative learning, participative action, open dialogue, community development and systemic family constellations work. Some relevant recent developments I have been involved with include; a broadening of the Trialogue community in Ireland; developing a community based Recovery College; enhancing public and patient involvement in health and social care research; developing Dual Diagnosis services; and developing the role and educational pathway for Peer Support Working in mental health.
Cathal Blake
Cathal Blake is a PhD candidate in the School of Psychology. His work focuses on early onset dementia. He has recently received increased coverage as he delves into such an interesting and current societal issue; such as from RTÉ (Follow this link to RTÉ's Article).