Centre for Engaged Research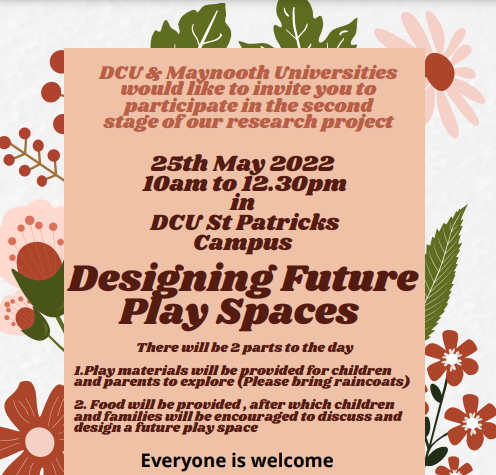 Designing Future Play Spaces
On the 25th of May, a team based at DCU Early Childhood Research Centre, in collaboration with colleagues from Maynooth University, organised a day of 'Future Play Spaces' on the DCU St. Patrick's campus.
The day was part of a collaboration with two Dublin Family Resource Centres: Hill Street Family Resource Centre and Ballymun Child & Family Resource Centre
The DCU Early Childhood Research Centre and Maynooth engaged with parents, educators, and children at both family resource centres in a project that explores play opportunities for young children. They adapted the 'future workshop' methodology from Robert Jungk's original 1960's idea, 'Future Workshops'.
'Future workshops' are an opportunity for layperson groups to critically and creatively engage with issues that matter to them. They have been used in wide ranging contexts such as urban planning, community development, software engineering and health care - wherever we encounter multi-faceted, real-world problems.
A future workshop consists of three phases;
1. Critical analysis phase involving detailed analysis of the situation/technology
2. Visionary phase where future visions are built upon the analysis in the first phase; these are then subject to a reality check.
3. Implementation phase where the visions are turned into actions
The day on campus brought together children, parents, and professional educators for the 'utopian' or 'visionary' phase' - a day of creative play, conversation, and observation.
The project is funded by the Froebel Trust, London.
For more information contact Mathias Urban - mathias.urban@dcu.ie