1st Annual Lecture on Responsible Capitalism (2011)
1st Annual Lecture on Responsible Capitalism
Responsible Capitalism – or Business for Human Beings
Professor R. Edward Freeman
14 September 2011
Ryan Academy
Dublin City University
"We live a conceptual crisis in Capitalism in an era of 'continuous, discontinuous change'. We have to think about business differently. We need a new story about business, looking at stakeholders, at leadership and value creation – in other words, a story looking at business for human beings".
This and other ideas around stakeholder theory and capitalism were discussed on September 14th by Prof. R. Edward Freeman (Darden Business School, University of Virginia) in a historic public lecture on "Responsible Capitalism: A new approach for Ireland's business – or Business For Human Beings" at the DCU Ryan Academy for Entrepreneurship.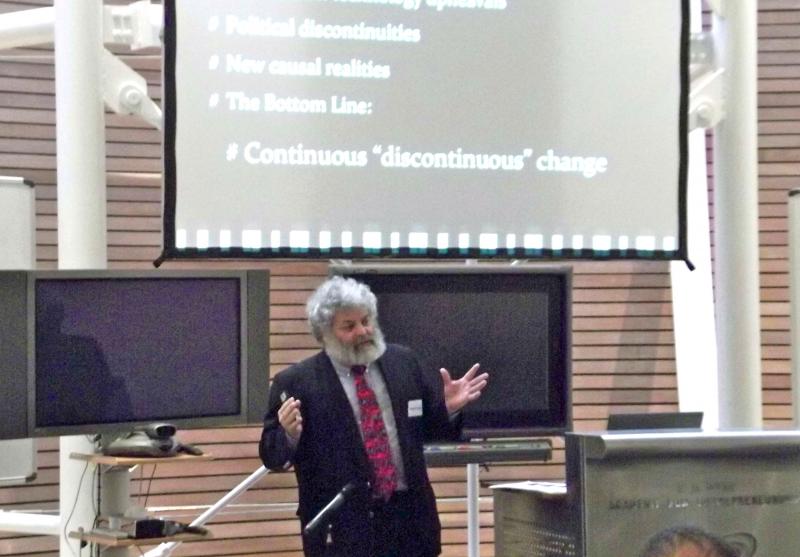 The lecture, organized by the DCU Institute of Ethics in collaboration with ACOI (the Association of Compliance Officers in Ireland) and the Ryan Academy, was attended by over 50 business executives, entrepreneurs, academicians (including DCU President, Brian MacCraith) and students.
It was the first ever visit by Prof. Freeman in Ireland, the world-famous stakeholder theorist author of the award-winning book Strategic Management: A Stakeholder Approach, originally published in 1984 and reprinted 2010.
The lecture was introduced by Ann Horan, Chief Executive of the Ryan Academy for Entrepreneurship, who emphasized the leading role of the Academy in supporting entrepreneurship and innovation in Ireland, through its various training and funding programmes.
Freeman's analysis of the failures of the "old story about capitalism" – including its over emphasis on the carrot-and-stick model; its narrow focus on profit; its simplistic view of human motivation, emotions and passions; its poor understanding of leadership and stakeholder relationships – were discussed in a panel debate moderated by Colm Keena, financial journalist of the Irish Times, with the participation of:
Brian Hayes, Managing Director, GTS Head, Citibank Europe;
John Eager, Chief Executive Officer, SNAP;
Liam Ryan, Managing Director, SAP Ireland;
Niall Gallagher, Chairman, ACOI Ethics Committee;
Dr Simone de Colle, Lecturer in Business Ethics at DCU Institute of Ethics, who is a co-author of Professor Freeman's latest book, Stakeholder Theory: The State of the Art, published by Cambridge University Press in 2010.
In his concluding remarks, dr. de Colle pointed out that the DCU Institute of Ethics is actively engaged to introduce the Stakeholder Theory approach in its teaching, research and service activities. Moreover, the Institute is currently working with Professor Freeman to develop an executive training programme on "Responsible Capitalism" to help Irish business to become Responsible Leaders. As Professor Freeman concluded, "to bring back our economy we need business that creates value with a purpose: if we embrace this new story, business becomes an institution of hope."
For more information: ethics@dcu.ie