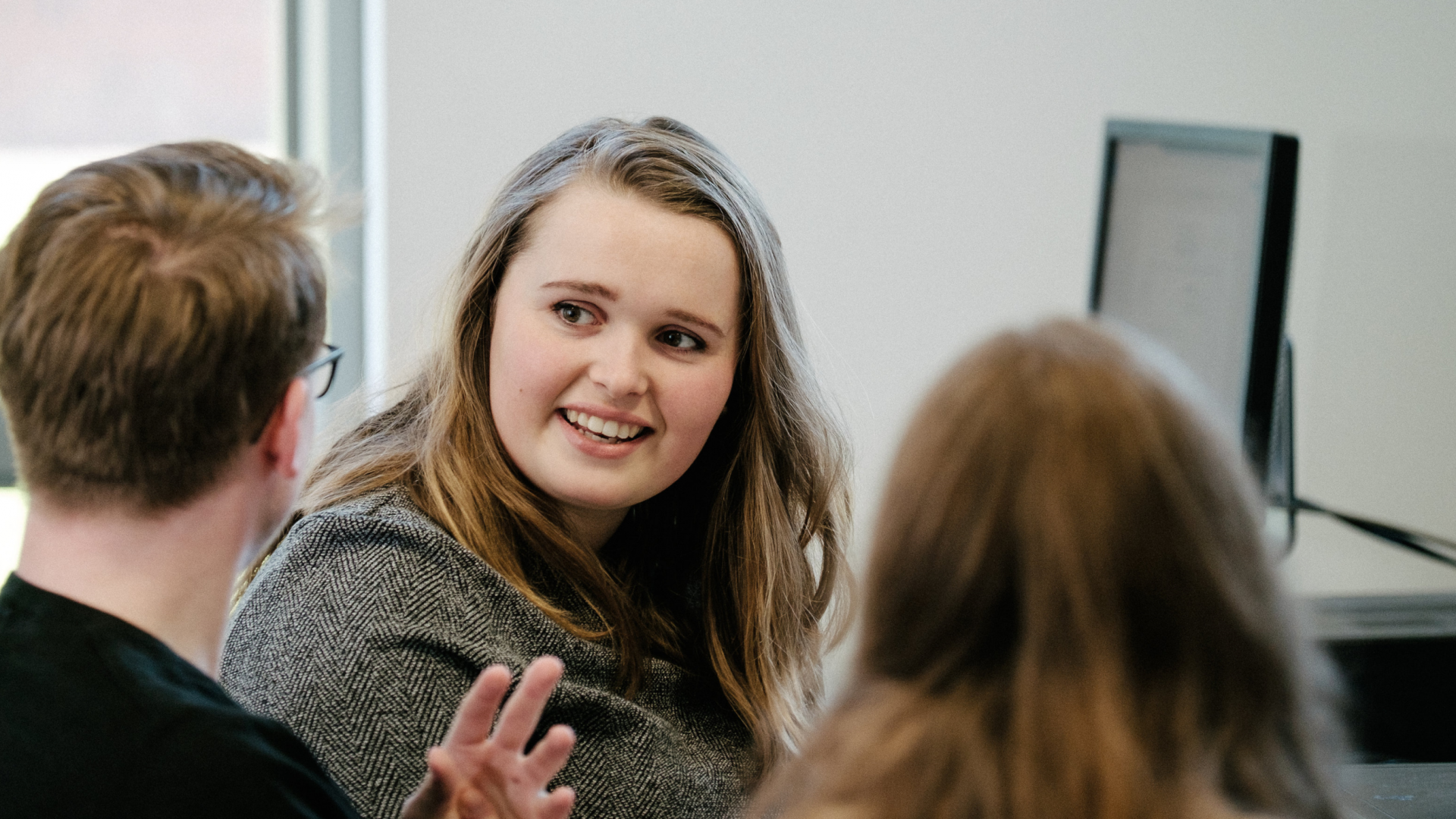 Graduate Studies Office - Graduate Training
Graduate Training
The DCU research degree is based exclusively on research work and associated thesis and most of the students' learning is gained through undertaking such work. Research graduates are also expected to have gathered a range of skills which may require some formal or specific training to develop.
Advanced training, in the form of accredited modules, known as 'Graduate Training Elements' or GTEs, are an important aspect of DCU's graduate research experience. In addition to the information provided below, DCU's Graduate Research Guide contains detailed information on graduate training at DCU.
Graduate Studies organises a range of non-accredited workshops and events to help develop your skills. The GSO schedule of Workshops and Events is available here and email queries should be directed to training.graduatestudies@dcu.ie.
In DCU, 'Graduate Training' refers to credit-bearing, discipline-specific and generic modules, as well as shorter one-off events and training classes. The aim is to give students the right skills to optimise their performance in research and to augment their research qualification with skills transferable beyond academia.
The full range of graduate training options is reviewed and updated on an annual basis and many elements will be on offer from year to year. Students may therefore have an opportunity to undertake an element in a subsequent year if it is not possible or appropriate for them to take it in the current academic year. 
Training requirements differ depending on the research programme the student is undertaking:
 
Professional doctorate programmes: students will have an agreed list of elements to undertake as part of their programme. DCU offers a number of professional doctoral programmes.
Cohort-based thematic PhD programmes: students following structured programmes are required to take the GTEs for that programme, as agreed with their school/supervisor.
Other research degrees: it is not compulsory for DCU research students to take GTEs but they are strongly encouraged to do so, with the approval of their supervisor. Some funders, research centres and schools require students to complete a set number of credits. Check details locally to ensure you meet these requirements.
Faculty GTE Programmes
Each faculty has its own list or 'programme' of GTEs that students of that faculty can register for In August-September or in January-February. Faculty GTE programmes consist of a selection of the Faculty's own discipline-specific modules and in some cases discipline-specific elements from other DCU faculties. Further information on GTE registration is available from the Graduate Research Guide.
The Faculty of Humanities & Social Sciences and the Faculty of Science & Health have developed graduate training webpages for their research students:
There are two or three steps to follow (depending on your faculty) when registering for accredited modules:
1. Ensure that the module is suitable for you. Agree your GTE module choices with your supervisor - this is mandatory. This is to ensure that the training chosen fully supports the completion of your research project, and that time available to the core research is not compromised. The options available to you are on your school/faculty Structured Doctoral/Research Pathway (detailed below). Make sure that you are available when the classes are being held. Timetables for most modules can be searched using this link. Some modules are delivered on a monthly basis over the full academic year and are not detailed on the Registry timetable. The timetable for DCU Business School modules is available here.
2. Where applicable, complete the Expression of Interest form indicating your module choices, allowing sufficient time for the request to be processed by your faculty. If not, your modules may not appear on the registration system and you will not be able to register for your chosen modules. Expression of Interest forms are available from your faculty.
3. Register for your chosen GTE modules during the DCU registration process (with Registry) through the 'My Module' option on Student Apps. If you do not complete this step then you have not registered for your module. 
Checking your registration status 
Students can check their registration status and the modules they have registered for by accessing: Student Apps > My Info > My Details
Online Registration (September)
Students taking graduate training at DCU must register for both their core research project and their associated GTEs at the time of registration:  
EXAMPLE:
CORE Research Module Code: e.g. RSPD01 Research Thesis (NOTE: this code will differ from student to student, depending on the level of research programme and their year of study).
OPTIONAL Faculty Graduate Training Programme Code - students registered for Graduate Training Elements will see their faculty's graduate training programme code displayed, e.g. GTEBS/GTEHSS/GTEEC/GTEFSH/GTEIE. 
Along with the faculty graduate training programme code, the codes for individual GTEs chosen at registration will also appear. For example, GS601 is an individual, generic graduate training element, available to students in each faculty, entitled 'Intellectual Property & Commercialisation'.
Once registered, students can see their own graduate training registration details on their portal pages (alongside their core research programme registration). Students will have an opportunity to change their registrations, having consulted with their supervisors as part of the normal 'Change of Module' process. All registration issues / queries should be directed to the Postgraduate Enrolment Officer in Registry by emailing registry@dcu.ie.
Credit accumulation for Graduate Training Elements
Research students are encouraged to undertake graduate training, but the number of modules should be appropriate for their research degree. Full-time PhD students are permitted a maximum of 90 credits over the four years of their degree. Where 20 credits or more are taken, the University recognises the student as being on a 'structured path' (see below). The maximum allowed for full-time Master's students is 20 credits over the two years.
All Graduate Training Elements (GTEs) achieved are awarded and credited on an bi-annual basis at GTE Award Boards.    
De-registering for modules
Students wishing to de-register for semester 1 and year long modules can only do so during the September-October Change of Module Choice Period. Students wishing to de-register for semester 2 or summer modules can only do so during the January-February Change of Module Choice Period. These dates are outlined on the Academic Calendar.
Students who registered online during the August-September registration period ought to be able to de-register for their modules during the specified Change of Module Choice Periods. Students who registered manually with Registry will not be able to use the online registration system. Further information is available from the Registry's 'Change of Module Choice Period' web page. Students experiencing difficulties with this process should contact Regstry directly.
Writing Supports for Graduate Researchers
DCU acknowledges the importance of researchers developing advanced writing skills and it has developed a broad-based approach aimed at supporting resesarch students in this regard. Please view the schedule of forthcoming graduate training opportunities here.
Research Integrity Training Programme
Research integrity is a key component in the induction of graduate research students and various information sessions are delivered throughout the academic year. Attendance is particularly important for those commencing their research at DCU, in addition to the completion of the online research integrity training module, details of which are communicated to students via email and at induction sessions. Further information on the programme is available here.
IUA Guide for research students undertaking graduate training in a host institution
Some research students, for example those undertaking modules where a collaborative/consortium agreement exists, may undertake training in other institutions where such opportunities are available, but must first seek the approval of their DCU supervisor and must also be accepted by the host institution. Each institution/training provider has their own registration process and procedures for issuing results to visiting students. It is the responsibility of the student to ensure they are correctly registered for, and receive official results from, the training provider. Details of the registration process to be followed for the seven Irish universities (DCU, UCD, TCD, NUIM, UCC, UL, and NUIG) are detailed in the IUA Inter-Institutional Agreement on Collaborative Graduate Programmes: Information for Research Students going to a host institution to undertake graduate training.
Research students undertaking a recognised multi-institutional structured programme can request that their results for modules completed in partnering institutions be added to their DCU record. In this case, all module results, both DCU and non-DCU, are processed at the relevant Faculty Awards Board for Research Degrees (FABRD) and all successfully completed modules, both DCU and non-DCU, appear on the DCU student's final award transcript. Please note that this currently applies only to students undertaking a recognised multi-institutional structured programme.
DCU has Standard Operating Procedures for the Inter-institutional Mobility of Postgraduate Research Students which outline the steps to be taken to enable module delivery, student mobility and credit exchange for DCU postgraduate research students, and research students of DCU's partner institutions, who are undertaking a module(s) as part of a formally institutionally agreed (i.e. covered by a Memorandum of Understanding or other formal collaborative agreement), thematic, structured or multi-institutional graduate programme.
Research students from other institutions may visit DCU for a number of reasons including, but not limited to, the following:
To undertake a module(s) or lab rotation as part of a multi-institutional postgraduate research programme
To undertake part of their research degree in DCU as part of an MOU or Consortium Agreement
To work alongside a research team or staff member for a short period
To attend s short training or educational course
To undertake a single module programme
Visiting research students register with the University in one of the following ways depending on the purpose of their visit:
Purpose of Visit #1
To undertake a module(s) or lab rotation as part of a structured multi-institutional postgraduate programme / consortium agreement
Registration Process: R26H Registration form submitted to Registry
Purpose of Visit #2
To undertake a DCU accredited educational course or module.
Registration Process: R26 Registration form submitted to Registry
Purpose of Visit #3
To work alongside a research team or staff member for a short period 
Registration Process: DCU ID Request Form submitted to HR
The Careers Service
The Careers Service offers one-to-one consultations for research students. Located on the ground floor of the Henry Grattan Building, the service may be contacted at careers@dcu.ie.
Academic Skills Workshops
Student Learning offers workshops on a wide range of academic skills, including time management, presentation skills, academic writing, etc. All workshops are free but registration is required and new workshops are added on a regular basis. Student Learning also offers an online study skills module through Loop, one-to-one academic skills sessions and a drop-in centre for academic skills.
The Writing Centre
The Writing Centre is run by DCU PhD students and coordinated by Student Learning. Located in DCU Library, the service is free and open to all students.  
DCU Library and Information Skills Training
DCU Library offers a wide range of classes and workshops to help students manage information. Further details are available from the DCU Library website.