People
Executive Dean: Professor John Doyle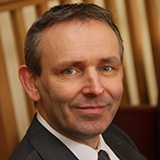 Professor John Doyle is Executive Dean of the Faculty of Humanities and Social Sciences. The Faculty hosts approximately 25% of DCU's students, and a range of internationally linked research projects within its five academic schools and its research institutes and centres – all of which can be found on this website. John was previously, Head of the School of Law and Government and before that founding co-Director of the Centre for International Studies in Dublin City University. His research interests include comparative nationalist and ethnic conflict; Northern Ireland, conflict in South Asia and Irish foreign policy.
John is also Director of DCU's Institute for International Conflict Resolution and Reconstruction and he has taken part in a number of studies of comparative peace processes, including two EU funded projects with colleagues in South Asia, which brought academics from India, Pakistan, Sri Lanka, Bangladesh and Afghanistan together for a series of workshops, in New Delhi, Brussels and at DCU, examining both European examples such as Northern Ireland and the Balkans and South Asian cases including Kashmir, Sri Lanka, Nepal, the Indian North East and Afghanistan. He has been a visiting professor in conflict resolution in both India, at the Nelson Mandela Centre in Jamia Millia Islamia, New Delhi and in Pakistan, in the School of Social Sciences in Lahore University of Management Sciences (LUMS). John completed his PhD in Queens University Belfast and worked at University College Dublin before moving to DCU.
Some recent publications include:
'Peacebuilding and International Responsibility', International Peacekeeping 21:5, 2014, with Gezim Visoka; "Indian approaches to security and conflict resolution, in Manish Thapa, Jakub Zajaczkowski and Jivanta Schottli (eds.) India in the Contemporary World. London: Routledge, 2014; "The Transformation of Policing in Post Conflict Societies: Lessons from the Northern Ireland Experience", in Timothy White (ed.) Lessons from the Northern Ireland Peace Process. Wisconsin, USA: The University of Wisconsin Press, 2013; Irish Foreign Policy, Royal Irish Academy 2012 and Policing the Narrow Ground: lessons from the transformation of policing in Northern Ireland, Royal Irish Academy. 2010, but a full list of publications can be found on this link.
Copies of many of John's papers can be downloaded from DCU's Open Access Institutional Repository DORAS.