International Centre for Innovation and Workplace Learning
Doctoral Research | International Centre for Innovation and Workplace Learning
PhD Research Programme
No problem can be solved from the same consciousness that created it. We have to learn to see the world anew. Einstein
With our action research and collaborative approaches the Centre brings together researchers and practitioners who are interested in conducting research that has practical application in the workplace. The research also involves the design, creation and evaluation of IT and Multimedia artefacts intended to solve identified organisational issues and needs.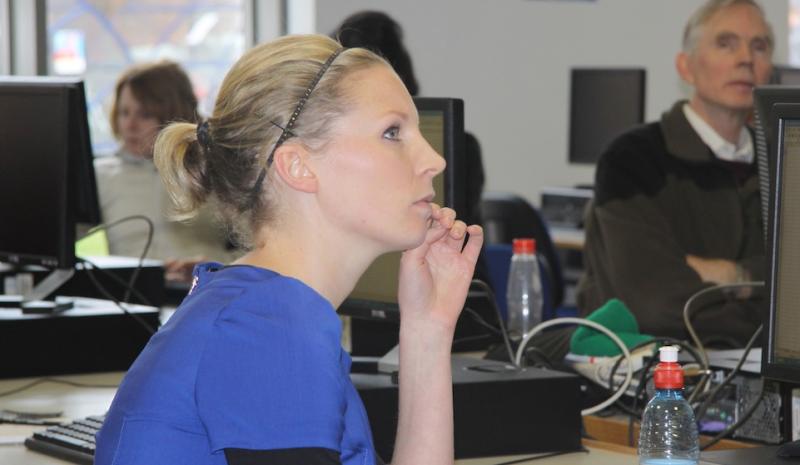 We support collaborative, practice-based research processes, for example working in collaborative action research groups that make use of technologies. A particular strength of the Centre is that knowledge is created by dynamic interaction among professionals working in different contexts and practices. There are group validation meetings through the course of the Masters and PhD programmes. The purpose of the group validation meetings is to provide students with the opportunity to share and present their research to people from a range of contexts in order to validate their claims to knowledge.
Current Part-time PhD Students
Colm O'Coileann. PhD Scholarship from An Chomhairle um Oideachas Gaeltachta & Gaelscolaíochta. Supervisor - The use of online learning and webinars to support teachers through the medium of Irish.
Anne Crowley. This research investigates if students can develop the key employability skills desired by employers through the use of business simulations in the teaching of strategic management.
Laura Sloyan. The design and development of an online course on digital literacy for post-primary teachers.
Bernie Tobin. Through a co-operative inquiry Bernie will investigate her role as Deputy Principal in investigating community of practices as we focus on diverse aspects of teaching and learning. Video will be used to support the research.
Paul Mahon. Experienced nurse perception of new graduate nurse practice readiness.
Graduated PhD students
Delaney, Lorraine (2017). Distance Education Graduates and the transition to graduate employment. PhD thesis. Dublin City University.
Meyer, Martin (2015). Designing a method for assessing the enterprise architecture business value. PhD thesis, Dublin City University.
Tiernan, Peter. (2015). Digital literacy and online video: investigating students' use of online video in assignments using a customised video retrieval system. PhD Thesis. Dublin City University. Supervisors. Dr. Cathal Gurrin, School of Computer Applications and Dr. Margaret Farren, School of Education Studies.
Dean, Catherine (2013). Title: Creating a Spiration of Love in Freedom for Personal Growth at Strathmore University, Kenya PhD thesis, Dublin City University.
Qui, Zhengwei (2013) A lifelogging system supporting multimodal access. PhD thesis, Dublin City University.
Xie, Shuyan (2013) Design and evaluation of business process oriented assessment techniques to determine the quality of information exchanges -demonstrated in public organizations-. PhD thesis, Dublin City University.
Levis, Mary (2011) Information Quality Training Requirements Analysis Guideline Demonstrated in a Healthcare Context. PhD thesis, Dublin City University.
PhD Research - International Centre for Innovation and Workplace Learning Academic Staff
Margaret Farren (2005). University of Bath
Title: Creating a Pedagogy of the Unique through a Web of Betweenness
Senan Cooke (2006). Dublin City University
Title: The challenge of educational disadvantage in a knowledge economy: a case study of Waterford Crystal Ltd.
Ray O'Neill (2008). Quality and Qualifications, Ireland
Title: ICT as Political Action (University of Limerick)
Yvonne Crotty (2012). Dublin City University
Title: Bringing an educational entrepreneurial spirit into higher education.
Sabrina Fitzsimmons. (2012). Dublin City University
Title: An exploration of teaching and learning in a virtual world in the context of higher education.
Yvonne Emmett (2013). Government
Title: Leadership Development for eLearning