Walking and Cycling Information Page
Walking
Walking is a great way to discover more about an area, improve your fitness and save money on travelling. Walking is the most popular form of activity, and the risk of injury is low as it doesn't put pressure on your joints.
The benefits of regular walking include:
Health: regular walking can reduce the risk of many health problems such as coronary heart disease, strokes, high blood pressure, anxiety and stress.
Quality of Life: walking can help with weight control, stamina, and energy levels.
Convenience: you can walk to most places at any time, you can also start slowly and build distances and pace up gently.
Cost: walking is free and you don't need any equipment, just a comfortable pair of shoes!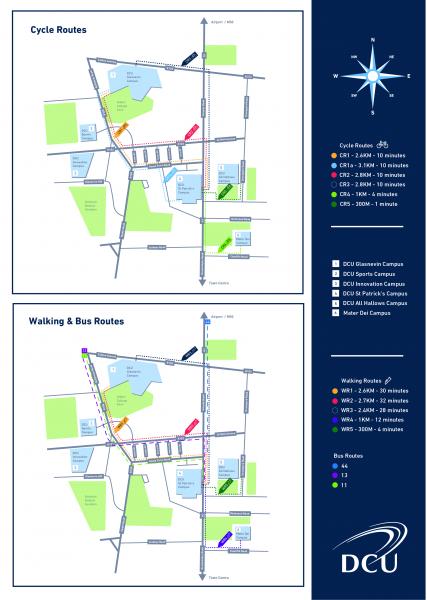 Click here to download a pdf of this map
If you are unsure how long it might take you to walk take a look at this walking accessibility map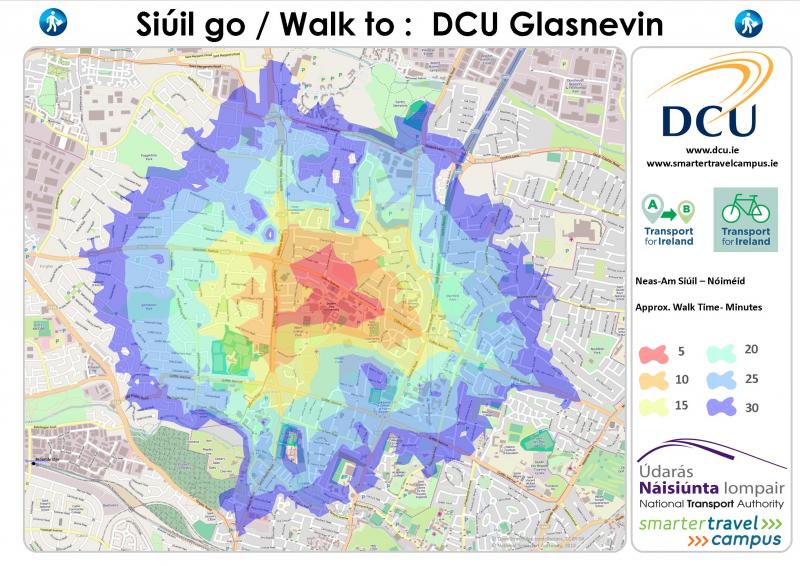 Click here for larger pdf version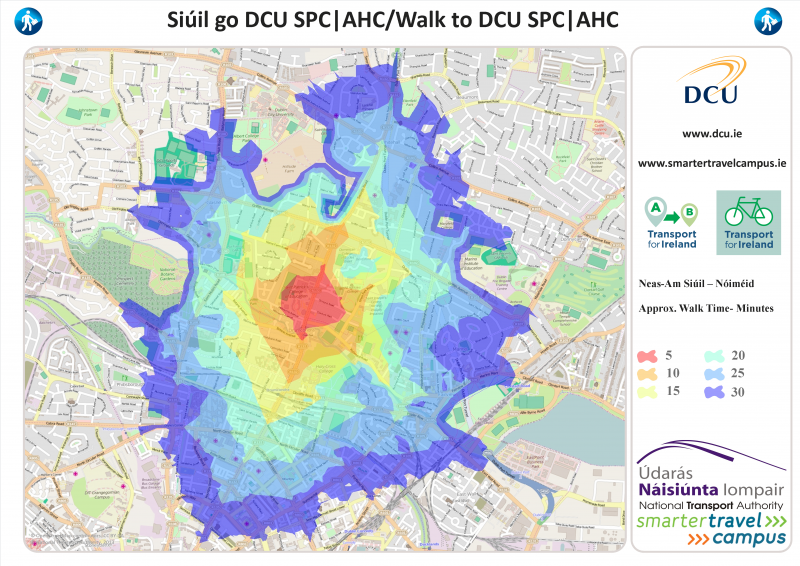 Click here for a larger pdf version
Cycling to DCU
Cycling is a convenient, cheap way of getting around. It is also one of the easiest ways to get fit without the expense of a gym membership.
Good (and improving) network of cycle routes exist around DCU.
The map below will show you the approximate time to cycle to and from your campus.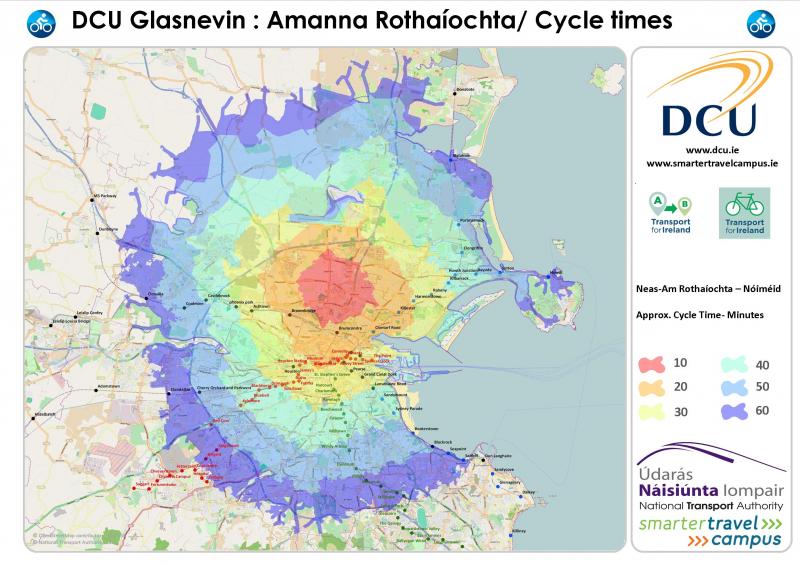 Click here for a larger pdf version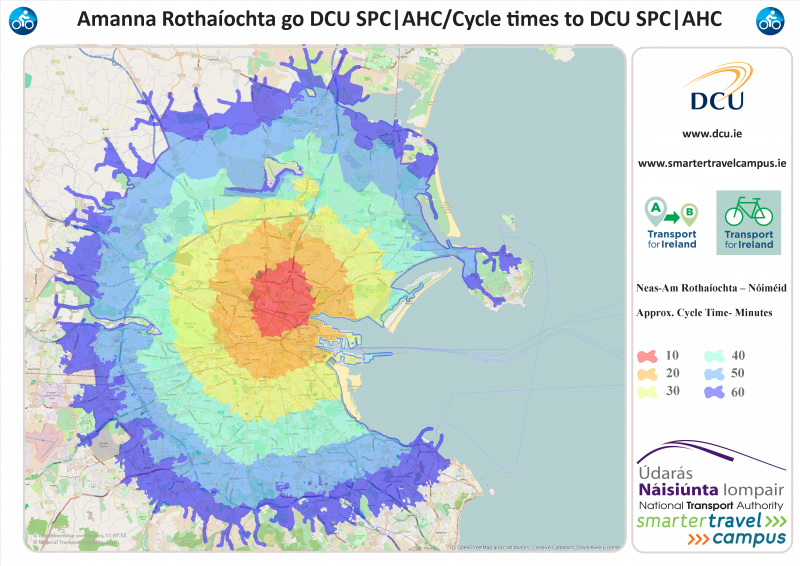 Click here for a larger pdf version
BleeperBikes
BleeperBike is Ireland's first stationless bike sharing scheme. The bikes are equipped with a smart lock fixed above the back wheel of the bike, this smart lock controls usage of the bike by communicating with our free to download App. It takes less than 5 minutes to download the App and register your details.
How to use Bleeper bikes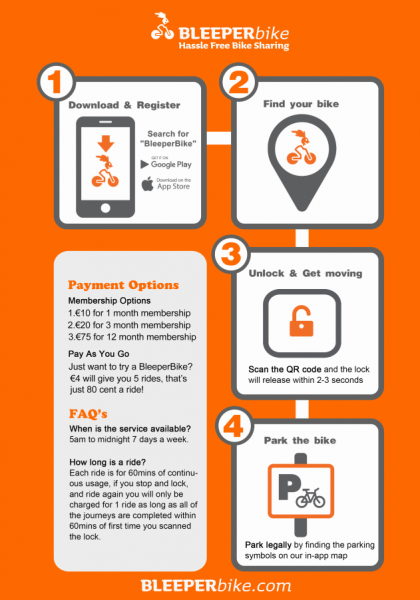 Parking zones for Beeperbikes are designated on all campuses - please only park bleeper bikes in these zones.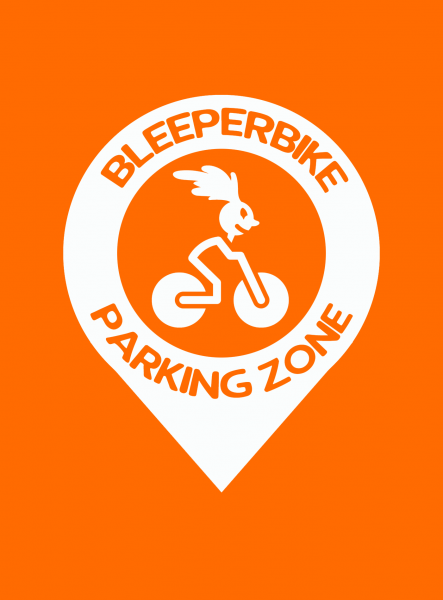 Bike Clinics
The free bicycle service clinics, run by the Rediscovery Centre and supported by DCU SU and DCU Sustainability/OCOO will recommence next week with the start of semester. These service clinics are open to all DCU students and staff and are operated on a first come first served basis - they are usually very busy so come early.
Please note that while the bike service is free, you will have to pay for any parts needed. Also the bicycle mechanics are not miracle workers and cannot renovate a bike in the time allotted for a service - i.e. your bike should be basically road worthy and in need of a service and not a complete overhaul !! Complete overhauls are available from the Rediscovery Centre at the owners expense !
Dates, times and location are as follows :
bike clinic dates for semester 2 (2018/19 academic year).

DCU Glasnevin Campus (Tuesdays 12.30 - 16.00)
Location: Foyer in Albert College (outside AG00) across from Main Restaurant entrance.
Jan 29
Feb 5, 12, 19, 26
Mar 5, 12, 19, 26
Apr 2, 9, 16 (16 = last session in Sem 2)

DCU St Patrick's Campus (Wednesdays 12.00 - 15.00)
Location: Undercroft Block F
Jan 30
Feb 27
Mar 27

DCU All Hallows Campus (Wednesdays 12.00 - 15.00)
Location:
Feb 13 : Woodstock hall
Mar 13
Apr 10
If you have more suggestion please send them to sustainability@dcu.ie
Active Commuter Facilities
There are active commuting facilities available on both DCU Glasnevin and DCU St. Patrick's campuses. At DCU Glasnevin there are male & female shower facilities available to walkers & cyclists in the newly refurbished DCU Sports Complex up until 09.45 AM each morning and all day in the 1838 Club (4 showers – 2 male/2 female). There are additional shower facilities in other building across the campus including the Albert College (Grd Floor - 1 WC Shower) and the Lonsdale Building (XB17/19 with 3 Female/3male). On the SPD campus there are changing/shower facilities (min 2 male/2 female) in the 'outside changing rooms' (note : they are not really outside and are close to main reception).
There are covered and uncovered cycle racks throughout the campuses. Cycle racks have CCTV surveillance and are monitored by DCU Security however cyclists are strongly encouraged to ensure that they lock their bicycle appropriately with a strong lock. It is recommended that both wheels and the frame should be locked to the stand. Additional cycle parking is being installed at DCU Glasnevin with some also on the DCU SPD campus supported by the NTA. Additional grant can be sought for further enhancing these facilities.
Bike To Work Scheme
The Cycle to Work scheme is a Government tax incentive aimed at encouraging employees to use bikes for cycling to work, and covers bicycles and accessories up to €1,000. The scheme operates by way of a salary sacrifice agreement through which you pay for your bike and accessories, tax free, over 12 months. DCU offers the scheme to employees. For information on purchasing a bike via the scheme, contact HR. For more information from Revenue on how the scheme works click here.
Getting Around By Bike!
The National Transport Authority has developed a cycle planner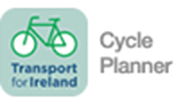 this currently allows you to plan your cycle trips in Dublin. You can choose the beginner/advanced route and you can also opt to avoid hills! The Cycle Planner will tell you how many squares of chocolate you've burned by taking this trip. It is hoped that the Cycle Planner will be available for other cities in the near future. For other locations the National Journey Planner can be used to plan your cycle trip.
Cycle Challenges for Staff & Students of all cycling abilities
The National Transport Authority runs an annual Smarter Travel Campus cycling event for staff called the '10 Minute Cycle Challenge' in May and a cycle event for students in October. These are fun team events and it is free to take part! There are also lots of great prizes on offer. Visit www.smartertravelcampus.ie for more information.
PAST EVENTS
DCU Like Bike Week : 28/11/2016 - 01/12/2016
Click on the prog below to download a pdf version of progamme