DCU Institute of Education
Doctor of Education | IoE
Doctor of Education
The EdD is a research degree for experienced professionals from education and related fields who would like to extend their professional understanding and develop skills in research, evaluation and high-level reflection on practice. The programme aims to foster professional development through research as well as meeting the requirements of rigour and originality expected of a doctorate. It includes assessed taught courses, research-focused workshops and supervised original research. Through a strong group dynamic, the intention of the programme is to foster cohort solidarity, develop inter- and intra-personal skills that are critical for teamwork, while simultaneously developing writing, research, critical, analytical, communication, leadership and collaborative skills to the highest possible standards. The intention is to educate an existing and emergent educational leadership in the Irish context to the highest possible international standards. Areas of Professional Focus and contact details can be found below:
Areas of Professional Focus
Religious Education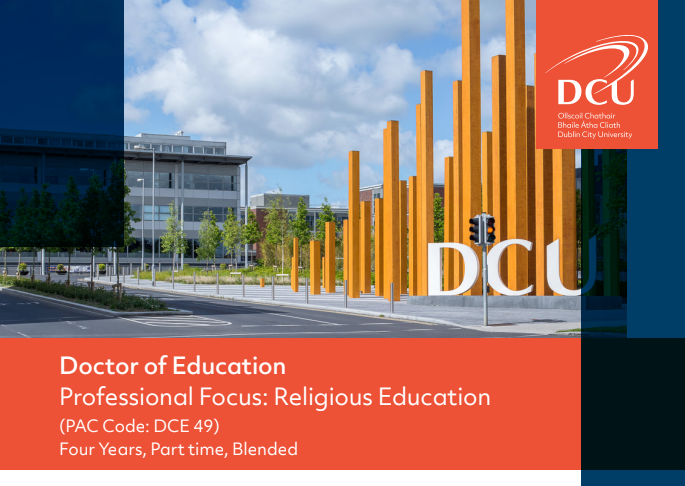 Contact: Dr. Sandra Cullen - sandra.cullen@dcu.ie | +353 1 8842098
Designed for people working in Religious Education who are interested in developing their research, policy, and curriculum expertise, this Doctoral Programme:
will provide you with the analytical skills to interpret the issues, concerns and challenges of RE in the public space
will deepen your understanding of the critical engagement with religions, beliefs and religious education
will connect you with best national and international practice
will empower you to take a leadership role in this rapidly developing area
Teacher Education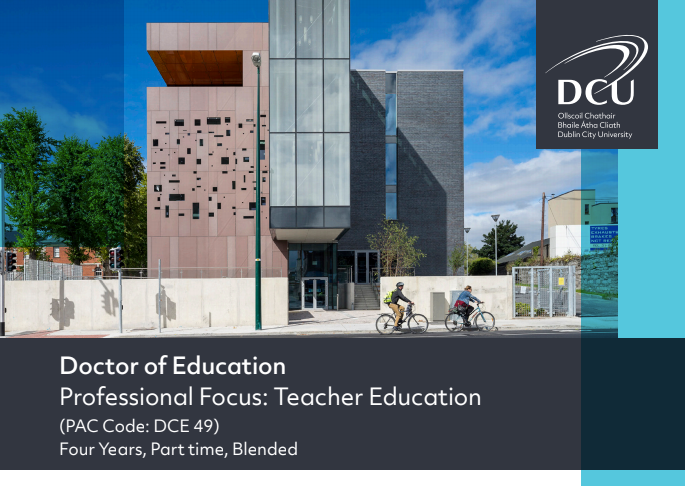 Contact: Dr Bernadette Ní Áingléis - bernadette.niaingleis@dcu.ie | +353 1 8842226
This Teacher Education Area of Professional Focus:
combines research, theory, policy, and practice in exploring how teachers learn across the continuum (initial teacher education, induction, continuing professional development)
provides rich opportunities for research in the learner's own professional practice/policy setting
integrates complementary modules on pedagogies of teacher education and approaches to policy analysis
for teacher educators/teachers in schools, professional bodies, the Inspectorate, higher education institutions, and policy-makers
Global trends, international and national perspectives will feature
Values Education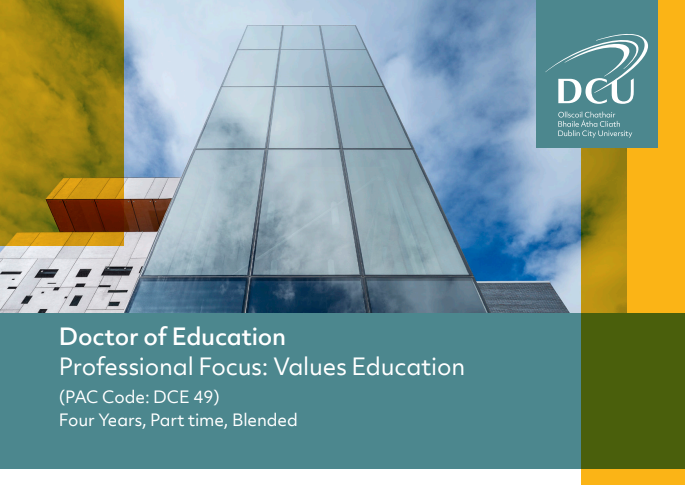 Contact: Dr Jones Irwin - jones.irwin@dcu.ie | +353 1 8842155
This area of specialism will allow students to focus on Values Education. In Irish and international contexts, we see an increasing emergence of values education in:
Recent curriculum policy and frameworks from a multi-denominational perspective e.g. ERBE/Learn Together/ GMGY
Connects between primary and second level values education e.g. Core Values frameworks for schools
Theoretical literature, national and international (comparison with Scandanavia, UK, France)
At Initial Teacher Education level
Some Areas of Professional Focus are reaching capacity. Applicants are advised to apply before the deadline of 16 June 2020. If an Area of Professional Focus reaches capacity applicants will be placed on a waiting list and will be contacted in the event of a place becoming available. Please note that a waiting list is now in effect for the following APFs: Digital Learning and Inclusive and Special Education.